We are all well aware of galloping price increases across many parts of our daily lives.
Supply chain disruption as a result of Covid-19 was already causing price turbulence, instability which was supercharged by Russia's invasion of Ukraine.
It is hitting everyone in the pocket. Energy costs have rocketed and those costs have bled into nearly every other part of the economy - including food.
Nearly all shoppers I met in Citywest Shopping Centre this week were very aware of grocery inflation.
One woman told me her normal shop is much dearer.
"Everything has gone up, milk, meat, bread, everything. I try to go and get bargains in other stores, shop around a bit, save a few bob," she said.
Another man, who had just picked up a few groceries, said he notices everything going up.
"Everything seems to have crept up 10, 20, 30, 40,or 50c. We try and get the best deals but other than that there is not a whole lot you can do, you just have to keep buying it," he said.
Another woman said some of her family's favourites are way up.
"I notice around 50% up, and I compare the prices in Lidl, Aldi and Dunnes. I always shop around for offers, but it's hard to maintain especially when you have a big family," she told me.
That is the situation at shop level, but what do market surveillance figures tell us?
The CSO monthly index of consumer prices is the source most often quoted when it comes to inflation rates.
Since January, the overall rate has been rising and hit a 22-year high of 7% last month.
Grocery inflation has been at a much lower rate, however, but the pattern of increase is the same.
Back in December, before the war in Ukraine, the CSO category of "Food and Non-Alcoholic Beverages" showed an inflation rate of 1.6% compared with a year earlier.
The rate has risen every month since then, 2.1% in January, 3% in February, 3.1% in March and in the latest figure published on Thursday, inflation rose to 3.5% in the 12 months to April.
When you look at individual product categories analysed by the CSO you see where price rises are highest.
| | | | |
| --- | --- | --- | --- |
| Bread | +8.1% | Pasta products and couscous | +11.8% |
| Beef and veal | +4.7% | Poultry | +7% |
| Fresh whole milk | +8.9% | Fresh low-fat milk | + 6% |
| Yoghurt | +6.3% | Eggs | +6.6% |
| Butter | +6.3% | Margarine and other vegetable fats | +14.4% |
| Frozen Vegetables | +5.3% | Sugar | +6.8% |
| Baby food | +6.3% | Ready-made meals | +6.1% |
Source: Central Statistics Office
The figures confirm the increases shoppers have been seeing for some time. Food prices are rising and adding substantial costs to the weekly shop.
The CSO analysis also shows the rate of food inflation from March to April was close to 1%, so rapid increases are now part of the picture.
Further evidence , it it was needed, comes from grocery data analytics company Kantar.
It has put grocery inflation in the 12-week period to April at 4.7%, which is the highest level since September 2013.
"The impact of grocery inflation is being felt widely across store shelves and consumers will be noticing the effects on their budgets," according to Emer Healy senior retail analyst at Kantar.
"The average household is facing a €330 price increase on their annual grocery bill, and 23% of households says they are now struggling to make ends meet when it comes to their weekly food shop," she added.
Dermot Jewell of the Consumers Association of Ireland said shoppers must inform themselves on prices and options if they want to save money.
He believes that price awareness understandably dropped during the pandemic when a need for enjoyment set in.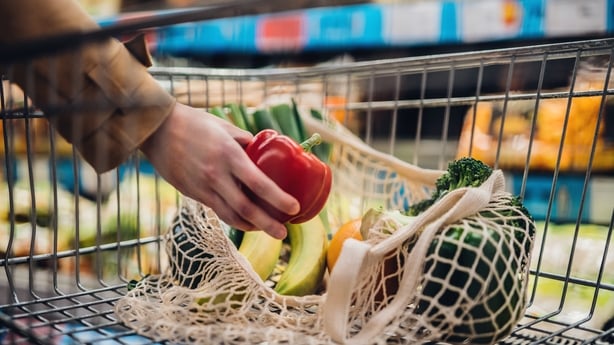 However, he said a focus on grocery prices is needed again as the increases are jaw dropping.
"The reality is that every single person in Ireland is suffering in one way or another or they are certainly feeling the impact," Mr Jewell said.
"So we have got to do two things; become price aware again and predominantly move away from brands if we want to save money when we are shopping for food," he added.
Own-brand products gained prominence in Ireland back in the 1980s when Quinnsworth introduced its Yellow Pack rage.
The term "Yellow Pack" quickly became a synonym for anything done on the cheap and lives on in that context today.
The reality is that many own brand products are produced by manufacturers who also produce branded products.
So why are some consumers hesitant?
"You can understand the reluctance against own brand products because we have been advertised to all our daily lives to buy brands," according to Mr Jewell.
"Own brands, whether they be in the supermarkets or in Aldi and Lidl, will save you probably about 50% on what you spend on branded products," he said.
"In many cases own brand products are manufactured by the same companies and no one has ever suffered for paying less for their food by buying those brands. I'm not saying people need to switch forever but its certainly the route to look at right now," he added.
Right now, inflation-led price increases are a problem. The question is: Will inflation continue to increase or might it go in the opposite direction?
Many economic forecasts said inflation would ease once post-pandemic demand and supply issues in global trade resolved themselves.
Then came Russia's attack on Ukraine in February.
So where do economists see things going now?
"There are strong inflationary pressures in the domestic economy. Some of those are related to the pandemic however they have undoubtedly been exacerbated by what has happened in Ukraine and the pressure brought on energy markets," ESRI Research Professor Kieran McQuinn said.
"We still believe that [overall] inflation will peak somewhere in the region of north of 8% over the coming months and then inflationary pressures will abate as the year progresses. Ultimately, the extent to which that happens will be affected by the Ukrainian situation and the turmoil we are witnessing in energy markets."