New figures from the Central Bank show that Irish mortgage interest rates were again the second highest in the euro area in February, coming in behind Greece at 2.76%.
The average for the euro area stood at 1.36% in February - the highest average rate in the euro zone in two years.
Finland once again had the lowest average mortgage rate in the euro zone at just 0.85%, followed by Portugal at 0.87%.
Today's Central Bank figures show that the average interest rate on new fixed rate mortgage agreements, which account for 81% of all new mortgages, was 2.6% in February.
For new variable rate mortgage agreements, the average interest rate stood at 3.46% in February.
The total volume of new mortgage agreements amounted to €626m in February, an increase of 1% on the same time last year.
Meanwhile, the average interest rate on new consumer loans stood at 6.65% in February and the Central Bank said the volume of new consumer lending stood at €206m - an increase of 41% on the same time last year.
Today's Central Bank figures also show that interest rates on new household term deposits stood at 0.13% in February compared to a rate of 0.23% in the euro zone.
Daragh Cassidy, Head of Communications at bonkers.ie, said there were mixed news on the mortgage front recently with Permanent TSB, Bank of Ireland and EBS all recently reducing some of their rates.
However ICS Mortgages increased its rates towards the end of February.
---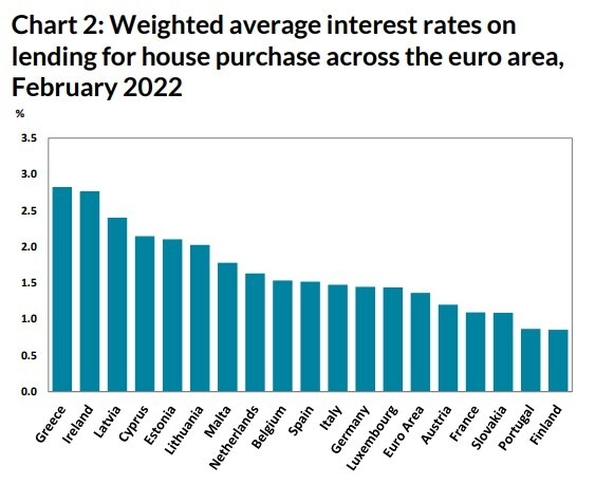 ---
Mr Cassidy said that rapidly rising inflation has led to talk of an increase in interest rates by the ECB over the coming months to help tame increasing prices.
"However the current war between Russia and Ukraine has significantly clouded the forecast for the timing of a potential rate rise. However it's likely the ECB will feel compelled to act soon and follow the US, UK and New Zealand central banks, which have all raised rates recently," he said,
But he said that Irish mortgage rates are so out of kilter with the ECB base rate that we could see a small increase in the ECB rate not being passed on to consumers.
"It'll somewhat depend on the competitive pressures the banks feel under," he added.
According to the BPFI in December, the average first-time buyer mortgage in Ireland is around €266,000.
This means someone borrowing this amount over 30 years is paying around €183 extra a month, or €2,200 a year, compared to our European neighbours.
"Higher mortgage rates add hugely to the cost of living in Ireland, which as we know is already extremely high compared to the rest of Europe. According to Eurostat, Irish housing costs such as rent, mortgage rates, gas and electricity are a staggering 78% above the European average," Mr Cassidy said.
But he added that switching a mortgage is a really effective way to put money back into your pocket.
"For example, right now if you're paying an interest rate of 4% and have €250,000 and 20 years remaining on your mortgage, you could save over €230 a month if you switched to a 2.15% fixed rate," he explained.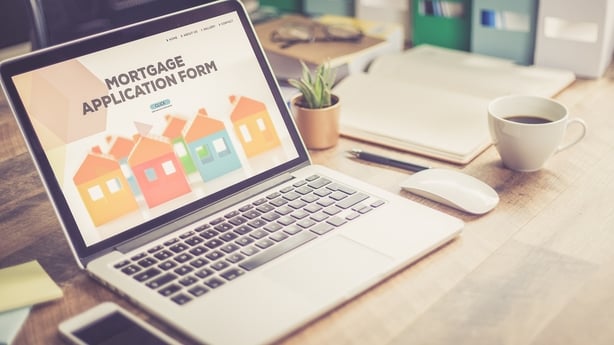 Responding to today's figures, Brokers Ireland said although continuing to be way ahead of the euro area average, Irish interest rates are generally at the lowest point they have ever been, with evidence of some healthy competition in the market, despite the imminent exit of KBC and Ulster Bank.
Rachel McGovern, Director of Financial Services at Brokers Ireland said we could be close to, if not at the bottom of the low interest rate cycle and the window of opportunity to avail of the best mortgage rates may be short.
"We simply do not know for sure what will happen on interest rates, with many experts differing on their predictions for the future," she said.
"There is certainly more concern from consumers with the increase in inflation about the possibility of rate rises, possibly from later this year," she said in a statement.
Ms McGovern advised mortgage holders when switching to concentrate on the interest rate and the term for which it is available and not to be tempted by short-term incentives, such as once-off payments and cover for legal or other services.
"We are now in a very volatile period with the war in Ukraine and no one knows when or how it will end," she said.
"We do already know, however, that it has disrupted markets and will continue to do so.
"So mortgage holders and particularly those who have not already reviewed their situation need to plan carefully for the future," she said.