After the collapse of the Soviet Union, a new class of businessmen carved up the country's newly privatised state industries, creating their enormous personal wealth.
Here's what we know about Russia's oligarchs and their assets: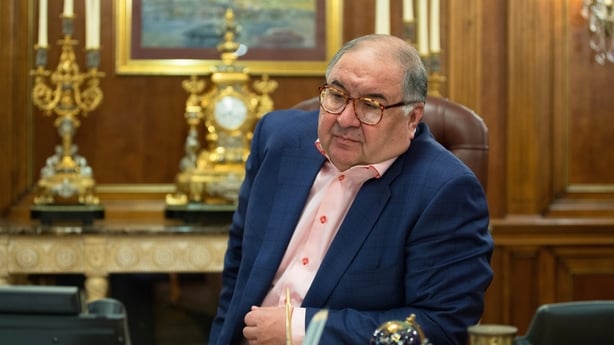 Alisher Usmanov
Former fencer, Alisher Usmanov, accumulated his wealth in the cut throat world of metals and mining. The metals and telecoms tycoon has an estimated $16.2 billion net worth.
He first made his fortune manufacturing plastic bags which were in short supply in the Soviet Union.
Usmanov owns 49% of USM Holding company, a Russia-based investment group that controls Metalloinvest, Russia's largest iron ore producer.
He also owns MegaFon, a telecommunications company and he has acquired stakes in JD.Com and Uber Technologies.
The EU has said Usmanov's interests in media and internet companies had actively supported the Russian government's attempts to destabilise Ukraine, including the curtailing of editorial independence after he took control of the Russian business newspaper Kommersant.
Impact of sanctions
A villa in Golfo del Pevero, on the island of Sardinia, worth approximately $19 million was seized by Italian authorities.
The $600 million Dilbar superyacht is sitting in a Hamburg shipyard with authorities saying they have no plans to deliver it to the owner.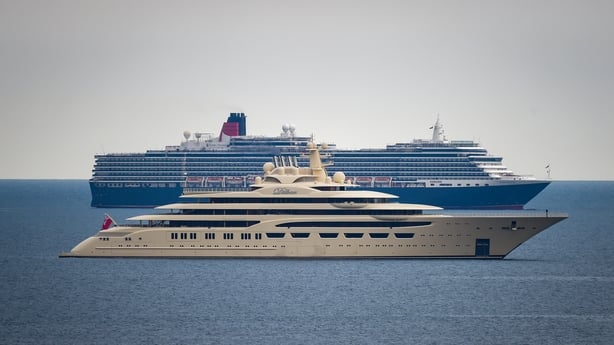 Everton FC suspended its $15 million plus naming rights deal with Usmanov's holding company USM.

Usmanov gave up his presidency of the Fédération Internationale d'Escrime, fencing's highest body, and said he would no longer play a role in the organisation.
A Bombardier jet linked to Usmanov is one of a number of Russian planes reportedly stranded at the Euro Port airport, in the French Alsace, by Swiss airspace closures.
An Airbus A340 Prestige jet linked to Usmanov flew out of Munich, Germany to Tashkent, Uzbekistan on 28 February and hasn't been tracked since, according to Radar Box data.
The US treasury, while blocking Usmanov's personal assets, has left companies controlled by him off their list of sanctions in an effort not to raise the price of commodities.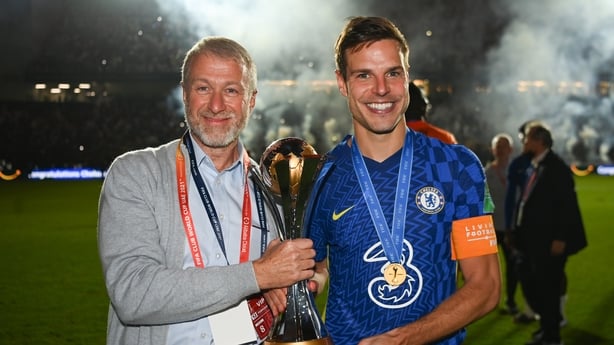 Roman Abramovich
Roman Abramovich, 55, is a Russian politician dubbed 'Putin's banker' who has an estimated $12.3 billion fortune.
He was sanctioned by the UK government this week as part of its response to Russia's invasion of Ukraine.
Today, he was disqualified as a director of Chelsea by the Premier League board but the sale of the club is expected to progress with UK Government oversight
Abramovich is alleged to have strong ties to Vladimir Putin, which he has denied. The UK government said Abramovich is "one of the few oligarchs from the 1990s to maintain prominence under Putin".
He has stakes in steel giant Evraz and Norilsk Nickel. He sold a 73% stake in Russian oil firm Sibneft to state-owned gas titan Gazprom for £9.87bn in 2005.
He is believed to own a number of properties in the UK, including a mansion at Kensington Palace Gardens in London.
He is also the owner of English Premier League side, Chelsea Football Club.
Impact of the sanctions
Chelsea FC is among the assets frozen as part of the sanctions against Abramovich.
After Russia invaded Ukraine, he announced the sale of the club and said he would donate the proceeds to victims of the Ukraine war. Under the sanctions, the sale has now been stalled.
British MP Chris Bryant has said Abramovich is trying to sell his 15-bedroom mansion in Kensington Palace Gardens to avoid sanctions. He bought the home in the area of London nicknamed "Billionaire's row" for £90 million in 2011.
An aircraft linked to Abramovich is at Europort Airport, unable to leave due to Swiss airspace restrictions.
New York property records show a trio of Upper East Side properties worth $92.3 million are tied to his ex-wife Dasha Zhukova, a New York real estate developer married to shipping heir Stavros Niarchos.
She is also building the 21-story Ray Harlem, which will house the National Black Theater, according to her website.
The $600 million Solaris yacht linked to Abramovich left the Barcelona shipyard where it had been undergoing repairs on Tuesday, March 8.
A Boeing 787-8 linked to Abramovich flew from Moscow to Dubai on March 4, according to Radarbox data.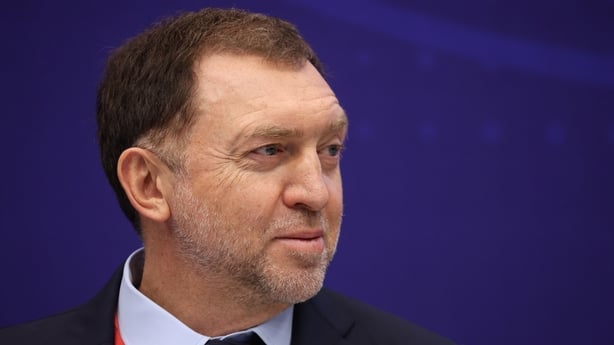 Oleg Deripaska
Oleg Deripaska has been described as Putin's favourite industrialist and was once regarded as Russia's richest man until his personal wealth took a hit during the financial crisis in 2008.
Like many oligarchs, he came from humble beginnings, growing up in a village in southern Russia with his widowed mother, an engineer.
Deripaska was a winner in what's known in Russia as the aluminium wars in the 1990s.
By 1993-94, he had accumulated a 20% stake in a Siberian aluminium factory which was once state-owned.
Fellow oligarch Roman Abramovich bought most of the holdings in Russia's aluminium industry and merged them with Deripaska's company, creating Rusal - the company that controls Aughinish Alumina in Askeaton, Co Limerick.
The Askeaton company refines imported bauxite into alumina which is a major ingredient in the manufacturing of aluminium.
Abramovich later sold his stake to Deripaska, leaving him the biggest player in one of the world's most lucrative industries.
In 2018, London listed EN+ and Rusal were hit by US sanctions, which were lifted a year later when Deripaska sold his majority holding in the two businesses.
He now owns 44.95% of EN+. Questions have been raised, however, about the level of day to day influence that the oligarch still has at the firm.
Deripaska's links to Russian power run deep. He married Polina Yumasheva, the daughter of Boris Yeltsin's powerful chief of staff, Valentin Yumashev, in 2001. The couple divorced in 2018.
Like many Russian oligarchs, Deripaska is an Anglophile and speaks fluent English which he learned as a student at Moscow state university.
Four days after Russia invaded Ukraine, Derispraska tweeted, "Peace is the priority. Negotiations must start ASAP." His tweet received replies encouraging him to apply pressure on Putin to stop the war.
Peace is the priority. Negotiations must start ASAP.

— Oleg Deripaska (@DeripaskaOleg) February 27, 2022
Impact of sanctions
FBI agents raided a historic New York townhouse at 12 Gay Street, in Greenwich Village, and a Washington DC mansion connected to Deripaska in October.
The tycoon responded on social media by saying nobody was living in those properties.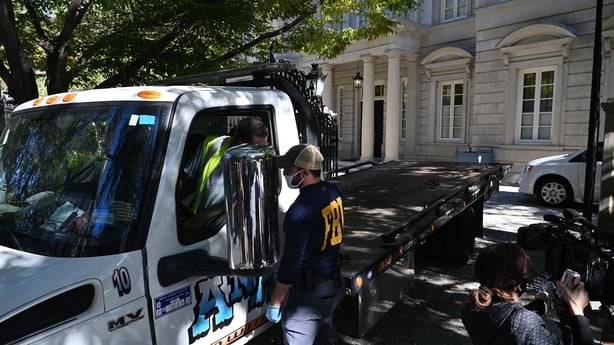 Through an LLC in the British Virgin Islands, Deripaska also owns a townhouse on 11 E. 64th Street, which he bought for $42.5 million in 2008, according to New York court records.
These properties have not been seized by the government, despite sanctions that prevent him from doing business or owning property in the United States.
Deripaska's British Virgin Islands holding company also owns 5 Belgrave Square. He bought the mansion in the exclusive Belgravia area of London for £25 million in 2003, according to multiple media reports.
Deripaska's $65 million yacht Clio is one of several vessels owned by billionaires anchored in the Maldives, which does not have an extradition treaty with the US, according to shipping database Marine Traffic.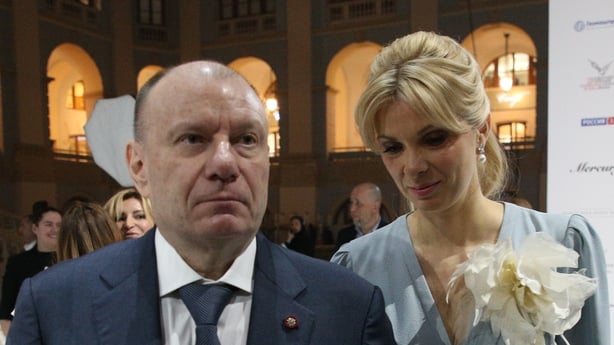 Vladimir Potanin
Vladimir Potanin, 61, is the CEO of Norilsk Nickel and has an estimated net worth of $22 billion.
Potanin acquired a stake in Norilsk Nickel during Russia's privatization in 1995. He owns around a third of the company.
He cofounded Onexim Bank in 1993 with the help of government contacts.
The oligarch formerly owned interests in insurance, media, agriculture, engineering and oil, and currently has stakes in pharmaceutical company Petrovax Pharm and a ski resort near Sochi.
He regularly plays ice hockey with Vladimir Putin who set up the Night Hockey League in Moscow.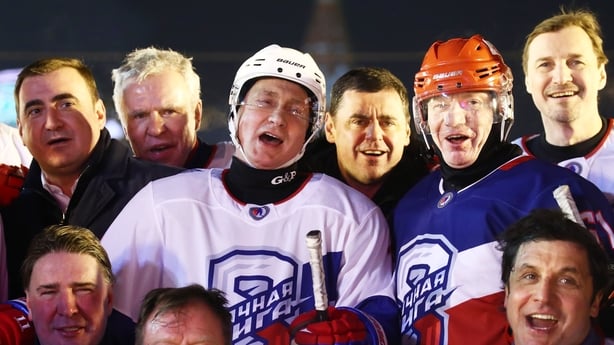 Impact of sanctions
The Guggenheim Museum said Potanin was stepping down as one of its trustees last week.
He had held the position since 2002, acting as a major benefactor and sponsoring shows, including a Kandinsky show currently in New York.
The billionaire's 88-metre yacht Nirvana sailed to the Maldives, which has no extradition treaty with the United States, according to MarineTraffic.
Potanin is estimated to have lost nearly a quarter of his wealth since sanctions impacted the ruble and the Russian economy, according to Bloomberg.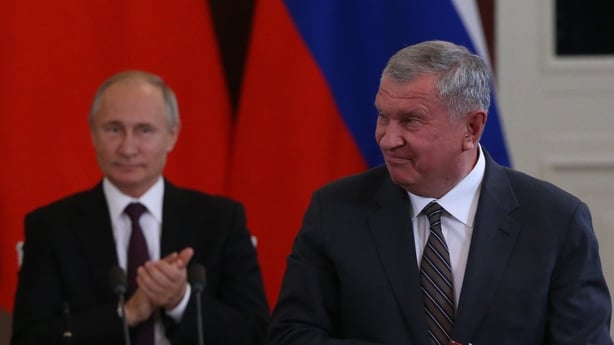 Igor Sechin
61-year-old Igor Sechin is CEO of Rosneft, one of the largest oil companies in Russia.
Viewed as one of the most powerful people in Russia, he has been sanctioned by the United States, EU and Britain.
Sechin acted as deputy prime minister under Putin from 2008 to 2012. He maintains strong connections to the country's intelligence agencies.
French customs officers seized Sechin's 58-metre Amore Vero yacht worth $120 million as it was trying to flee a French Riviera port.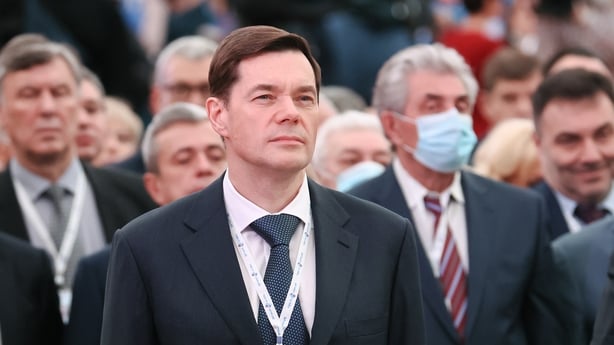 Alexey Mordashov
Alexey Mordashov, 56, is a son of a mill worker who became a steel magnate with estimated net worth of $29.1 billion. He is on an EU sanctions list.
Mordashov shifted his holdings in travel and tourism group TUI after sanctions were imposed on him, Bloomberg reported.
A UK filing showed the steel tycoon had shifted a $1.1 billion stake in mining company Nordgold to his wife Marina,according to Bloomberg.
Italian authorities seized Mordashov's Lady M yacht, moored in Imperia, and valued at €65 million.
Eugene Shvidler, 57, is a business associate of Roman Abramovich with estimated net worth of $1.7 billion
Britain impounded a private jet it said was linked to Shvidler at Farnborough airport under new aviation sanctions that give it authority to detain any Russian aircraft.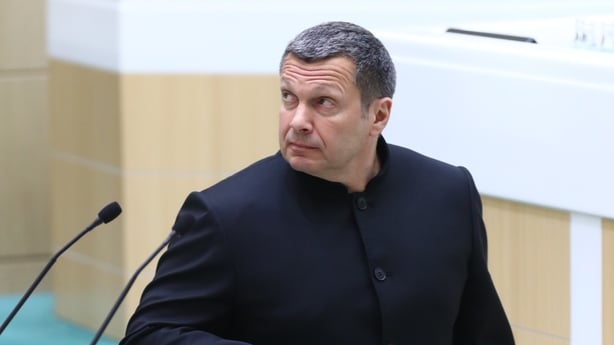 Vladamir Soloviev
Vladimir Soloviev, 58, is a pro-Putin Russian TV host who is on the EU sanction list.
Two properties in Lake Como worth €8 million belonging to Soloviev were seized by Italian authorities.
Gennady Timchenko, 69, is chairman of the Russian National Hockey League with stakes in oil and gas companies has been sanctioned by the United States and EU.
Italy seized Timchenko's €50 million euro yacht called Lena as it was moored in San Remo.
Oleg Savchenko is a member of Russia's parliament and a close ally of Vladimir Putin.
Savchenko's 17th Century Tuscan villa Lazzareschi worth €3 million was taken by Italian authorities.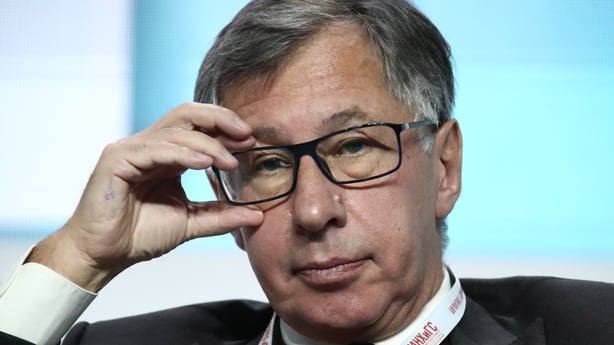 Petr Aven is an oil investor who built a European business empire with an estimated net worth of $4.7 billion. He is on an EU sanctions list.
Aven's stake in his Letter One Investment company, with holdings in Spain's Dia supermaket chain and a German energy group, was frozen following the EU's sanctions.
Latvia's government is looking to revoke his citizenship, despite having announced plans to open a museum there a week before the war in Ukraine started, the FT reported.
He stepped down as trustee at the Royal Academy of the Arts in London. The arts organisation said it would return his donation toward its current Francis Bacon exhibition.
Mikhail Fridman, Aven's partner at Letter One with an estimated net worth of $12.3 billion, is on the EU sanctions list.
Fridman withdrew from the Letter One investment firm he co-founded
Pamplona Capital management said it had began disentangling itself from Letter One. Other banks told the FT they are also reviewing their lending relationships.
Fridman's north London home, which he bought for £65 million in 2016, is not believed to have been frozen as he is not subject to UK sanctions, according to multiple media reports.
Alexander Abramov is co-founder and chairman of Russian steel producer Evraz, with an estimated net worth of $5.9 billion.
Abramov's yacht The Titan arrived in the Maldives last week, according to Marine Traffic.
Additional reporting by Reuters