Some wars can seem very far away. This week's invasion of Ukraine by Russia was not one of them.
And when the full disruptive impact of the conflict becomes clearer, it will feel even closer.
The war is being played out before our eyes and ears in vivid and moving physical detail. But the economic backdrop of Europe's energy markets and the often obscure network of banks and financial intermediaries which underpin them will also have a major impact on the duration of the conflict.
In a statement issued in conjunction with President Joe Biden's announcement of further sanctions on Russia, the US Treasury claimed that every day Russian financial institutions conduct $46billion worth of foreign exchange transactions globally. It claimed the "vast majority" of the 80% of those transactions conducted in US dollars will now be disrupted.
It also froze the assets of Russia's largest banks in the US and through a series of other specific actions, it has pretty much frozen them out of the US financial system. Payments for the production or consumption of items like medical and agricultural commodities and energy are exempted.
This is more than a technical footnote.
This will enable trade between the US and Russian firms to continue by facilitating the payment for goods.
Similar actions were taken by the UK and the EU.
European Commission President Ursula Von der Leyen said the package of sanctions agreed late on Thursday night would target 70% of the Russian banking system.
There has been a lot of focus on the Society for Worldwide Interbank Financial Telecommunications, better known as SWIFT.
It's a co-operative owned by over 11,000 banks and firms in over 200 countries, headquartered in Belgium. It's technically not a payments system, but it allows banks to talk to each other to facilitate cross-border payments more easily.
It's the plumbing which underpins the world's financial system.
There were calls from the US and the UK to remove Russia from SWIFT. There has been no consensus in the EU to follow through with what would be a significant step-up in its sanctions response this week.
However, it hasn't been ruled out for inclusion in a possible third round of sanctions currently being prepared by the EU.
In 2012, Iranian banks were frozen out when sanctions were imposed over its nuclear programme. If Russian banks were removed, it would not prevent payments being made to Russian firms for goods but it would make the payments a lot more difficult to process.
That might put at risk the continued supply of certain goods from Russia.
And that brings us back to energy.
Europe imports over 40% of its natural gas from Russia. For some countries, like Germany, that percentage is higher, 67% in 2020.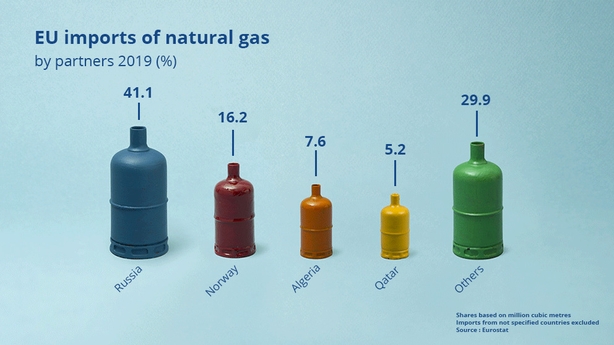 Russia also accounts for 27% of Europe's crude oil imports – its biggest single source.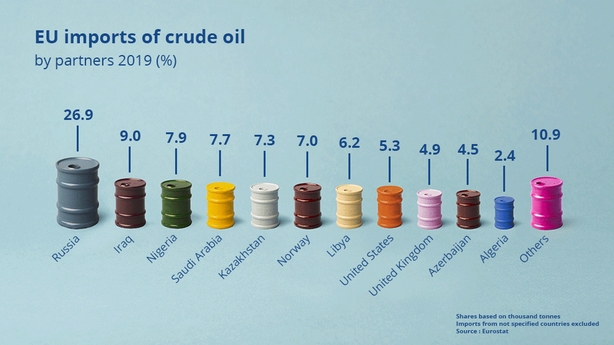 And it makes up 47% of its coal imports.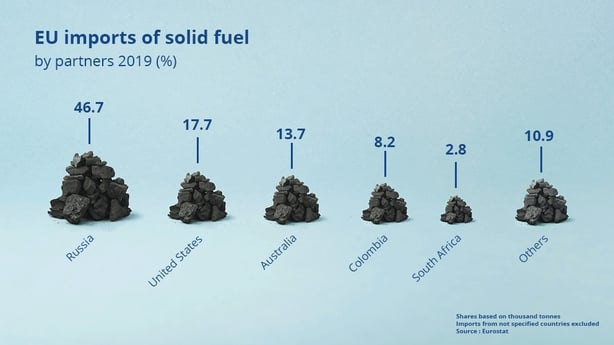 So, Europe is dependent upon Russia for a lot of important commodities and that trade continues. Including or excluding Russia from SWIFT is not going to change that dependence and economic dynamic overnight.
Since 2019, Europe has imported more LNG gas by ship from Quatar and the US (as well as Russia). This has helped diversify the Continent's supply sources but it hasn't replaced the predominance of gas piped from Russia.
Ireland's supply of gas is not as exposed to Russia as some of our European neighbours. We still have between 25% and 30% of our supply coming from the Corrib field. But Gas Networks Ireland believes that by the middle of this decade we'll be importing over 80% of our gas needs through the Moffat interconnector with the UK. And by the end of the decade, over 90%.
Ireland doesn't have any port terminal to convert shipped LNG back into gas for use in the network, so our supplies of gas into the foreseeable future will come from the UK.
The UK does have LNG ports and this form of gas comprised 24% of its gas demand in 2020, according to its Department of Business, Energy and Industrial Strategy.
Qatar was the biggest source, followed by the US. 12% of its LNG imports came from Russia. The UK can still rely on its own North Sea gas reserves for just over half of its gas needs and it gets the balance via a pipeline from Norway and a small amount via pipeline from the Netherlands.
This may all be some comfort when it comes to security of supply. But there's little comfort when it comes to what we'll all be paying on our utility bills.
The commencement of hostilities this week saw prices on the UK and Dutch gas exchanges shoot up by as much as 60% on Thursday, although they came down by around 20% on Friday. And that's on top of prices which have escalated sharply since last summer. Because gas is piped globally and increasingly shipped globally, it means the price is set globally.
And because around half of our electricity is generated using gas, the impact of these price surges will be widely felt.
It's a reminder, if one were needed, that we may think we're far away from the terrible events in Ukraine, but the evolving impact is very close indeed.