New figures from the Central Bank show that household savings declined for the second quarter in a row during the third quarter of 2021, but they still remain elevated compared to pre-Covid levels.
Savings fell by €0.3 billion to stand at €7.4 billion.
The Central Bank said was as a result of increased consumer spending - including rising prices - after the lifting of some Covid-19 public health restrictions during the year.
The Central Bank also said today that increasing deposits and housing wealth led to households' net worth reaching a series high of €944 billion in the third quarter of 2021.
Household net worth rose by €15 billion to €944 billion, which translated into €188,457 per head, in the three months from July to September.
But the Central Bank noted that this may not reflect the underlying experiences of all households, or the distribution of wealth, as the Covid-19 pandemic is likely to have had varying effects on the wealth of different household groups.
---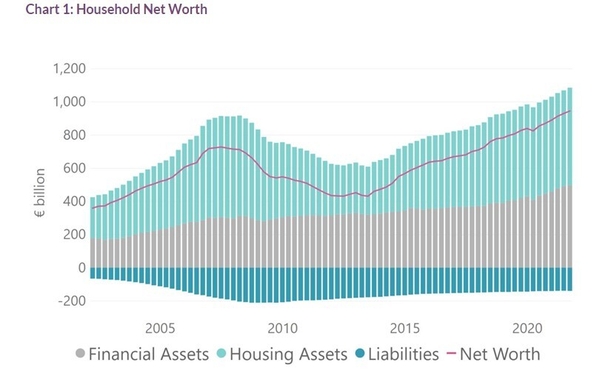 ---
Meanwhile, household debt stood at €128 billion, or €25,568 per capita. This marked a decrease of 37% from its peak in third quarter of 2008.
The Central Bank noted that household debt as a proportion of disposable income fell below 100% to 99.7% for the first time on the back of strong growth in household disposable income over the quarter.