It is something that few would want to see happen and efforts continue to avert it.
But as the Russia-Ukraine crisis continues and escalates, questions begins to arise about what an invasion might mean for Ireland, and more specifically its economy and businesses.
It is something the Government is understood to be evaluating, as concerns deepen.
If military action were to begin between the two states, experts say the economic impacts would flow not only from the disruption and fear of war but also from sanctions that could be imposed on Russia by the west.
Energy prices and security are, of course, top of the list of worries and a risk the Minister for Foreign Affairs, Simon Coveney, flagged with the Cabinet in recent days.
Russia produces 11% of global oil supplies and according to David Horgan, managing director of Petrel Resources, any significant loss of Russian energy exports would result in a further spike in prices.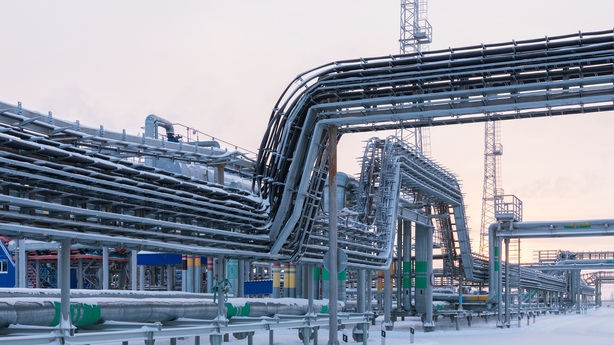 "That is partly why the price has already gone up," he said.
"It is up 20% in the last four or five weeks to about €90 [a barrel] today. And that hasn't yet fed through to the Irish market because it takes about five weeks for the petrol price to reflect the crude market."
But the even bigger impact would be in the gas market.
Russia is the second largest producer of gas in the world and the largest supplier to Europe, with a third of that flowing through pipelines that cross Ukraine.
So sanctions or disruption to supply would cause further jumps in the cost of it on the already soaring wholesale markets.
That in turn would feed directly into the cost of electricity generation here, because Ireland is highly dependent on gas fired power stations.
"The gas market has really spiked, it has gone from $2 to about $30 per million BTU," Mr Horgan said, adding that if that feeds through to the electricity market it will be felt further by consumers.
It is not a certainty, though, that military action would disrupt Russian gas supplies to Europe that currently come through Ukraine.
The impact wouldn't necessarily be immediate as wholesale purchasers have bought forward on contracts, over the next six months.
But beyond that it would be felt, exacerbated Mr Horgan believes by a recent move in Europe away from buying on contract to buying on spot (or there and then) which hands more influence to Russian gas producers.
The downstream effects of a jump in gas prices would not only be felt in electricity prices, but also in many other products that are produced using the resource, like food and consumer goods for example.
It is not a certainty, though, that military action would disrupt Russian gas supplies to Europe that currently come through Ukraine.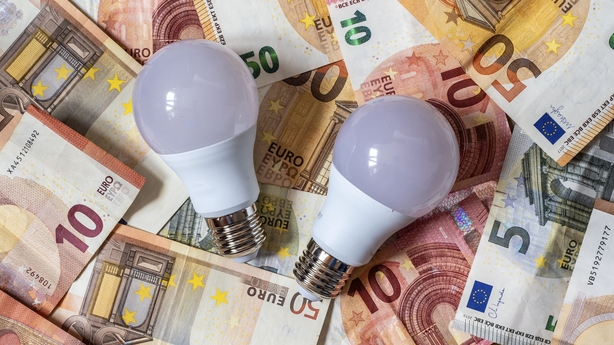 "Gazprom ultimately has the option to send gas via the Yamal pipeline that runs through Poland," Jake Stone, analyst with Independent Commodity Intelligence Services told RTÉ Radio One's Morning Ireland yesterday.
"This is currently highly under-utilised and it would just be a rerouting of the gas we currently see delivered through Ukraine."
He also warned there would be something of a supply crunch if Russia turned off the gas supply tap, but only a slight one, as existing contingency plans for rerouting supply from other parts of the world are put into force.
Existing storage sites in Europe would also come into play, Mr Stone said, acting as something of a buffer until supplies from elsewhere came on stream.
In any event, Ireland is less exposed to supply disruption, he claimed, as much of Ireland's gas comes from the UK, and it also has its own source in the Corrib field.
The markets have been skittish in the last couple of weeks, in part because of the uncertainty around Ukraine
Another energy source used in Ireland that could also be derailed by a conflict would be coal.
Moneypoint power station in Co Clare uses coal imported from Russia, and so disruption could have a direct impact there.
However, the power station has the largest energy store on the Island of Ireland with a capacity to hold enough fuel for three months of running, compared with standard gas generating stations which hold just five days of energy storage.
It also uses coal brought in from Colombia and the US.
Coal isn't the only Russian import in the potential firing line though.
According to the Central Statistics Office, in total Ireland imported over €291m of goods from there in 2020 and sent exports to the country that were worth €445m.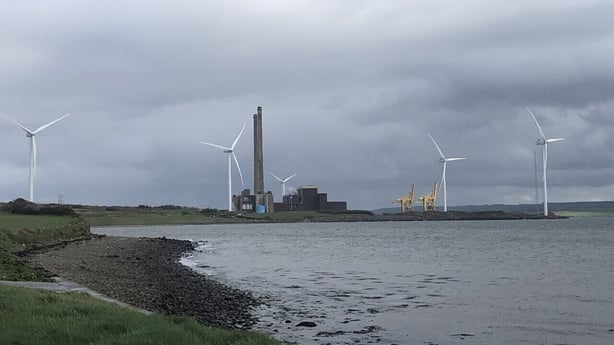 Among the largest categories of exports were perfumes, cosmetics and toiletries, chemicals, medtech and pharmaceuticals, the tradingeconomics.com website lists.
Imports from Russia, on the other hand, are as you'd expect dominated by energy and commodities.
In comparison, €207m in imports of goods and services were received into Ireland from Ukraine and exports sent to the Eastern European state from here were worth €470m, according to the website of the embassy of Ukraine in Ireland.
Exports to Ukraine are led by pharmaceuticals, food and alcoholic and non-alcoholic beverages.
While we chiefly import grain, fuel, residues and waste from the food industry, metals and fertilizers from the state.
Clearly then, any upheaval in either market would be a serious one for Irish exporters and importers.
Enterprise Ireland has an office in Moscow, but its clients export to both countries.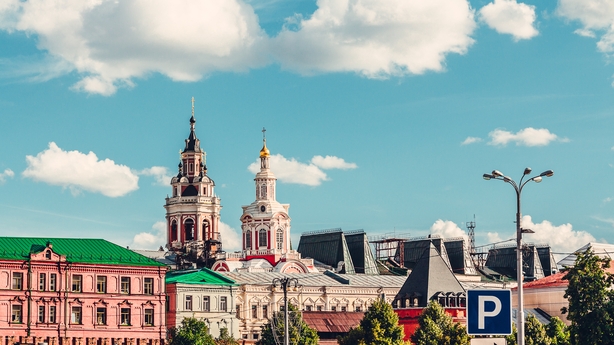 "Enterprise Ireland client exports to Russia and Ukraine are €126 million and €23 million respectively," it said in a statement.
"Any potential sanctions have the capacity to disrupt trade flows in the region."
"Enterprise Ireland is liaising with clients active in the region and while at present there are no significant impacts we continue to monitor the situation."
Inward investment could also be impacted. Russia isn't a huge contributor to foreign direct investment in Ireland, but Russian firms do operate here.
The largest of these is probably Aughinish Alumina, in Askeaton, Co Limerick which employs almost 700 people directly and indirectly and is owned by Russian firm Rusal.
Experts think investors are more concerned about the inflation and interest rate environment [than about] a war they don't believe will happen
It already faced sanctions from the US in 2018, which were only lifted the following year.
The big fear around sanctions is that it could lead to an escalating tit-for-tat situation, that could have knock on-effects across a range of sectors, including financial services.
Back in 2014 when sanctions were last imposed on Russia over its seizure of Crimea, the west considered blocking Russia out of the SWIFT international financial messaging system, but ultimately decided against it.
Were such a measure to be considered again, it could have serious consequences for Irish firms trading with Russia, said John Whelan, international trade consultant and managing partner with The Linkage Partnership.
"From an Irish point of view and from an EU point of view the SWIFT system is really a very damaging option right across the board," he stated.
He's noticed a marked increase in trade activity between Ireland and Russia in the last month, as firms here stock up ahead of any disruption.
"Our imports from Russia in the last month went up by 500%, so there is obviously - in advance of the sanctions blockade on imports - [worry among] people about getting their usual products in from Russia, so there is a bit of rush there," he said.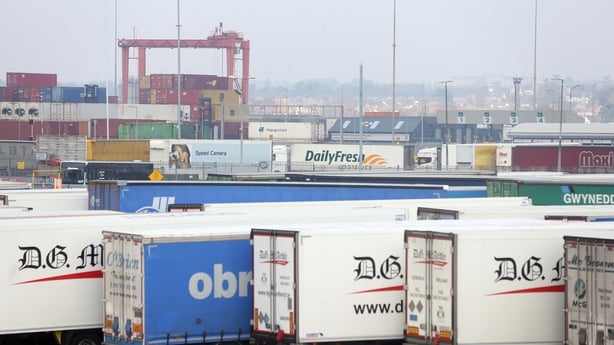 He said there has also been interesting moves in exports to Russia for similar reasons.
The markets have been skittish in the last couple of weeks, in part because of the uncertainty around Ukraine.
Shares in large global consumer brands have been hit because of fears of sanctions on Russia and at times that volatility has weighed on Irish stocks and by extension, Irish pension funds.
But ultimately, experts think investors are more concerned about the inflation and interest rate environment, particularly in the US, than they are about a war which they don't believe will happen.
"I would suggest that the markets' view on Russia invading Ukraine now is probably about 65/35 that it won't," said Peter Brown of Baggot Investment Partners.
"There is just too much to lose on both sides. No one is a winner."
Aidan Donnelly, Head of Equities at stockbroker Davy agrees. "I think there is obviously a nervousness all about it, but there is no real panic," he said.
"And I think that even if we were to see an invasion, we'd probably see a couple of days of weakness across the major indices."
"But the feeling in the market is that it is not going to happen, that some sense will prevail."
Let's hope the market is right.