Attitudes towards women in Irish society have come into sharp focus recently.
Social and cultural attitudes are reflected in the workplace.
And respect, equity, and civility matter in the workplace as they do in wider society.
"Respect is an old-fashioned word, but it's an important one."

- Bishop of Meath, Tom Deenihan
This starts with the leadership of the organisation, the example they give and the policies they put in place.
We've asked Professor Christine Cross, who lectures in Organisational Behaviour and Human Resource Management at the Kemmy Business School at University of Limerick, and Maeve McElwee, Ibec Director of Employer Relations, for their views on how employers can ensure a safe and respectful working environment for all employees.
What can businesses do to provide a respectful workplace for all employees?
Prof Christine Cross said one of the first things a business can do is ensure they have a workplace dignity and respect policy and ensure all employees are trained on this policy.
She said there needs to be more than just a belief that having the policy will mean the organisation's duty is met. All employees need to be properly trained to understand the impact and implications of the policy.
"Bullying, harassment, sexual harassment, and victimisation in the workplace can affect the health, confidence and performance of those affected by it.
"This training cannot be a tick box exercise and the organisation must ensure it recognises the importance of providing appropriate and regular training on this policy."
Prof Cross said the organisation must also make it clear that they will not tolerate bullying, harassment or victimisation and that they will take appropriate action up to and including dismissal against those who engage in these behaviours.
"This is key to the success of the policy, as, if an employee believes that there will be no negative consequences associated with this type of behaviour in the workplace they will see no reason to change their behaviour."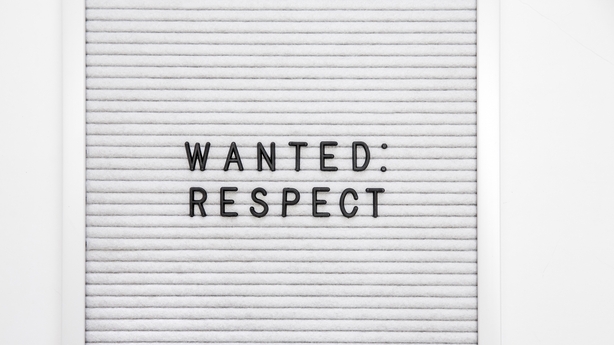 The culture of an organisation is an important factor in creating, establishing and maintaining a positive and respectful workplace environment, according to Ibec's Maeve McElwee.
"A positive culture is one of openness where people's talents and contributions are recognised. It is also where employees are comfortable raising issues of concern to them, especially of inappropriate behaviours and where there are supportive, effective and fair processes underpinning this in place."
What can businesses do to eliminate sexism from the workplace?
Sexism is linked to beliefs around the roles women should play in society and as such attitudes around women's place in society are important drivers of individual attitudes about women in the workplace.
Despite the existence of employment equality legislation stereotypes around women in the workplace remain.
"We can clearly see this in the fact there are so few women holding the most senior decision making positions in organisations," Prof Cross said. "A recent report indicates that there are just 30% of female directors on the boards of the ISEQ 20. While this may sound like a strong percentage this is the results of years of work by organisations to address the gender imbalance in their organisations.
Some organisations are more progressive than others in this regard and have invested heavily in the elimination of sexism in their organisation.
"In a society where the rights and potential of women are constrained, no man can be truly free. He may have power, but he will not have freedom."

- President Mary Robinson
Prof Cross said the most important change many organisations have undertaken is the measurement of the outcomes of sexism across different levels of the organisation.
"What I mean by this is the old adage of what gets measured gets done. So if you are not measuring the number of women in the leadership pipeline you will not know if there are problems with the pipeline and thus cannot take action to address the issue," she said.
"The issue of a leaky pipeline has been discussed for years as women are entering organisations in the same numbers as men, but as they progress through the organisation's management levels the number of women falls at each stage until we reach a stage where the number of women in the most senior positions in organisations is significantly less than their male counterparts."
She said in order to ensure this approach is taken the top management team need to set targets and instill the need for this change into the culture of the organisation.
Other efforts an organisation can take in the recruitment and selection of new employees is to ensure there is a gender balance on the interview panel, both in terms of the number of interviewers and the candidates being interviewed.
"Too often not enough female candidates apply for more senior roles and the organisation needs to make additional efforts to attract more female applications," she said.
"The criteria being used as part of the selection process also needs to be gender proofed to ensure they are objective rather than the outcome of the interviewer's unconscious bias."
Prof Cross said we know from research that women speak less often at meetings than their male counterparts.
"Organisations need to ensure those chairing meetings elicit opinions from everyone at the meeting."
What is harassment in the workplace and what form does it take?
Harassment is any unwanted conduct that takes place with the purpose or effect of violating the dignity of a person and of creating an intimidating, hostile, degrading, humiliating or offensive environment.
Harassment includes the following:
Verbal harassment – jokes, comments, ridicule.
Written harassment – including faxes, text messages, emails.
Visual displays – posters, emblems, badges.
Physical harassment – threatening, pushing.
Sexual harassment - unwanted verbal, physical conduct of a sexual nature
Isolation or exclusion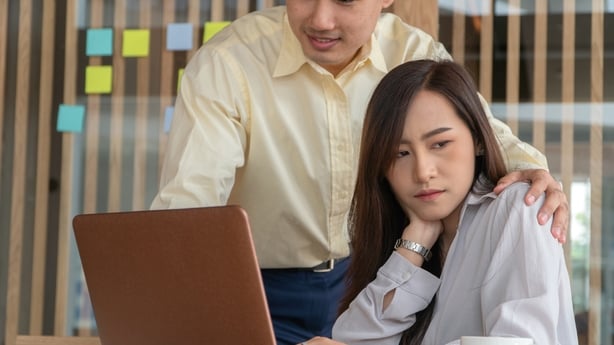 If an employee is subjected to harassment, whether a joke or something more overt, what should they do?
Maeve McElwee, Ibec Director of Employer Relations, said employees have rights and duties under the safety, health and welfare at work legislation and specifically on the issue of harassment.
Employees have the right to be treated with dignity and respect at work and not to have their safety, health or welfare put at risk by the employer, by other employees or other persons.
"They have a right to complain to the employer if they believe they have been harassed in the workplace and not to be victimised for so doing," Ms McElwee said.
"Every employee should be aware of and have access to the company policy so that they can raise their concern or complaint to the appropriate persons in the organisation."
What should an employer do if an employee makes a complaint of sexism or harassment in the workplace?
Every employer has a duty to manage and conduct work activities in such a way as to prevent any improper conduct or behaviour likely to put at risk employees' safety, health or welfare at work, Ms McElwee said.
The prevention of harassment must therefore be part of the management system.
In line with the Workplace Relations Commission Code of Practice on Harassment and Sexual Harassment in the Workplace, every company policy should state that management and others in positions of authority have a particular responsibility to ensure that sexual harassment and harassment does not occur and that complaints are addressed speedily.
She said when a complaint is made, the employer should engage with the complainant to hear their complaint and/or concerns.
"Following the initial engagements to determine the nature and substance of the complaint, the procedure for managing the complaint or concern should then be commenced, keeping the relevant parties informed of progress and advised of next steps throughout," she explained.
"It is important that the procedure is managed in an appropriate timeframe and that the parties are supported in dealing with any investigation or subsequent outcome of the process."
What can male colleagues do to ensure a supportive environment for female colleagues?
All employees have a duty to conduct themselves in a way that confers mutual respect and courtesy in the workplace, Ms McElwee said.
Employees should also co-operate by providing any relevant information when an allegation is being investigated whether at the informal or formal stage of a company policy.
"All employees, regardless of gender, can support a positive workplace culture by calling out any behaviours they feel are inappropriate or disrespectful of colleagues or other workers.
"They can also support the culture by considering their own behaviours, use of language or phrasing and considering the tone and impact of contributions on other colleagues."
A further key support in maintaining a positive workplace culture is for all colleagues, of any gender, is to remain open to sensitive, constructive feedback on their behaviours or language and adapt appropriately, she added.