The number of people on the Live Register and the Pandemic Unemployment Payment rose by 5.8% to 229,657 in December, according to the latest figures from Central Statistics Office.
A total of 66,906 people were in receipt of the PUP in the last week of December, an increase of 11,906 on the numbers in November.
But there were 308,357 fewer people in receipt of the PUP last month compared to December 2020.
The PUP was reopened by the Government on December 7 last year following the reintroduction of some Covid restrictions.
Today's CSO figures show that the Live Register, when adjusted for seasonal factors, fell by 2,600 over the month to 166,300.
There were an estimated 283,525 jobs supported by the Employment Wage Subsidy Scheme (EWSS) in November.
There are no figures yet for the numbers on the EWSS in December, but they are expected to have increased.
The combined number of people on either the Live Register, the PUP or being supported by the EWSS was 491,912 in November. This compares to 793,550 in November 2020.
---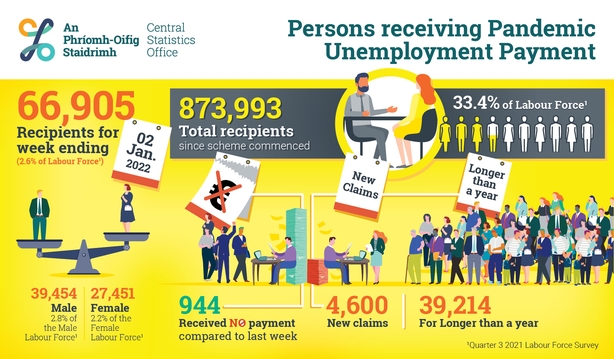 ---
According to the CSO, 873,993 people have benefitted from the PUP at some stage since the scheme began in March 2020. This represents around a third of the workforce.
39,214 people have been on the PUP for over a year, it added.