For many consumers and companies, shrinking their environmental impact has – until now - revolved around reducing energy usage and upping their recycling rate.
But as welcome as those efforts are, they really only scratch the surface of what will ultimately be required in order to make the world's economy sustainable.
"COP26 made the decision to reduce carbon emissions, a very significant reduction, and everything sounds very good and is positive – but I can tell you at once that this will not resolve our problem," says Prof Iouri Gounko from Trinity College Dublin's School of Chemistry. "This will only delay our death rather than eliminate it.
"The tip of the iceberg is very high greenhouse emissions, everybody now recognises that. But nobody looks at the other aspects – like the amount of waste we produce.
"Every single European produces five tonnes of waste per annum. 65% of this waste goes into a landfill."
"We are currently using three Earths, if you take a global, macro view," Dr Geraldine Brennan, head of circular economy at Irish Manufacturing Research and programme manager at Circuléire. "The economic model has gone into hyperdrive and there's got to be some reconciliation that there's a finite planet with finite resources.
"We can keep those materials, components and products in use for longer, which will reduce the need to extract those raw materials."
Circuléire is a public-private partnership - funded by Department of Environment, Climate Action and Communications, EPA Ireland and EIT Climate-KIC - which has 39 members from a range of sectors. It aims to supports all types of businesses to embrace a circular economic model in order to drive down their – and the country's – environmental impact.
At the moment the global economy is largely based around linear consumption – raw materials are extracted, converted into products, sold and – when no longer required or desired – discarded.
The circular economy would overhaul that, dramatically reducing the amount of both raw materials coming into the economy, and waste coming out.
Central to that is a push to extend the life of everything from machines to products to materials; be that through reuse, repair, repurposing, recycling, upcycling or, simply, better collaboration between companies.
"The circular economy is a new way to design, manufacture and use products," says Geraldine. "Decarbonisation requires addressing the embedded carbon emissions and pollutants associated with the extraction of raw materials to make products. It's about rethinking that in order to decouple those emissions from our GDP growth."
But while the core concepts of circularity are already familiar, achieving a truly circular economy requires a root-and-branch overhaul of the country's – and world's – economic model.
"It's also about not just the products… it's about the services we need to keep products, components and materials in use in the economy," she said. "It's an economic model, it's a new way of thinking about resources and waste, so it's kind of like there's layers."
The circular economy is now seen as a critical part of the country's carbon reduction effort – but a big change is needed in order to make sustainability the easiest option at an individual level.
"If you want a kitchen blender repaired, for example, that can be quite tricky, because small electrical appliances are either expensive to repair or it can be tricky to find the right kind of repair centre for it," said Claire Downey, Research and Policy Director at The Rediscovery Centre. Based in Dublin's Ballymun, it is Ireland's national centre for the circular economy.

"Sometimes repair can be expensive too, compared with the cost of buying new, and that's the real challenge and where we have to find ways to change the big picture.
"How do we change policy, how do we change financial incentives, how do we remove subsidies that are supporting the generation of mountains of unnecessary plastic and instead subsidise the things that we should be doing like refill centres, repair centres and lending libraries."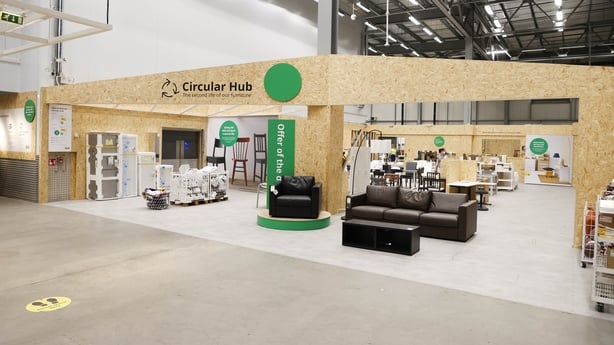 Managing that means that businesses will have to rethink their products to ensure they last longer, are easier to repair or upgrade, and, ultimately, easier to disassemble and repurpose.
They will also need to provide the framework in which achieving a second life for products is possible.
Consumers, meanwhile, will have to reset their attitude towards household goods – repairing and upcycling rather than replacing – while also looking at second hand as their first choice.
That may seem like a daunting task, but Geraldine says the starting point for companies is to understand just how much raw materials they currently need, and how much waste they produce. From there they can begin to make changes.
Help is available, too.
The Rediscovery Centre offers a free mentoring and support programme to social enterprises and community organisations looking to improve their circularity.
"The Circular Economy Academy is part our skills-building-through-demonstration process, we're trying to support the growth of this area," said Claire Downey. "[We want] to support more businesses to become active in this area, which in turn makes it easier for people to find ways to become more circular."
Another route for businesses to boost their circular credentials is Trinity College Dublin's new postgraduate course on Circular Economy and Recycling Technologies, which starts early next year.
"We are trying to provide knowledge of circular economy for people who have some technical or scientific education – for them to use that in their relevant industries," said professor Iouri Gounko, who is coordinating the course. "We've had great interest from people, mostly through their companies, in industries like recycling, fashion and other industries who are really interested to apply the new principles of the circular economy.
"The goal here is to educate people and give them an opportunity to use this knowledge to make our lives better and solve these [environmental] problems," he said.
Geraldine Brennan says awareness around the circular economy has increased dramatically in recent years, with the concept quickly moving from the fringes to a core tenant of climate action.
But knowledge and good intentions will only get you so far. In order to make it easier for people and businesses to engage in more circular activities, there also needs to be the right structures in place at a national level.
The first step on creating that national framework will come through the new Circular Economy Bill, which is currently being drafted by Government.
This is seen as a game-changer by those involved, as it will establish a clear 'direction of travel' for the country. It will help lead to specific targets around product reuse, and penalties and levies on activities tied to the old 'take, make, waste' model – like single use coffee cups.
Overall, however, the circular economy bill will provide more certainty to businesses.
"What that does is… the Government of Ireland has a regulatory obligation, it's not something that can fall off the agenda," said Geraldine. "The Government has to create these strategies, set these targets and reduce emissions."
But Ireland has a long way to go.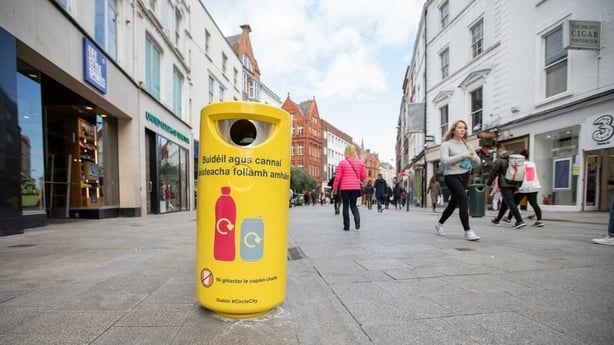 Recent figures from the European statistics agency Eurostat show that 12.8% of the materials used in the EU last year came from recycled waste.
In the Netherlands, the rate was 31%. In Ireland, it was just 1.8%.
That figure does not give a complete picture of Ireland's circularity efforts as it only relates to recycled materials. That means it misses everything that is repaired, refurbished or reused.
And in some ways Ireland is well-positioned for change – not least because the economy is so heavily reliant on importing raw materials and exporting recycling waste.
That means that there is an economic benefit in improving circularity, as it would reduce the economy's reliance on foreign price fluctuations. It also means there is likely to be less local opposition to any move that would ultimately hit the bottom line of raw materials producers.
But ultimately the Circular Economy Bill will need to help change the equation on the economics of repair and reuse in order to achieve its goals.
"What we hope would come from that is a good strong target [on repair and reuse] and ambition to see this area grow, and on the back of that supports that go to make reuse more viable to the businesses trying to do that," said Claire Downey. "You can do that in lots of ways, for example removing or reducing commercial rates for reuse activities, or by creating labour activation schemes specifically for these kinds of activities."
To make repair more affordable for individuals, Claire says there could be a reduced or zero-percent VAT rate on the cost of labour – which would make fixing or refurbishing something more attractive.
"What all of that does is just make it more viable for businesses to be in that sector," she says.
These kinds of initiatives will help to turn circularity from a cost to an opportunity for businesses – but it could also provide crucial for businesses trying to manage or even eliminate the burden of environmental taxes.

"The carbon taxes are coming," said Geraldine. "Any manufacturers who are operating in the European ETS [Emissions Trading Scheme], the carbon price has risen in two years from roughly €30-40 per tonne to €80 per tonne. They didn't expect it to hit €100 per tonne until 2030."
Circularity also creates new opportunities for revenue generation.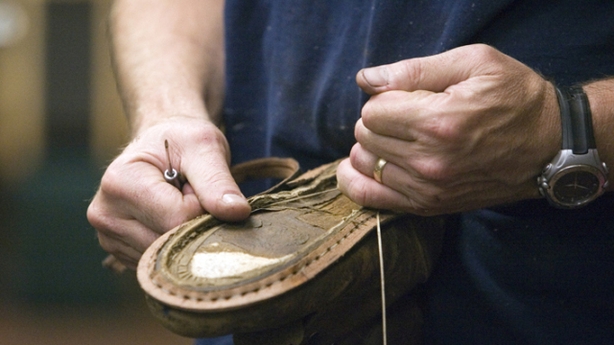 Taking a long-life view on goods may mean fewer up-front sales – but it also creates the potential for product-makers and retailers to sell servicing, repairs and upgrades.
There is also a sizable job-creation potential – as more people will need to be trained and employed in areas relating to repair and refurbishment.
The Community Resource Network Ireland - which is made up of social enterprises and community organisations committed to the circular economy – said its members had revenues of €39.6m last year, with nearly 800 people employed and thousands more working as volunteers.
That's not to mention the 117,180 tonnes of carbon it estimated they saved, which equates to serious money when scaled up.
"The EPA published a report where they ran different scenarios, and they said a 5% material reuse improvement represents €2 billion for the Irish economy," said Geraldine. "That's the macro prize – but the challenge is how companies dip their toe in the water and start on that journey."
Getting to that may be easier said than done – but Claire Rowland is optimistic that the change can be achieved.
The first step will be getting people – and businesses – to think in circular terms, though she points out that many are already doing that.
"I think the language we use is a bit problematic, and the term itself is quite dense and doesn't really resonate with people," she said. "We might not realise that we're already doing a lot of these things in our daily lives.
"You might already find it easy to repair the everyday things that we use, even things like replacing a fuse, gluing a table leg back on, or bringing your shoes down to a local cobbler to get them re-heeled.
"If you buy second hand or donate things to second hand shops you're already engaging in this too."
The challenge now is for businesses to make it easier for people to extend those small acts of circularity into every area of their lives.