An Post has become one of the first big companies in Ireland to eliminate its gender pay gap.
Over the past two years, the company has reduced the gap from 3.7% to effectively 0%.
For the first time ever, women now earn slightly more than men at An Post.
According to the latest Eurostat figures, men are paid on average 11.3% more than women in Ireland.
---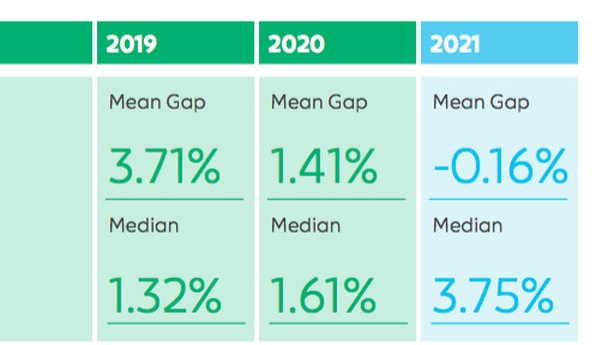 ---
"This is a momentous day today," said David McRedmond, CEO of An Post.
"It shows what can be done when you make big moves to promote equal opportunities," he added.
Speaking on RTÉ's Morning Ireland programme, Mr McRedmond said they achieved their goal by carrying out a number of actions.
"We have been promoting more women in management - and for example by insisting on gender balanced shortlists, we still appoint the best person, but once you make sure that women don't have those biases that stop them getting onto a shortlist, then not surprisingly more of them get through," he explained.
We need your consent to load this rte-player contentWe use rte-player to manage extra content that can set cookies on your device and collect data about your activity. Please review their details and accept them to load the content.Manage Preferences
Despite eliminating their gender pay gap, figures published in their report today show that men still received higher bonuses than women last year.
Mr McRedmond said that was due to the pandemic.
"That is because our delivery frontline is predominately male, and with male management.
"Last year our delivery frontline did a phenomenal job in the middle of the Covid crisis - and quite rightly they got good bonuses.
"That population just happens to be skewed male," he added.
With just 25% of the overall An Post workforce female, the organisation is now working to achieve a better gender balance across all levels.
It will soon launch a new campaign to recruit more female postal staff, with 87% of employees in this area currently male.
"I think it has always traditionally been a male job, and that was also true in management," Mr McRedmond said.
"Now that management has changed, and for example our management board is 50% male, 50% female, I think you are going to see the change happen elsewhere," he added.
Eleanor Nash, Chief People Officer with An Post, agreed that traditionally the sector has been more male dominated.
"To overcome this, we launched several initiatives to encourage more female participation and progression into senior roles at An Post, such as encouraging female colleagues to put their hand up for opportunities to progress, using new software to remove gender bias from role profiles and developing gender balanced shortlists," she said.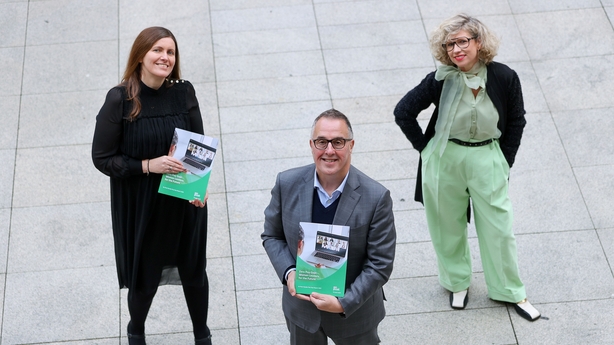 The company has also launched the An Post Green Institute today, which will allow employees to develop leadership and management skills.
"Our new An Post Green Institute launched today is about our commitment to lifelong learning and ensuring that we have the right skills for the future," said Mr McRedmond.
"The journey doesn't end here, we want to leave an enduring mark and encourage more women to join An Post so that we have gender presentation and balance at every level," he added.
In a statement, Tánaiste Leo Varadkar congratulated An Post on eliminating their gender pay gap.
"The gender pay gap in society is unjustified and unfair and needs to be closed in every workplace," he said.
"Well done to An Post on taking the lead at company level.
"Many other companies are striving to set a similar example and I urge them to proceed as quickly as possible," he said.
The Tánaiste said he believes the Gender Pay Gap Act initiated by the last Government and enacted by this Oireachtas will be a catalyst for more companies to take action.
Will Christmas deliveries be delayed due to Brexit?
Speaking on Morning Ireland, the CEO of An Post said they do not expect Brexit-related issues to cause delays with the sending or receiving of parcels this Christmas.
"I think we have worked through most of the issues now," Mr McRedmond said.
He said they are currently in the high 90 per cents when it comes to delivery times.
"Certainly from the major retailers we are not seeing any delays, of course we are not seeing any delays on parcels from within Ireland or the EU," he added.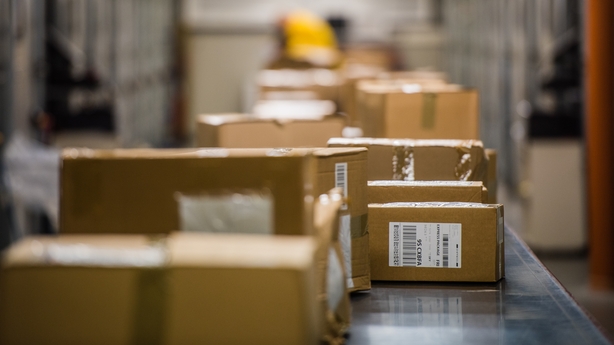 Will nativity themed stamps return?
An Post's range of Christmas stamps was a hot topic for discussion on Liveline yesterday.
Callers expressed their anger that there are no nativity scenes depicted on the stamps this year.
"I was really disappointed, I felt betrayed. Not one single stamp for the national €1.10 post had a nativity scene or a greeting as Gaeilge."

Seán Dunne emailed joe@rte.ie overnight to talk about the "secular" Christmas stamps from An Post this year. #Liveline @joeliveline

— Liveline (@rteliveline) November 30, 2021
Responding to those comments this morning, Mr McRedmond said each year the company picks different themes.
"We have had nativity themes in the past, and we'll have them in the future but we can only produce so many stamps and we produce different stamps with different messages," he said.
"The nature of stamps is that there is always going to be a bit of controversy around them, we like people thinking about them," he added.