Insurance costs and Covid-19 restrictions mean there are fewer ice-skating rinks around the country as the Christmas season gears up.
Fewer operators are taking on the financial risk of running a rink, with Blanchardstown in Dublin one of the only towns on ice this year as most counties had to forego their usual Christmas skating rink.
The Alpine Skate Trail in Fota Island in Cork is also open to the public for the first time.
Mullingar in Co Westmeath had an ice rink in 2018 and 2019 and attracted 40,000 visitors each time it was open.
President of Mullingar Chamber John Geoghegan said the rink brought new life into the town.
"It breaks our hearts this year that it's getting canned. It's a shocking situation, but we're not on our own," he said.
"Kids love it, families love it. You can set your clock to the footfall on the street, it was an unbelievable success," he added.
However, the cost of insurance is making it less and less viable for businesses to operate skating rinks.
Cool Runnings is the only business operating rinks this year.
Managing Director Bill Cremin has decided to open only two pop up rinks this year, in Cork and Dublin, instead of four.
We need your consent to load this rte-player contentWe use rte-player to manage extra content that can set cookies on your device and collect data about your activity. Please review their details and accept them to load the content.Manage Preferences
"Our insurance premium is well into the six figures. That's commercially sensitive information so I can't tell you how much exactly but what has really allowed us to be able to get insurance this year is we've had to accept a very high excess on our policy," he said.
"From an insurer's perspective, they wouldn't be exposed to any financial risk unless there's a very large, significant claim so to a large extent, we are self-insuring," he added.
The defence costs are particularly crippling for the industry, despite recording less than a handful of claims each year, according to Mr Cremin.
"What we're dealing with every day is the huge cost of defending claims, so a claim that would cost €15,000 for example, could easily have €30,000 in costs that would be divided between the solicitors," he said.
"We had a claim recently that went to the High Court; the value of the award given was €65,000 but legal costs on both sides were over €500,000 so insofar as the awards are certainly driving up premiums, a much larger factor is the level of legal costs involved," he said.
It is not all about money, however. While ice-skating is not the first sport that comes to mind in Ireland, it has been increasing in its popularity over the last two decades according to Karen O'Sullivan, President of the Ice-Skating Association of Ireland.
The ISAI would usually have between 200 and 250 people availing of lessons over the course of the weekend but this year, will have to forego any skating programmes, such is the difficulty to rent ice.
"Our biggest risk to our sport is the lack of insurance in the market here in Ireland, so for many people they're not going to learn to skate this season and it'll be the second season we won't be able to run a Learn To Skate programme," she says.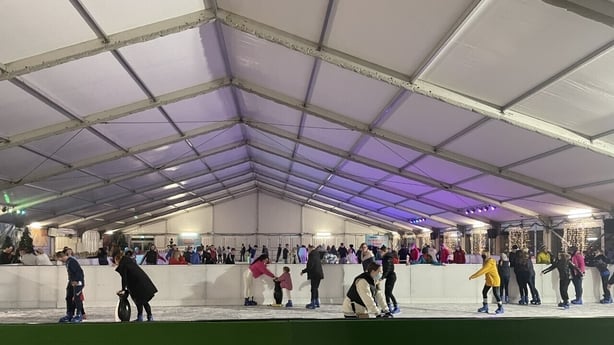 "Nearly every season we'd see a new intake of six to eight-year-olds and they're not getting that opportunity. We also get lots of adults who come in wanting to learn because it is not necessarily just an elite sport, it is a recreational or physical activity for a large majority of people and they're postponing learning and the older we get we might fall into perspective that we won't actually take it up."
The ISAI, along with Mr Geoghegan, has called for the Government to protect Ireland's rinks before next season's plans are put on ice again.
"As a country it has opened up our thinking of how we do Christmas in Ireland and we've started to follow the European model now where you have a beautiful Christmas market and an ice rink," said Mr Geoghegan.
"I think the councils and the Government need to look at this because if you think each of these is worth €3 million to the local economy, then when you multiply that you could have between €30-40 million generated every Christmas which is fantastic," he said.