The world's largest seller of watches, Apple, is back with a refresh of its timepiece.
The changes to the latest version aren't huge, but the device remains among the leaders in the smartwatch market.
DESIGN
In the design department, the Apple Watch on the face of it hasn't changed much.
It is still rectangular with similar dimensions to the Series 6, and smooth curved edges that Apple says have been refined in this update.
The case is available in three different choices of materials - recycled aluminium, polished stainless steel and brushed titanium.
But it remains light in weight and comfortable to wear.
There are 10 different case colours, five of which are exclusive to Series 7 - midnight (black), starlight (silvery gold), green, blue and red.
Couple this with a range of new band colours and there are plenty of options to satisfy user style demands.
The device carries a new IPX dust resistance and retains water resistance to 50m, suitable only for shallow water activities like swimming in a pool or the sea, but not water-skiing, diving or other high-velocity hi-jinks.
But all told, if you are already familiar with Apple Watch, you won't really notice massive differences in the appearance of the Series 7 when compared to the previous version.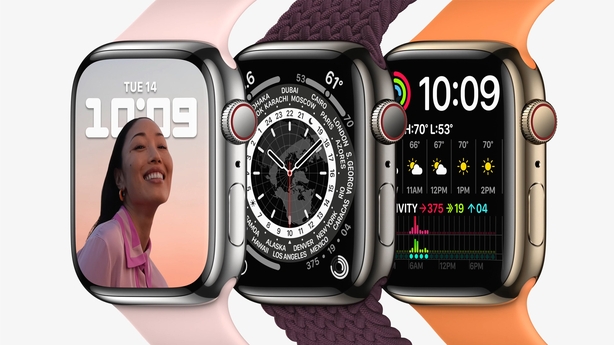 DISPLAY
The overall look may not have changed all that much, but the screen has.
The displays are now larger, measuring in at either 41mm for the smaller version and 45mm for the larger timepiece, up from 30mm and 44mm on the Series 6.
They have also been re-engineered, with the result that there is more screen area and thinner borders.
Apple says the watch now has a unique "refractive edge", which makes the user interface appear to wrap subtly around at the 1.7mm wide border.
The result is a screen area that is 20% larger than on the last version of Watch.
And it certainly does, in practice, feel a bit bigger than on the Series 6.
The second generation OLED Retina display remains very good - it is bright (1,000 nits at its max), sharp and responsive to the touch.
Ion-X glass has been added to make the device more durable and Apple claims its the most crack resistant front crystal ever put on Watch, 50% thicker at its thickest point than the Series 6.
One other positive change is that the always-on display is now 70% brighter when your wrist is down, making it a bit easier to see what is happening at a glance without having to lift your wrist right up.
HARDWARE
The Series 7 is powered by Apple's S7 64-bit dual-core processor.
It gallops along - apps open and close quickly, and you are unlikely to have any issues with it hanging.
There is 32GB of on-board storage. It is enough, but probably not overly generous at this stage, when people want to be able to do more with the smartwatches.
The efficiency of the chip coupled with battery technology improvements mean that even with the larger display and increased wrist down brightness the new Watch still manages all-day battery life.
And while the power may last in to a second day with frugal use, you are unlikely to make it all the way through that additional 24 hours without having to reach for the charger.
But the good news is that Watch Series 7 charges up to 33% faster than Series 6 once you use the magnetic charger supplied with it along with a 5W power adapter (not included), bringing the device from 0-80% in 45 minutes (0-100% in 75 mins).
If you use a previous version of the magnetic charger, you won't get that extra quick fill-up.
As with previous versions, the Watch is available with cellular connectivity so you can use it without it having to be tethered to your phone or Wi-fi.
But Apple still can't say when or even if that service will come to Ireland.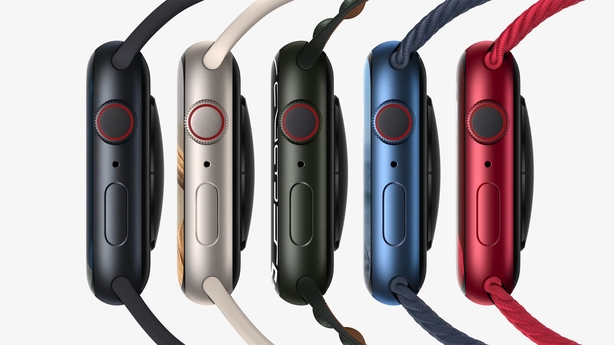 OTHER NEW FEATURES
The user interface on the Series 7 has received an upgrade.
It is designed to make best use of the larger display and the changes make everything that little bit easier to read.
Buttons across the interface, including in Calculator and Control Centre, have also been made larger and easier to tap.
Messages are also simpler to read because the bigger screen means more text can fit on it.
There are also new ways of inputting text, with the first full QWERTY keyboard to feature on Apple Watch.
It takes a little getting used to, but with some practice it is possible to master, helped along with some clever machine learning that predicts what you are trying to type.
There are a couple of new watch faces on the Series 7 - one called Contour where numbers on the dial bleed to the edge of the screen, but animate and grow to highlight the current hour when you raise your wrist.
The other is called Modular Duo, which includes two large high data complications, like heart rate or weather.
There are no new physical health monitoring features on the Series 7 - so unlike the Samsung equivalent, you can't check your blood pressure.
But all the pre-existing features like the blood oxygen sensor, ECG and heart rate monitor are still there.
The new operating system, Watch OS8, also adds fall detection to cycling and all other workouts - handy if you take an accidental tumble while out for a ride or on a run on the treadmill.
Activity tracking on Watch OS8 remains solid, but not spectacular, across a range of sports and fitness, including now Tai Chi and Pilates.
Automatic cycling detection has also been added to the workout app, while the algorithm has been tweaked to better calculate the calories you burn when on an e-bike.
But the range of workouts isn't as extensive as you might find on a more specialised sports smartwatch.
Watch OS8 has also had its photos app revamped, while the Breathe app has been replaced by Mindfulness with more features.
CONCLUSION
There are many reasons why the Apple Watch Series 7 will remain a market leader in the smart watch category.
It still looks pretty unique in a good way, it has an excellent display, Watch OS8 is a polished operating system and the faster charging is a plus.
The absence of the cellular connectivity in Ireland is still a drawback though, the workouts could do with a bit more variety and the battery life while perfectly acceptable is not outstanding.
The new features listed above do add to the attractiveness of Watch Series 7. But in truth, if you already have Series 6 there really isn't enough to warrant an upgrade.
And if you currently use an earlier version of the Watch and are looking to upgrade, you might even get better value by buying a Series 6 if you can find one.
But if you wish to buy an Apple Watch for the first time, and can afford the price (starting at €429), you are unlikely to be disappointed by Watch Series 7.