Over the past year-and-a-half, the Government has spent over seven times an average Budget Day 'package' on tackling the fallout from the Covid-19 pandemic.
When it's finally totted up, direct Covid expenditure is estimated to reach €38 billion. Although current indications suggest it could end up being slightly less. Either way it's a lot of money.
The National Treasury Management Agency has borrowed almost €36 billion on Ireland's behalf since the onset of the pandemic. Gross Government Debt is projected to reach almost €238 billion this year and top a quarter of a trillion euro by 2023.
It's like as if the Minister for Finance and the National Debt hopped on an elevator in the Spring of 2020 and rocketed ten floors at a time to arrive in the rarefied (and hopefully less infectious) air of a skyscraper roof in October 2021.
So, when Paschal Donohoe gets to his feet on Tuesday, he'll be delivering a traditional Budget Day package in a different world. And after his whirlwind round of tax diplomacy, he may be forgiven if his feet sway somewhat.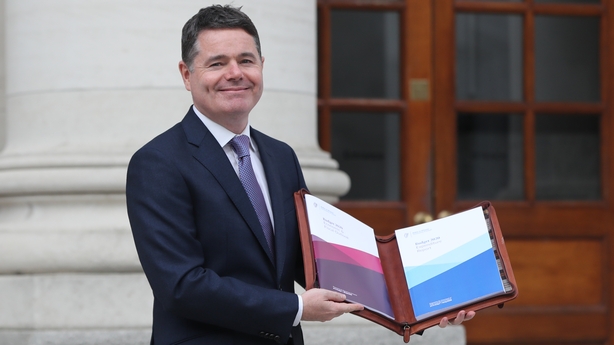 The Budget parameters have been set out in the Summer Economic Statement and both the Minister for Finance and the Minister for Public Expenditure and Reform have reiterated on several occasions now that they intend to stick to them.
That still means voted expenditure next year of €88.2 billion and a Budget day package of €4.7 billion. New spending decisions on the day will amount to around €1 billion while tax cuts of €500 million are pencilled in.
The Fiscal Council has described the Budgetary arithmetic and plans for subsequent Budgets as being at the "limit of what's prudent" and potentially "risky."
There's little room for error at the top of a skyscraper.
The good news is the world below has started to move around a lot faster. The Department of Finance has doubled its forecasts for growth this year both in GDP terms at 15.6% (another world again...) and 5.2% when measured by Modified Domestic Demand.
Both the ESRI and the Central Bank chimed in with their upgraded forecasts last week and predictions that unemployment will fall more sharply than previously thought.
Some evidence to back this up came this week with the unemployment rate in September, including those on the Pandemic Unemployment Payment - down to 10% from just over 12% in August. The numbers on the PUP have more than halved from just over 217,000 in September to just over 100,000 today.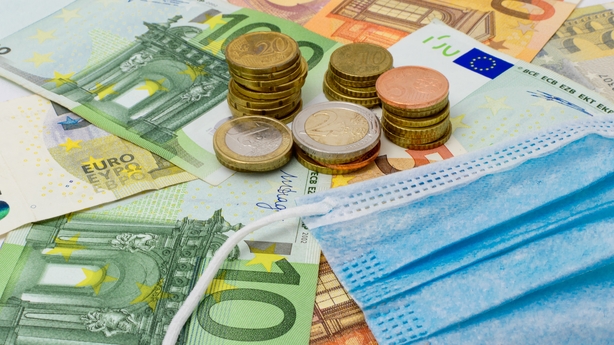 And then late last night, we got the news in the White Paper that tax revenues will be much stronger than the Government had calculated - some €3.8 billion stronger - helped in large part by a record haul of corporation tax of €13.53 billion.
The ESRI's view is that the improved outlook for the economy eases some of the pressure on the public finances. It certainly lowers the amount by possibly up to €7 billion that the Government will need to borrow this year to balance the books.
The flipside to more economic activity is that it can generate inflation. And inflation can lead to investors wanting a greater return on their money, which can lead to higher borrowing rates. Not what a highly indebted country wants to hear, even with a very understanding central bank in Frankfurt.
There's a massive debate going on now over whether price rises recorded across economies are evidence of inflation or whether we're just going through a temporary burst of price pressure, caused mainly by higher energy prices and bottlenecks in the supplies of certain goods as economies throw off the shackles of lockdown.
Inflation is currently running in Ireland at close to 3%, depending on how it's measured.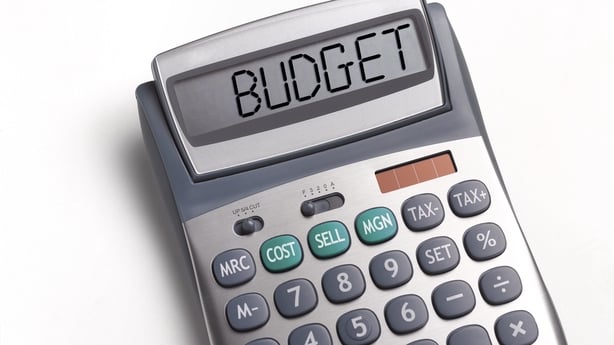 Earnings growth, according to the Central Bank, is forecast to grow at just over 5% this year. But that's not evenly spread across different sectors.
All of this is important because the promised increases in social welfare payments and adjustments to tax bands, will all be referenced back to these key metrics. But because they reflect an average of vastly different realities out there, it's unlikely everyone will be happy.
Also, if the minister sticks to his sums on tax cuts, there won't be that much to go around.
Half a billion euro sounds like a lot of money but calculations from the Irish Tax Institute show the cost of increasing the standard rate band by €1,300 to mitigate the increased tax liability from a 3% increase in the average salary would cost the Exchequer €325 million.
And then there's the cost of raising the various USC Rate Bands.
And after all that, you might only find yourself just somewhere around €5 a week a better off.
Stronger growth, more in taxes and many, many demands on the public purse is going to make sticking to spending limits tricky, politically.
But with elevated debt levels, not sticking to them could end up being even trickier, economically.