It is September. Time for the leaves to start turning brown, the nights to noticeably draw in and for Apple to launch its latest suite of new products.
Among this year's autumn announcements were a new large iPad, an iPad mini, a new Watch, updates to Fitness+ and four new iPhone 13 options.
Among them is the flagship, the Pro Max, the largest, most feature packed and most expensive of the pile. So what has it got offer?
And is it sufficiently different to last year's 12 Pro Max and this year's smaller and less expensive iPhone 13 to warrant a look?
DESIGN
Apple says the iPhone 13 Pro Max has been completely redesigned inside an out.
In reality though, it looks on the face of it to be pretty much identical to its predecessor.
Once again you get the flat edge stainless steel band around the outside of the device, which definitely does make it easier to grip and hold.
It continues to have Ceramic Shield on the front and toughened glass on the rear, making it reasonably resistant to scratches and drops.
The back though still has a pretty dominant protruding camera block, with the three lenses sticking out more than enough to make it wobbly when lying on a flat surface.
But most users would more than likely have a protective case around it that will compensate for the lenses and flatten out the rear.
On the front, the TruDepth camera system has been made marginally smaller and the ear speaker moved right up to the top edge, a combo that provides a little more real estate at the top of the display.
Other than that though, there is next to nothing that stands out as being different in design, although that's not necessarily a bad thing.
It still remains a very large phone – deliberately of course – but consequently won't be to everyone's delicate tastes.
The phone carries an IP68 rating, so it is good for being submerged in up to 6m of water for 30 minutes.
There are four colour options - Graphite, Gold, Silver, and all-new Sierra Blue.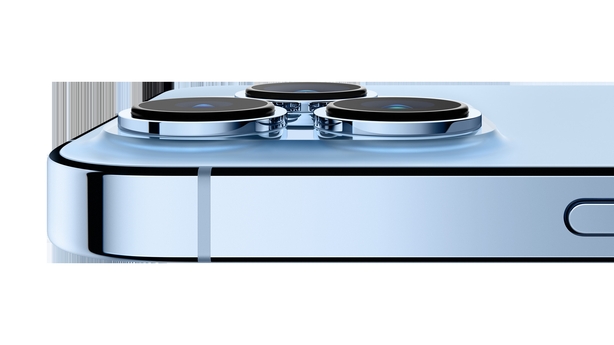 DISPLAY
While the design hasn't changed to any great degree, the display on the Max has.
It is still a 6.7" Super Retina XDR screen (6.1" on the smaller iPhone 13 Pro). But it now has ProMotion which provides an adaptive refresh rate.
Put simply that means that depending on what you are viewing on screen, the display will automatically change the rate at which the images refresh.
The higher the refresh rate, the smoother the viewing experience, especially when scrolling and swiping, watching video or playing fast action games.
The rate varies from 10Hz to 120Hz. Lower rates preserve battery, so the phone will automatically sit at the same rate when doing static functions like reading for example.
The OLED panel also peaks at up to 1,000 nits outdoors, which is 25% higher than on the 12 Pro Max, and 1200 nits when looking at photos and videos with High Dynamic Range.
These nits aren't the creepy crawly kind, but the kind that controls the brightness of a screen.
So at that level you can expect when outdoors to be able to see what's on the display clearly and brightly.
Overall, these features, combined with HDR10, Dolby Vision and the existing True Tone feature that adapts white balance to the colour temperature around you, make for a top-notch screen experience.
But in truth, not one that the average user is really going to notice a major difference in if upgrading from the 12 Pro Max.
HARDWARE
Another aspect of the 13 Pro Max that has received a bump is the hardware.
Out goes the old A14 Bionic found in its predecessor, to be replaced with (you guessed it) the A15 Bionic – a 6-core CPU claimed by Apple to be 50% faster than the nearest competition.
Within the chip itself, Apple has updated the neural engine – the part that does a lot of the clever thinking when it comes to capturing and editing photos and video.
It has also improved the graphics processor, giving it five cores. This makes for pretty seamless graphics experiences when gaming.
This is all complemented by 6GB of RAM and together it makes for, as you'd expect, a smooth flowing, glitchless, user experience.
Everything opens and closes quickly, runs smoothly when open and crashes are non-existent (apart from when you come across an app not updated for iOS 15).
Storage options have changed on the 13 Pro Max. The entry level remains 128GB, but in addition to the 256GB and 512GB choices, there is now also a 1TB offering.
That's a lot of storage and its debatable whether it is really needed in a smartphone. But more than anything else it's the price here that will be the limiting factor, with 1TB costing €1,859.
Battery life is also better on the 13 Pro Max, when compared to what went before it. That's thanks to a combination of the power efficiency of the A15 Bionic chip, as well as a little extra space that Apple has found inside for the battery following its redesign.
On paper, Apple says it will deliver 2.5 hours more a day than the 12 Pro Max based on real world testing – quite the claim.
We've only been trying the phone out for a couple of days this week, but what is clear is that the battery life is very good.
A full day's moderate to heavy use and you should still have gas left in the tank. A 20W adapter will give you a 50% charge in 35 minutes, but as before wireless charging is an option too.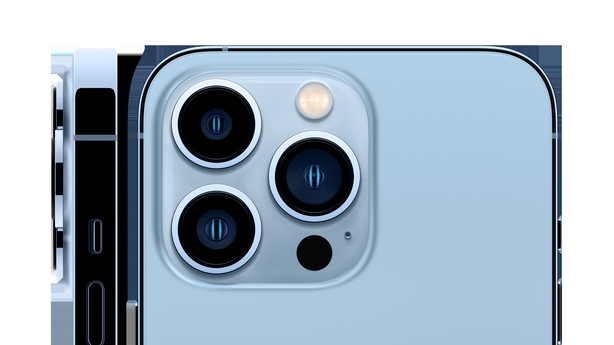 CAMERAS
When it comes to imaging, Apple has persistently led the way in recent years, rivalled only by Samsung.
The main camera set up on the 13 Pro Max takes things a step further.
It still sports a triple camera – with ultra wide, wide and telephoto lenses.
The cameras all remain 12MP sensors and there is a slight bump up in optical zoom, from 2.5x on the 12 Pro Max to 3x on the latest edition.
Although there has been some noticeable improvement on light levels, when it comes to the basic camera functions and the existing features we've seen previously on the Pro range, there is no massive change in quality and performance. It all remains very good.
But as you'd anticipate, there are some new features, with varying degrees of usefulness.
Among the new offerings is Macro Mode on the ultra wide camera – the ability to shoot subjects really close up, up to 2cm minimum focus distance to be precise.
Its not a new feature in the mobile market – Huawei and others have already introduced it on their phones. But it is new to Apple and will provide some users with a little amusement.
Photographic Styles is another addition. These are in-effect four pre-programmed filters (rich-contrast, vibrant, warm and cool) which you can choose to apply to your images before you capture them.
If you want to tweak these presets you can do that also by adjusting the tone and warmth on each one.
But with the post-capture filters still available to apply to an image in editing, it does beg the question of what exactly the purpose of Styles is?
Every image is different and users aren't likely to want to pigeon-hole themselves into particular preferences before they take a snap.
The new feature that Apple has been most excited about is Cinematic Mode. It introduces what is known as rack focus – or the ability to change what subject the focus is on in order to move the viewer's attention.
This can be done as you are capturing, or (and this is the clever bit) afterwards in editing.
It was sort of possible to achieve a similar effect before on the 12 Pro Max using the regular video capture mode.
But the additional depth of field in Cinematic Mode on the 13 Pro Max and the ability to change the focus later are both significant enhancements.
For really serious video enthusiasts there's also a new ProRes video mode – a format that is widely used by video editors that ensures extremely high colour preservation.
The front-facing TrueDepth camera continues to deliver good results, and it too supports Cinematic Mode.
OTHER FEATURES
The 13 Pro Max comes with iOS 15 pre-loaded. Notifications look a bit different with contact photos included, while Focus allows you to filter out or in certain notifications and apps depending on what you want to get through or don't.
Live Text will recognize text in a photo which can then be scanned, searched and copied. Safari, Photos and Maps all have been updated too.
Like the 12 Pro Max, the 13 is 5G ready and extra bands have been added.
It also supports the MagSafe accessories system introduced in the last upgrade.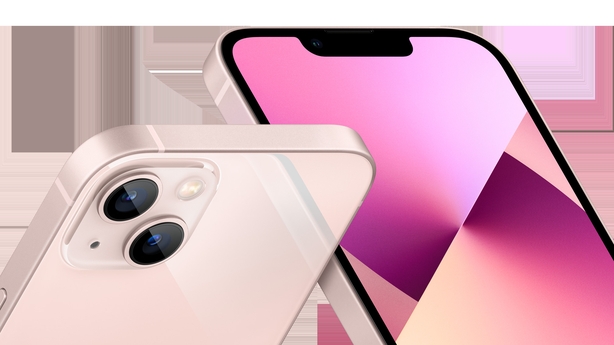 IS THE IPHONE 13 A BETTER OPTION?
Ranging in price from €1,179 to €1,859, the iPhone 13 Pro and Pro Max are expensive – there's no denying it.
The screen size on the lower level iPhone 13, at 6.1", is the same as on the iPhone Pro.
You won't get ProMotion on the iPhone 13 though.
In the camera department, the iPhone 13 has just a double main camera setup, compared to the three lenses you get on the Pro models.
The 13 does, however, come with the new Cinematic Mode and Photographic Styles, if they matter to you, but the optical zoom range is considerably lower at 2x, versus 6x on the Pro devices.
There is also no ProRes video recording on the iPhone 13.
The iPhone 13 still does not have the LiDar scanner you'll find on the Pro models, which helps with NightMode Portraits and quicker autofocus.
It does however have the A15 Bionic chip, albeit it with a 4-core rather than 5-core GPU.
Battery life isn't as good as the pro-models, but obviously in the case of the Pro Max, that's as much a function of size as anything else.
You won't get an iPhone 13 with a 1TB storage option either.
So all told some, but not massive differences between the iPhone 13 and its bigger, more expensive Pro siblings.
CONCLUSION
There are so many aspects of phone design that Apple have mastered that in truth there isn't a whole lot to criticise about the iPhone Pro range.
Although the upgrades to the screen aren't overly apparent to the naked eye, it remains a great display.
The new camera features are somewhat interesting and add to an already excellent imaging system, although to many users they will be superfluous.
It's a winner on battery life and performance and the 1TB storage option may appeal to some.
The design changes though are so subtle as to be imperceptible from the iPhone 12 Pro and Pro Max.
And in truth, if you are already a user of an iPhone 12 or 12 Pro/Max, there really won't be many reasons to shell out €1,200+ for one of the latest 13 models.
If you currently use an older or much older model though and are looking to upgrade, you'll be very pleasantly surprised by what the iPhone 13 has to offer.