The chief executives of the main banks had plenty to be cheerful about as they presented their half year results over the last few weeks.
Each reported either a bounce back to profitability or a significant narrowing of losses as the cloud of Covid restrictions started to lift.
For Bank of Ireland and AIB, there were the prospective deals in acquiring two of the country's biggest stockbrokers as well as the acquisition of some of the loan books of banks that are eyeing the exits.
For Permanent TSB, it's intent on bolstering its position as a third force in Irish banking with the acquisition of a large part of Ulster Bank's mortgage book.
But while it may be 'steady as she goes' for the banks for now, there are plenty of challenges ahead in a landscape that's rapidly evolving for financial institutions and their customers.
Pandemic woes
The Irish banks surprised many analysts with the extent of their caution last year in putting aside large provisions for loans potentially going bad as the pandemic restrictions saw much of the economy shutting down and many borrowers were reliant on state supports as they were temporarily laid off.
In the case of Ulster Bank and AIB, they've already started to release some of those provisions.
AIB had set aside almost €1.5 billion in 2020 to cover loans potentially going bad and released just over €100 million of that in the most recent set of figures.
The bank's initial response was widely recognised at the time as being on the cautious side, and proportionately it was among the highest provisions of all banks across the euro zone.
So, a release at this stage is perhaps not surprising, but can it be interpreted as 'game over' as far as the pandemic hit to personal and business finances are concerned?
The chief executive of AIB, Colin Hunt, thinks it is too early to be definitive. He was reluctant to commit to any further write-backs at this stage.
"I wouldn't be speculating on that at this juncture," he told CNBC this week.
"We still haven't had the full reopening of the economy and there's still some uncertainty relating to a number of sectors, most obviously the hotel and hospitality sectors. Overall, the credit environment is an awful lot better than most of us would have anticipated this time last year."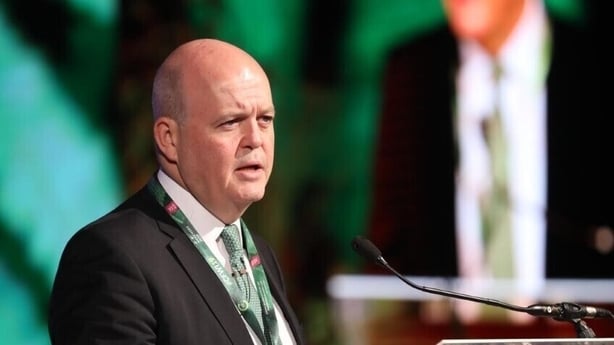 Indeed, the banks have so far not seen any significant uplift in loan defaults arising from the pandemic, but much will depend on what comes ahead.
The state supports that carried many businesses and individuals through the pandemic are still largely in place and will only be wound down gradually.
It's only then that the true extent of the pandemic damage may begin to emerge and whether borrowers will need forbearance on their loan repayments.
However, the early indicators are certainly encouraging.
Having offered payment breaks of up to 6 months to customers impacted by pandemic restrictions, all the banks have reported that the vast majority of affected customers are back on regular repayment plans.
"We've seen little sign of customers in arrears that were on those payment breaks, which is good for the economy and customers and also for our results," Francesca McDonagh, chief executive of Bank of Ireland told RTÉ on the publication of the bank's half year results this week.
Departing banks
Having confirmed its intention to exit the market earlier this year, and following months of speculation in advance of that, Ulster Bank's impending departure from the banking market in the Republic looks to be proceeding at pace.
Permanent TSB confirmed in recent weeks that it had signed an agreement with Ulster Bank's parent, NatWest, to buy a large part of the loan book here.
The deal would include 25 Ulster Bank branches and the transfer of up to 500 of its employees.
The execution of the transactions could take between eighteen months and two years to conclude, according to analysts.
AIB's proposed acquisition of Ulster Bank's €4.2 billion of commercial loans has now moved to the Competition Commission where the approval process is underway.
There have been reports that AIB has been in talks with Ulster Bank about acquiring its low-profit tracker mortgage loan book.
Colin Hunt wouldn't be drawn on that when talking to analysts on Wednesday.
He said the bank remained 'alert to opportunities' adding that he was aware of the market speculation, but he would not comment on it.
As far as KBC and its 'possible' departure from the Irish market is concerned, things also appear to be gathering momentum.
Talks with Bank of Ireland about acquiring the bulk of its loan assets and liabilities are ongoing.
It says it also continues to 'examine its options' for its non-performing mortgage loans.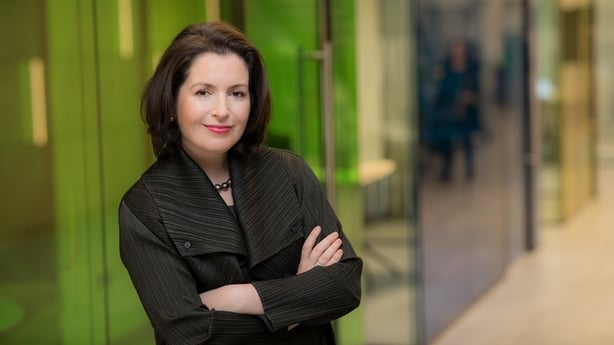 Where does that leave customers in the new landscape?
With fewer banks to choose from and a vastly reduced banking presence in towns and villages across the country, in reality.
Apart from the 25 Ulster Bank branches that will be integrated into Permanent TSB's network, the remaining 63 branches will likely be closing.
Bank of Ireland is in the process of shutting 88 branches and AIB recently said it was 'amalgamating' 15 branches with nearby outlets.
KBC's existing 12 'hubs' around the country are likely to close too.
The official line from the banks is that the pandemic has accelerated the shift to online banking, and they have invested huge amounts in their digital infrastructure in recent years to cater for what is, in reality, a demand for more online banking services.
"The digital transformation has massively accelerated," Eamonn Hughes, Financial Analyst with Goodbody said.
"The level of digital adoption in 2020 versus 2018 is up about 40%. That has consequences," he explained.
The banks are also, in many cases, sitting on valuable real estate, much of which is under-utilised and if they are to compete with up-and-coming nimble financial technology providers, they must reduce their massive cost overheads.
"The reality is that the banks are operating hybrid models and are up against competitors that have a digital only presence. They have to invest to keep pace with that and they're having to make savings elsewhere to stay relevant," Eamonn Hughes explained.
This process has also seen banks reducing the size of their workforces with Bank of Ireland cutting staff numbers by 1,700 by the end of this year.
What about interest rates?
Despite the impending departure of two players, mortgage interest rates have actually been falling here, with a welcome degree of competition appearing in the market.
The arrival of Avant Money last year saw fixed rates falling below 2% - albeit for customers that are seeking a loan covering less than 60% of the value of the property they are mortgaging.
That offer was matched in recent days by ICS Mortgages.
Avant and Finance Ireland also shook the market recently with the offer of 30 and 20-year fixed rate mortgages at competitive rates.
But the fact remains that Ireland has among the highest interest rates across the euro zone, more than double the European average.
The question arises as to whether the competitive environment can be maintained when Ulster Bank and KBC - which offer among the most attractive rates here at the moment - have finally departed, leaving the three remaining pillar banks with the lion's share of the overall mortgage market?
"There's 25% of the market up for grabs. You've got those competitive dynamics and it's a bit of a land grab," Eamonn Hughes explained.
Whether the smaller lenders can make any substantial headway into that territory held by the three main players remains to be seen.
"It's a big opportunity for the new challengers, the likes of Avant, Finance Ireland and Dilosk (ICS), and the opportunity is now," he said.
As well as the competitive element, future moves by the European Central Bank have to be factored in.
While there appears to be little prospect of interest rates rising any time soon, a stubborn inflationary environment could force the hand of the regulator sooner than many had been anticipating.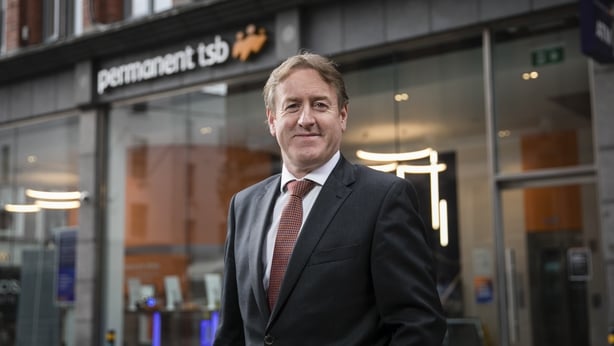 Negative interest rates
Negative deposit rates have been the bugbear of banks for many years.
Since 2014, financial institutions have been charged by the European Central Bank for putting excess cash on deposit with the regulator.
Most resisted passing it on to their customers, but the charge has been hitting the bottom line in the form of reduced interest income.
Some providers extended negative rates to large corporate depositors, but that has been gradually seeping down to SMEs and now to high net-worth individuals.
Negative rates have been passed on by Bank of Ireland and AIB to business and personal customers with deposits in excess of €1 million.
Bank of Ireland does not anticipate extending it further than the €1 million threshold, its CEO said this week.
Permanent TSB chief executive Eamonn Crowley said the bank had no intention of levying negative rates at the moment.
On the personal banking front, in reality only a small number of high net-worth individuals will be affected by that change, but it's a move that could filter down to smaller deposits in time if the current low-rate environment is maintained.
State stakes and bankers' pay
Perhaps one of the most significant developments on the banking front in recent weeks was the confirmation that the state has started selling its stake in Bank of Ireland.
In a stock exchange notice on Tuesday, it was confirmed that the Irish state shareholding in the bank had reduced from 13.95% to just below 13%.
Speaking in advance of the confirmation of the share sale, Francesca McDonagh described it as a 'milestone moment' for the bank and used the opportunity to call for a 'normalisation' of bankers' remuneration.
In other words, the reintroduction of bonuses, which have effectively been banned since the financial crisis.
Admitting that bankers' pay was not a hugely popular topic to be addressing, she said the bank was operating at a competitive disadvantage relative to other financial institutions and corporations.
She said the bonus freeze and pay caps were the 'right thing at the right time', but that it was time to start 'normalising' the pay environment.
While AIB and Permanent TSB remain in majority state ownership, it's not a subject that either bank is likely to be broaching with the government any time soon.
But pressure is likely to come from Bank of Ireland.
It will no doubt be a tricky situation for the Minister for Finance to handle - even if it is over a decade on from the crash.