HMD Global has been making strides towards reinvigorating the Nokia mobile brand and propelling it up the sales rankings.
Its latest refresh of the portfolio includes at the top end the X20, a mid-range smartphone that has plenty to offer, albeit with a few limitations.
DESIGN
The X20 is not a small phone.
With a 6.67inch display, the device is a handful and a large one at that.
That's not a bad thing necessarily, but if you are looking for a dinky mobile, this is not it.
The screen covers the entire front of the device, with not a button in sight – just a centrally placed pinhole for the camera at the top.
Turn it over and you'll see the phone has a plastic back.
This could be a let-down, but the sort of metallic matt finish and choice of colours (Midnight Sun [bronze] or Nordic Blue [blue]) gives it a reasonably premium look.
The multi-camera set up protrudes through a fairly large but neat circular block at the top of the device, with a flash sunk to the left of it.
On the right side is power button with a very accurate fingerprint sensor built in (although it was pretty tedious to set up the first time).
You can also unlock using a face ID system which again is quick and accurate.
There is also a volume rocker on the right side, while on the left there is a dedicated button for activating the Google Assistant.
In its marketing, HMD Global talks up the durability of the handset, emphasising its Nordic quality.
It claims the device has undergone 50 rigorous tests from force measurement to wear and scratch, know to be some of the most stringent in the industry.
Probably of more piece of mind is that it comes with a three years warranty – more than most other manufacturers.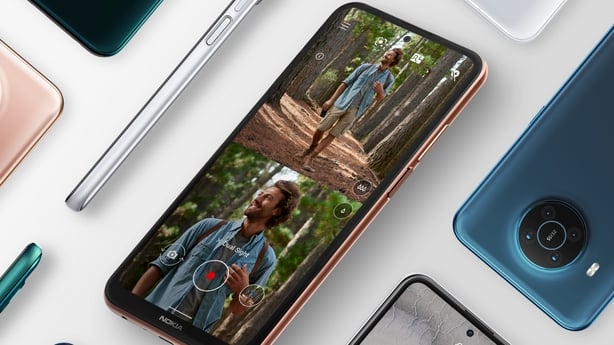 DISPLAY
The screen is a FHD+ LCD display with a resolution of 1080x2400.
Despite not being AMOLED, it performs fine. It is bright and sharp, with good colour replication.
You definitely don't get the same pop as you do with an AMOLED screen.
But nonetheless, for a handset at this price point, it ticks the box.
Save for that previously mentioned camera punch hole, a small logo strip at the bottom and a neat enough bezel around the rest of it, the screen covers most of the front of the display providing a pretty immersive experience.
It is covered with Corning Gorilla Glass 5, providing a high level of protection with a screen protector also stuck on top of that.
HARDWARE
The X20 is powered by the Qualcomm Snapdragon 480 chip.
This is lower down the Snapdragon range of chipsets and so despite being coupled with 6GB of RAM it struggles at times.
It can be a little tardy when it comes to processing of images for example, and you occasionally gets some stutter when opening apps.
For the most part, the average user won't really notice it. But if you plan to use the device for image or video editing or for power hungry gaming or work apps, it may matter.
There is 128GB of inbuilt storage – that's not a whole lot these days, so you will probably want to either pop in an SD card, which you can, or turn to the cloud.
The 4470mAh battery is a decent size in theory. In practice it will deliver a day's average use without the need for a top up.
But a drawback is that there is no fast or wireless charging. So if you do need to inject some life, it takes time.
Also beware that while there is a USB-C charging cable, there is no wall charger in the box.
Instead, Nokia has put in compostable cover for the phone. Which you'd prefer if you had to choose will vary from person to person.
But for some not having a charging adapter will be an inconvenience.
The device does support 5G though, which is a positive feature at this price point.
CAMERAS
The X20 has a quad camera set up.
The main camera is a 64MP sensor. There is also an Ultra-Wide 5MP lens, as well as a 5MP depth sensor and a 2MP Macro if you want to take very close up close ups.
It is quite unusual for a smartphone at this price point to have four cameras.
But despite this, Nokia does a pretty good job.
The imaging set-up is provided by ZEISS Optics, so that immediately lends credibility.
On the whole the quality of the images from the main camera is reasonably strong.
Sharp, crisp and bright once the lighting was good, it delivered fairly consistently good shots, assisted with HDR.
Results with the other three cameras were more erratic. Images captured with the ultra-wide lens lack a bit of detail – perhaps it needs a few more megapixels.
The Macro camera is a bit of a gimmick, unless you are into taking shots of insects.
While the depth sensor plays its role in delivering the blurred background for Portrait shots.
There are plenty of different modes and settings to play around with, some more useful than others.
Dual Sight multi-cam lets you shoot videos from different angles at the same time.
Video can be captured at up to 1080p and 60fps or at 24fps in cinema mode, which provides a 21:9 aspect ratio.
There is no optical image stabilisation though.
The front facing snapper is a 32MP sensor. It does the basic things fine, but like the other cameras, if you start to do more with it, the results can be mixed.
OTHER FEATURES
The device runs on the pure, unedited version of Android 11 known as Android One straight out of the box.
That's not a bad thing – simplicity is often far better than poor attempts at reinventing the wheel.
It offers three years of security and software updates also, which is something of an unusual bonus.
The phone carries an IPX2 rating which means it isn't completely waterproof but can withstand showers.
CONCLUSION
For around €350, there is some value to be found in the X20.
It looks good, is durable, the software is good to use and comes with updates and battery life isn't bad.
But there are some drawbacks – namely the cameras can be hit and miss, you don't get some of the features like wireless charging and an AMOLED display you get on premium phones and its engine feels a little underpowered.
But if simplicity, reliability with some useful features thrown in is what you are seeking, then the X20 is certainly worth a look.