The volume of goods passing through Dublin Port recovered strongly in the second quarter of the year despite Brexit, the port authorities have said.
Overall, volumes in the first six months of the year were down 2.1% compared to the same period last year and 13% compared to the January to June period of 2019.
That follows a Brexit and pandemic induced weak January to March period where imports and exports handled by the port dropped 15.2%.
But that was offset by a 13.1% surge in the second quarter when compared to the same period last year.
"As each month goes by, the negative impact of the exceptionally weak start to the year post Brexit is being reduced," said Eamonn O'Reilly, CEO of Dublin Port.
"In the circumstances, a decline of just 2.1% after six months is not too bad a performance."
Growth was driven in particular by strong imports, which rose 20.3% or 5.4m tonnes. Exports also grew, but at a smaller rate of 3.7% to bring them to 3.5m tonnes.
The port said 84% of all the cargo was roll-on roll-off or load-on load-off.
Overall, this so-called "unitised" cargo volume increased 1.6% over the period in question, when compared to the April to June period last year.
"The effects of Brexit on the pattern of trade through Dublin Port are now becoming clearer with very strong growth of 40% on Ro-Ro and Lo-Lo services to Continental European ports compared to a decline of 19% on services with ports in Great Britain," said Mr O'Reilly.
"As a result, our unitised volumes are now split 50/50 between GB ports and ports in Continental Europe. Before Brexit, GB ports accounted for almost two-thirds."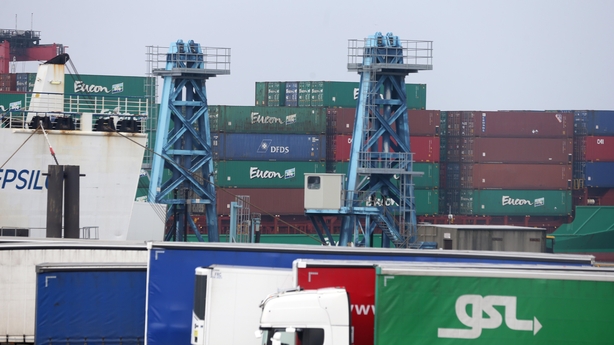 The volume of goods passing through the port in the first few months of the year was badly hit by Brexit changes to procedures that made it less attractive for hauliers to use the UK landbridge.
"While volumes on services from Holyhead are some way behind where they were last year, there are clear signs that the landbridge is being re-established and we anticipate the steady recovery we are seeing in GB Ro-Ro volumes to continue," said Mr O'Reilly.
Dublin Port said new vehicle imports in the second quarter more than doubled to 22,000 units and bulk liquid imports, mostly made up of petroleum products, increased by 34.4%.
There were also signs of growth in passenger and tourist volumes on ferries with passenger numbers up by 41% to 125,000 and tourist vehicles up by 26% to 30,000 in the quarter.