Pitted against ever-growing stiff competition, Huawei has made steady strides in the watch market in recent years.
It's latest offering, Watch 3, continues that trend, offering many new and innovative features that make it a credible contender in the wearable space.
DESIGN
The first thing to say about the design of Watch 3 is that it still looks like a watch.
Huawei have opted to stick with the traditional look, with a round face and case, a digital crown and a separate home button of the right-hand side.
The face comes in one size only – 46.2mm in diameter – and 12.15mm in depth.
Excluding a strap the stainless steel and ceramic case weighs in at 54g.
There is also a Pro model with a slightly bigger case and a titanium shell.
Although chunky enough, I found the classic version I tried comfortable to wear, although those with slighter arms may find it a bit heavy going.
With 466 x 466 pixel density, the 1.43 inch AMOLED colour touch screen is bright, clear and responsive.
It supports a full range of now customary watch control operations, including swiping, tapping, pressing and holding.
A range of straps are available – I tried one with a fluoroelastomer band – which has a sort of silicone type look and feel to it, making it waterproof.
But there are also leather, nylon and stainless steel options available depending on where you buy it.
The straps are easily removed and replace, so interchangeability is possible.
The device has both a microphone and speaker built in and they perform as well as can be expected.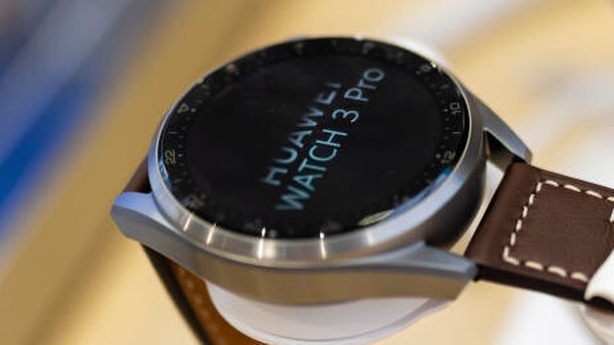 HARDWARE
Huawei has managed to pack a good variety of technology into this small space.
It is powered by 2GB of RAM and comes with 16GB of on-board memory.
The watch certainly feels like it is adequately resourced – there's no great lag or delay in executing operations, opening or closing apps, etc.
As mentioned already control is via the touch screen, the physical home button which can be pressed and the digital crown which can be rotated and pressed.
All important in any watch is battery life and in this regard the Watch 3 performs reasonably, but not superbly.
Much will depend on whether or not you want to have the always-on display constantly providing a dimmed and stripped down basic array of information, or whether you can manage with that off.
With it turned on and relatively normal levels of use, I found I wasn't able to make it through two days without having to recharge it.
That was with an iPhone.
However, Huawei maintains its longer – up to 3 days in this so-called "smart mode" when tethered to a mobile running on Android or its own operating system.
With the always-on display turned off, I found I could get much longer – up to seven days use – without topping up.
There is also an ultra-long battery life mode which promises up to 14 days, but under particular usage conditions, with certain apps and uses curtailed.
Ultimately, like all electronic devices, it will depend on how the wearer uses the device.
But on the whole I found the battery life to be acceptable enough – on a par with other high end smartwatches like the Apple Watch.
Recharging is done wirelessly using the magnetic USB charger that comes in the box, albeit without a wall plug adapter.
The device carries a 5 ATM water-resistance level, meaning it can survive at depths of up to 50 meters – fine for swimming, but not diving or high velocity use.
FEATURES
Fair to say, the Huawei Watch 3 is pretty feature packed, although just how useful some of them are is questionable.
One new feature is a high-precision sensor for measuring skin temperature. Quite why you might want to measure your core temperature on an ongoing basis isn't entirely clear to me, but it is there nonetheless and works fine.
Other now pretty standard smartwatch features are also present, including an improved heart rate monitor as well as a blood oxygen saturation sensor, sleep, fatigue and stress tracking, some of which appear more reliable than others.
There is no ECG sensor though, which can now be found on other premium smartwatches.
The Watch 3 does, however, now have hand washing detection similar to that on the Apple Watch – again a gimmick some may find useful, or not.
Another feature of probably limited use for many is the inbuilt barometer, useful I suppose for armchair weather and outdoor activity enthusiasts who want to keep a close eye on the weather.
Perhaps of more value, particularly for elderly or infirm users, is the fall detection function that discerns when the wearer takes a tumble and alerts help.
If fitness tracking is important to you there is a wide array of workout modes (100+) covering a vast array of sports, from trail running and skiing, to use of a golf driving range and mountain hiking.
Automatic exercise detection is in there too along with quite a bit of customisation.
The Huawei Health mobile app provides a respectable enough means of interrogating and viewing health and fitness data in more depth, as well as controlling other features of Watch 3.
There's also an array of more regular smart features. The Watch 3 has an eSIM, so where a carrier is available, then the device can be used for calling and other communications without the need to be tethered.
You can also used it to store, play and control music, although this is not supported when connected to an iPhone.
As you'd expect the Watch 3 will deliver a range of notifications to your wrist, all of which can be turned on or off as you wish.
Huawei's personal voice assistant, "Celia", is built in too.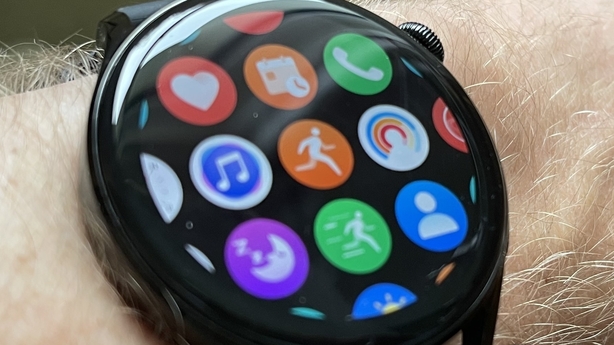 HARMONY OS
The Watch 3 is the first Huawei timepiece to run on the company's new operating system, Harmony.
In general the user experience isn't bad. The layout and navigation is straightforward and pretty intuitive.
There is a new grid layout for apps, reminiscent of what you'd find on Apple Watch.
There is also a reasonable range of watch faces to choose from and many are customisable.
The real problem though is the availability of apps.
There is an app gallery on the device itself where you can download applications directly which is handy.
But the selection is limited – something that will have to change over time, with the addition of some big names, if Harmony OS is to prove a winner.
CONCLUSION
Watch 3 brings Huawei's wearable offering a further rung up the ladder.
It looks and feels the part, has a wide range of mostly solid features and the Harmony OS shows some promise.
However, the limited range of apps is a drawback, the battery life isn't outstanding when used for what would classify as normal use and if you are an iPhone user you won't enjoy the full range of functionality.
That said, starting at €369, the Watch 3 has a good deal to offer and leaves you wondering what more Huawei might be capable of in a few years' time.