New figures from the Central Statistics Office show that the total number of people on the Live Register or receiving the Pandemic Unemployment Payment fell by 16% to 401,300 over the month to June.
The CSO said the unadjusted Live Register total for June stood at 175,281.
This consisted of 96,081 men (54.8%) and 79,200 women.
When seasonal effects are considered, the seasonally adjusted Live Register total for June 2021 was 170,900, which is a decrease of 3,500 from May, the CSO said.
Of those on the Live Register in June, 11.4% are under 25 years of age while 88.6% are 25 years of age and over, the CSO added.
The CSO said that by the end of June, 227,982 of those whose income was affected due to the pandemic were being facilitated through the Covid 19 Pandemic Unemployment Payment (PUP).
It also noted that the number of people currently in receipt of the PUP is down 211,771 compared to the same time last year.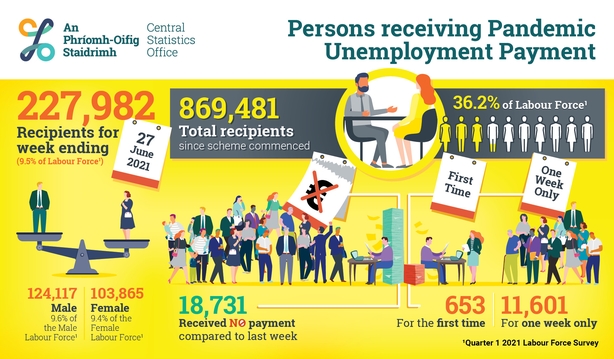 Figures released earlier this week by the CSO showed that the rate of unemployment fell in June to 18.3% from 21.9% in May, as the economy continues to re-open from Covid-19 restrictions.
This includes those in receipt of the Pandemic Unemployment Payment.
When those on the PUP are excluded, the traditional measure of unemployment fell to 7.6% in June on a seasonally adjusted basis and down from 7.8% in May.