New figures show the number of mortgages approved in May rose by 7.4% compared to the previous month, and were up almost 150% compared to the same time last year.
Banking & Payments Federation Ireland said a total of 4,683 mortgages were approved last month.
First-time buyers (FTBs) were approved for over half of the total volume at 55%, while mover purchasers accounted for almost 24%.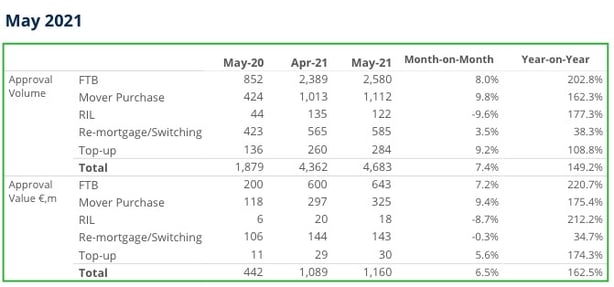 Today's figures also reveal that mortgages approved in May were valued at €1.16 billion.
FTBs accounted for €643 million and mover purchasers for €325 million.
BPFI said the value of mortgage approvals rose by 6.5% month-on-month and by 162.5% year-on-year.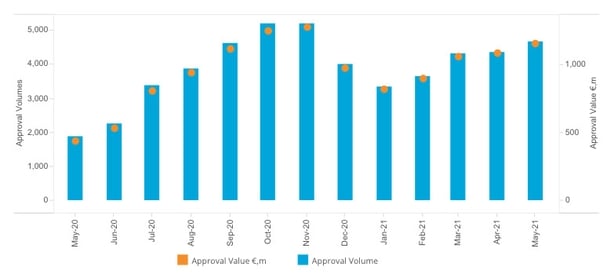 BPFI chief executive Brian Hayes said that May has been another "very strong" month for mortgage approvals.
"While a number of Covid restrictions were lifted in May, lenders and customers had also adjusted much better to working within the restrictions and this is clearly borne out by the figures," he said.
The annualised figures show there were 48,935 mortgages approved in the twelve months ending May 2021.
"By looking at the annualised figures we can more accurately assess emerging key trends," said Mr Hayes.
"During this period more loans were approved for FTBs and mover purchase combined, than in any 12-month period since the data series began in 2011 at 38,882," he said.
In value terms, approvals for home buyers and building neared €10 billion for the first time.
"These are significant figures and very much signal a robust pipeline for drawdown activity later in the year," he said.
Mr Hayes said that supply of housing is the "real issue" behind the 150% increase in the number of people approved for mortgages on the same period last year.
Speaking on RTÉ's Drivetime, Mr Hayes said Covid-19 has had a "huge impact" on the construction industry.
"The issue of supply is leading to pressures seen across the housing market outside Dublin and house price inflation in the first few months of this year," he said.
He said a "much greater confidence" in employment, together with those who were not affected by Covid-19 saving more money, has led to market analysts expecting growth in the economy.