Employers are placing a greater emphasis on workplace wellbeing as a result of the pandemic, according to a new report by Ibec, the group that represents Irish businesses.
It reveals that 44% of the organisations surveyed have included wellbeing in their overall business strategy this year, compared to just 26% last year.
Meanwhile, 65% of businesses have a dedicated team or individual responsible for wellbeing, up from 44% last year.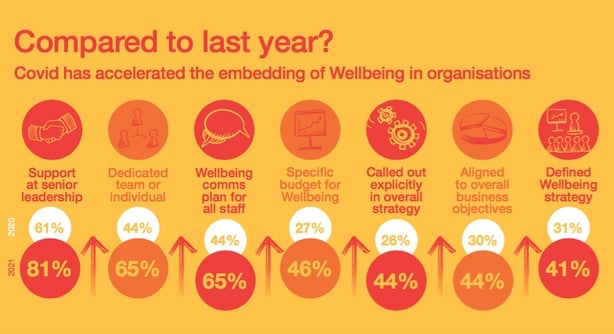 Sharon Higgins, Ibec Director of Member Services, said that many people now consider the mental and physical wellbeing initiatives being offered by companies when it comes to deciding where they want to work.
"In the new world of work that is emerging in the post-Covid landscape, attraction and retention of talent has never been so important," she said.
The survey also shows that an increasing number of businesses are providing financial support to run wellbeing initiatives, with 46% of those surveyed saying they have a specific budget, compared to just 27% last year.
While these findings highlight may positive developments, the survey reveals that more still needs to be done.
Ibec's survey found that just 40% of the companies engaging in wellbeing initiatives had formal evaluation systems in place to assess the impact of such programmes.
The businesses surveyed said their Employee Assistance Programmes (EAP) were used to provide personal and mental health supports - including pregnancy loss supports, healthy eating supports and supports to improve sleep.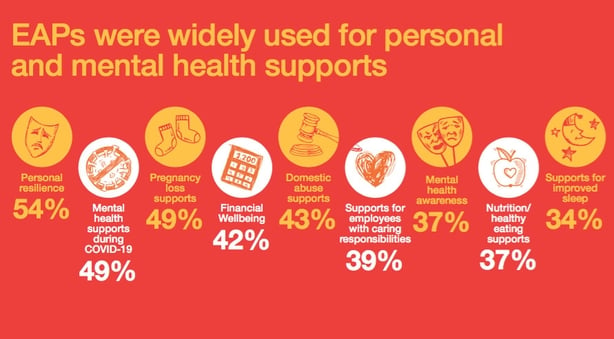 Respondents said the wellbeing supports least likely to be in place included financial support for fertility treatment for employees, supports for surrogacy, fertility leave and menopause information and support.
Over three quarters of organisations surveyed said they have committed to increase workplace wellbeing initiatives available to employees over the next two or three years.
"This highlights that, not only has Covid catalysed the focus of wellbeing in the business community, but that it is becoming an integral pillar within organisational culture," said Ms Higgins.