New figures from the Central Statistics Office show that there were 844,237 people in April either on the Live Register or in receipt of the Pandemic Unemployment Payment or the Employment Wage Subsidy Scheme.
That figure is down from 907,019 in March.
The CSO said the numbers either on the Live Register or PUP decreased by just over 14% to 477,915 over the month to May.
The Live Register stood at 171,699 for May.
When adjusted for seasonal factors it stood at 174,200, down 6,000 from April.
The number of people on the PUP in the last week of May was 309,515, down 75,702 from last month and 235,155 from a year ago.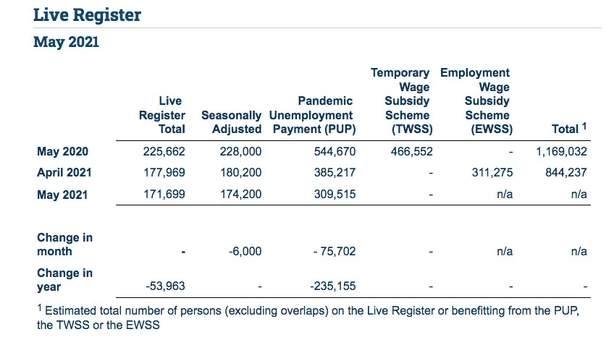 Of those receiving the PUP at the end of May, just over 53% were male, while 46% were female.
80,241 or 25.9%, were under 25 years of age, while 229,274 or 74.1%, were 25 years of age and over.