It is less than a year since Google released the first Nest Hub smart speaker with a screen.
Evidently though, the company thinks the world is ready for an upgrade, with the second generation of the device now available.
The big addition to this one is (and don't nod off here) sleep tracking.
DESIGN
In the looks department the new Google Nest Hub 2nd generation appears much like its predecessor.
Rectangular in shape its front is dominated by a 7" touch screen.
That's mounted at an angle on a cloth covered near triangular shaped block.
It is all very neat and tidy and would blend in nicely on any shelf or worktop.
The screen is surrounded by a chunky bezel, giving it a digital frame-like look.
As with the previous version, you can choose what you want to appear on the screen when you aren't using it – be it photos from your Google Photos account, images from the pre-loaded internal selection or widgets like a clock or the weather.
It can also be used for playing Netflix or Disney+ or YouTube.
The display itself is very sharp and clear, delivering bright colours, deep blacks and brilliant whites.
The Ambient EQ feature also adjusts the brightness depending on the ambient light.
It is also very responsive to the touch.
To its rear are two switches, one for controlling speaker volume and the other for turning the voice recognition mic on and off.
The hub's overall dimensions are just about right.
Not too large to be overbearing or dominant in a room, but also not so small that it can't be seen properly.
It comes in two colour options – Chalk and Charcoal.
And if sustainability is important to you, then you might be glad to know that its enclosure contains 54% recycled plastic.
SPEAKER
The audio technology used in the new generation hub is the same as that used in the Nest Audio speaker.
But the full-range speaker with 43.5mm driver delivers 50% more bass that the original hub.
The result is a pretty powerful speaker that pumps out a decent amount of sound for its minimalist size.
Its by no means an audiophile's dream and lacks depth despite the bass boost.
However, for delivering some background music, radio, podcasts and other general audio it does a respectable job.
There are three far-field microphones built into the hub, so it performs quite well at picking up the wake-word (Ok Google) and the instructions that follow, once there isn't too much background din.
It is possible to pause and play media using hand gestures in front of the screen rather than actually touching it, but it didn't seem to want to work for me.
Obviously you can control everything by voice too using Google Assistant, and Voice Match can also be turned on so that the device will give you your personalised calendar as well as other individualised results.
The device will play a range of streaming services once you have subscriptions to them, including YouTube Music, Apple Music and Spotify.
SMART HOME
The new version of the device continues where the old one left off as a means of controlling your smart home devices.
Once set up through the Google Home app, you can see them all in one place on the hub's screen and operate them from there.
They can be set up in groups or as a collection in a particular room.
You can also set up routines for bedtime, morning or arriving home for example where a series of different smart home actions happen together.
It all works pretty seamlessly.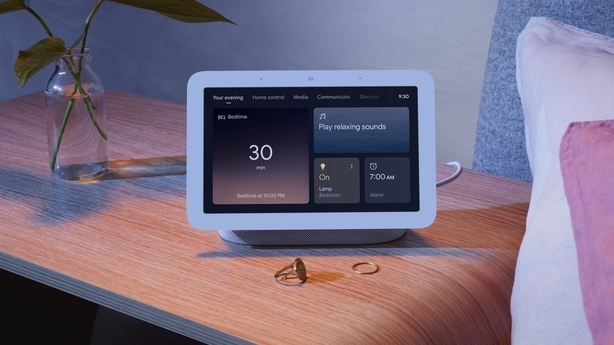 SLEEP TRACKING
The big new selling point on the revised hub is sleep tracking.
The device has low energy radar technology built in that powers Motion Sense – software that can figure out the breathing and movement patterns of the person next to the display to establish how they are sleeping.
It does this, you'll be glad to hear, without the use of any cameras. So no need to worry about hackers or anyone else spying on you.
Although the thought that a sensor is monitoring your every move beside your bed might not be cause for a restful night for some.
Fortunately, use of the system is optional so you can turn it off if you don't want it.
The software can also detect coughing, snoring and other disturbances, while light and temperature are also monitored.
What that means is that when you wake from your slumbers in the morning, a personalised sleep summary will be awaiting you on the screen.
Compared to a wearable sleep tracker the accuracy seems reasonably good, although not perfect.
The data is also transferable to the Google Fit app on mobile devices if you choose to, but Google claims coughing and snoring data is not sent to its servers.
The company also says the data it does gather is not used for personalised ads.
The system also offers suggestions on how you might improve your sleep through schedule and other changes, with those ideas developed by a team of sleep scientists.
And if sleep tracking isn't your thing, there are other features around waking up and going to sleep, like auto dimming of the display at night, as well as a gradual increasing of the brightness of the screen and the sound of the alarm when its time to get up.
CONCLUSION
Overall, there are many things to like about the Google Nest Hub, including the way it looks, the sound it produces and the range of video that can be played on the decent quality screen.
That display also makes interacting with the device easier, although whether you will want to use the full range of features that it offers is a separate question.
There are some obvious features missing though, like for example a USB port on the device for charging other gadgets overnight.
There is also no headphone socket which might be useful in a bedroom setting.
And while the absence of a camera is a necessary trade off for the privacy most people will demand for its use in the bedroom, the downside is that it can't be used for video calls.
When it comes to the Sleep Sensing functionality you will either love it or hate it. And therefore you can as easily take it as leave it.
At €100 it isn't bad value, although if you are willing to sacrifice the screen and the sleep tracking you can get most of the same features on a simpler Google or Amazon speaker for a good deal less.