Monthly asking prices for rents in Dublin dropped in the first three months of this year, but increased elsewhere - according to the latest rental report from property website daft.ie.
The average monthly asking price nationally stood at €1,443 in the first quarter, up 1.7% on the same period last year.
With many people working from home during the pandemic, there has been an increased desire to live outside of the capital - and this is reflected in the report.
In Dublin, asking prices for rents were down 3.2% year-on-year, while prices in the rest of the country were 7.1% higher.
That means renters outside of Dublin could be paying €900 extra per year.
However, the data shows that Dublin rents did rise 1.2% between December and March, suggesting this downwards trend is already reversing.
Compared to a year ago, asking prices for rents are rising in 36 of the 54 markets covered in the Daft report, but in only 7 of Dublin's 25 markets.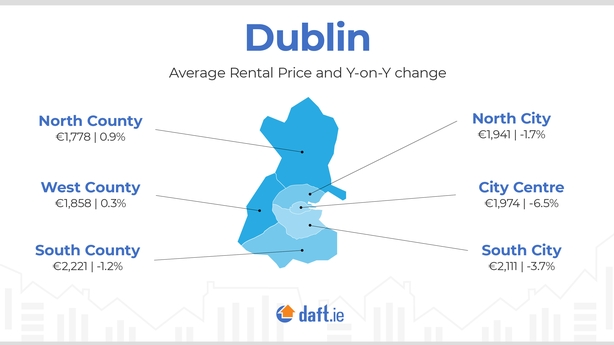 In Cork, Galway and Limerick cities, they are 6% higher than a year previously, while in Waterford they are 8.3% higher.
Outside the five main cities, asking rental prices are up 7.3% year-on-year.
We need your consent to load this rte-player contentWe use rte-player to manage extra content that can set cookies on your device and collect data about your activity. Please review their details and accept them to load the content.Manage Preferences
Supply up 20% in Dublin
The national picture largely reflects the changes in the availability of rental homes, with supply up in Dublin and down elsewhere.
On 1 May this year, 2,474 properties were available to rent in Dublin, up just over 20% compared to the same day in 2020.
"In Dublin, additional supply moving over from the short-term lettings market coupled with a temporary halt to people moving to the city pushed rents down," explained Ronan Lyons, Economist at Trinity College Dublin and author of the Daft report.
"Elsewhere, lockdown ground the rental market to a halt, with fewer listings pushing rents further up," he said.
Ronan Lyons said that as normal life resumes over the coming months, these differences are likely to fade and more long-standing problems - in particular chronic undersupply of new rental homes - will be the main driver, within a broader context of economic and population growth.
"It is imperative that housing policy in general - and rental market policy in particular - be driven by an understanding of the challenges and required solutions, rather than news-cycle pressures," he said.
"Limiting the country's ability to harness foreign savings to build the rental homes it needs - for example, by limiting the ability of professional landlords to invest here - will worsen, rather than improve, the situation," he said.
"The doubling of rents over the last decade is all the proof needed that Ireland needs to build tens of thousands of new rental homes over coming years," he added.
Across all of Leinster, outside of Dublin, there were just 392 homes available to rent on 1 May.
According to Daft, this is the second lowest figure on record after February this year, going back to 2006.
Trends elsewhere in the country are similar.
Across the four major cities other than Dublin - Cork, Galway, Limerick and Waterford, there were just 304 homes for rent on 1 May.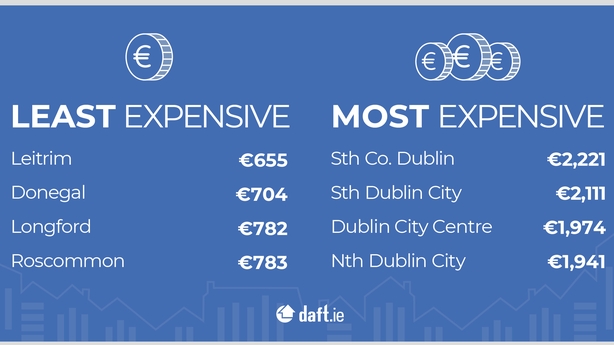 Demand in Dublin likely to increase in near future
The Irish Property Owners' Association has said it believes the roll-out of the vaccines is likely to increase the demand for accommodation in Dublin in the near future.
IPOA Chairman Stephen Faughnan said Covid-19 has had a "detrimental" effect on the Dublin rental market.
"The exodus of people from Dublin was unprecedented leaving lots of rental accommodation vacant.
"Rent Pressure Zones affected the market's response to increased supply causing a reluctance to reduce rents that would have a long term effect on the value of an investment.
"However, with the increased roll-out of vaccines, demand is likely to outstrip supply for property in the capital and lead to shortages going forward," Mr Faughnan said.
Affordability in rental market a 'serious concern'
Responding to the findings of the Daft report, national housing charity Threshold said renters and prospective buyers are in an "impossible situation".
With the cost of renting a double room in Galway City Centre up 16% in a year, CEO of Threshold John-Mark McCafferty said he is "seriously concerned" about affordability in the rental market.
"Given that Galway City is a designated Rent Pressure Zone, it is yet more evidence that the RPZs are not being adhered to.
"With the current Rent Pressure Zone legislation due to expire later this year, clarity is needed sooner rather than later as to what they will be replaced with.
"Not only is it necessary to sustain a form of rent regulation, measures are needed to bring rents down nationally and increase the level of housing that is affordable, not just based on two-income households earning in excess of the average wage," he said.
Threshold said it believes the most viable and long-lasting mechanism to stabilising Ireland's housing sector is through the increased role of the State in building housing.