Oppo is relatively new entrant into the Irish market.
It therefore is a little-known brand here.
But that shouldn't put potential customers off buying a device from the now well established Chinese manufacturer.
Because its latest flagship device, the Find X3 Pro, has many endearing features, albeit at a premium price point.
DESIGN
From the front, the Find X3 Pro looks much like many other competitors in the market.
Its long and relatively slim in shape, with subtly curved edges all the way round.
Wrapped in a single piece of glass, with a metal band around the edge, its look and feel reaches the flagship bar.
It is pretty light too, weighing in at 193g, making it comfortable to hold.
What sets it apart is the rear, where the protruding camera block on the top left side is blended into the main body of the phone by gentle curves.
The effect works, making the sizeable camera block look less chunky and blocky than on many other phones.
There are well placed volume buttons on the left side and a power button to the right, with the SIM tray on the bottom, to the left of the USB-C charging point.
With two colours on offer – gloss black and a matt finished blue - it all adds up to a simple but attractive styled device worthy of a premium label, without offering a whole lot new.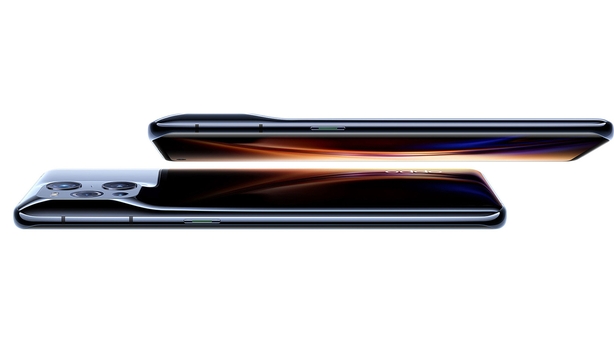 DISPLAY
The Find X3 Pro sports a 6.7" Quad HD+ OLED display.
One of OPPO's big selling points around the device is that it is the world's first billion colour screen.
In numbers terms, it sports a pixel density of 525 PPI and an impressive peak brightness of 1300 nits and a contrast ratio of 5,000,000:1.
That all sounds very impressive in theory – but what it means in practice is that it is a bright, sharp display with vivid colours, deep blacks and brilliant whites.
With a refresh rate of up to 120Hz, scrolling and fast moving video looks smooth to the eye.
The bezels around the edge of the display are pretty minimal making for an immersive experience.
The front facing camera is a pin hole to the top left of the display, and although it disrupts full-screen video playback and photo viewing a little, its not overly obtrusive.
PERFORMANCE
The phone runs on the latest Qualcomm Snapdragon 888 chipset that offers 25% more speed that its predecessor.
That coupled with 12GB of RAM gives it plenty of power to drive it along.
It has 256GB of on-board storage which is a decent amount, but if it is not enough you might be in a spot of bother as there is no external SD card support.
A positive though is the 4500mAh battery which combined with decent power management makes for long and pretty reliable day-long battery life under normal use.
It also comes with a 65W SuperVOOC 2.0 fast charger that generates a 40% charge in 10 minutes.
If you prefer to go wireless though, it supports 30W AirVOOC wireless flash charging, delivering 100% charge in 80 minutes.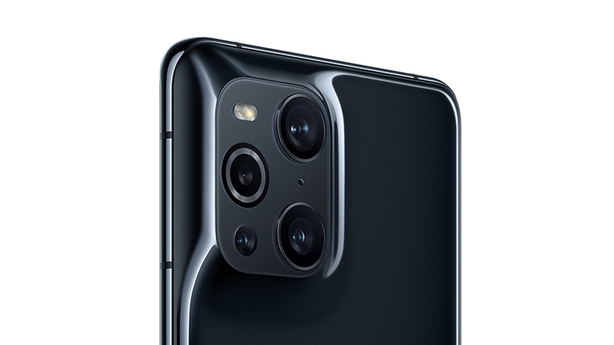 CAMERA
The camera setup on the Find X3 Pro is multi-layered and quite unusual.
In total you get five lenses – four on the rear and one on the front.
The main camera set up consists of two 50MP sensors – both made by Sony – one wide-angle, the other ultra-wide.
They both take good quality pictures and video – clear and sharp, with high-quality colour replication thanks to that billion-colour feature again.
The wide-angle lens also has optical image stabilisation.
In addition to those two, there is also a third 13MP telephoto camera that offers up to 3x optical, 5x hybrid optical zoom and 20x digital zoom.
This all works fine, but it doesn't offer the same level of colour replication as the wide and ultra-wide lenses.
The quirky add on though is the 3MP microlens – effectively a mini-microscope, that enables you to take really up close pictures at a 60x magnification rate and also capture video at full HD resolution.
Quite what you would use this for regularly is a bit of a mystery, but it is quite an endearing novelty, useful when you want to study belly-button fluff, dog hair or bits of food up close and personal.
On the front is a 32MP snapper for selfies, which does what it has to do well.
The camera interface offers the now pretty standard selection of features and gimmicks to be found on multi-camera devices – including portrait and night mode, a dual view video that records from front and rear cameras simultaneously, as well as AI scene enhancement and an ultra-steady mode.
They all work reasonably well, offering plenty of choice to the amateur and more experienced photographer alike.
The rear cameras can capture video at up to 4K while the front camera records at up to 1080P
OTHER FEATURES
From a security point of view there's a choice of both a fingerprint sensor (embedded under the screen) and a face recognition camera, both of which are on the whole accurate and fast.
The Find X3 Pro does have 5G connectivity, which is to be expected at this price point and it is a dual SIM offering.
There is no 3.5" audio jack but it does come with headphones, which is no longer a given anymore.
There's also a protective case thrown in – a nice touch.
The device runs on Android 11, with OPPO's ColorOS 11.2 skin on top.
It is pleasant enough to use and to navigate, with plenty of customisable options, and a bonus is that the device doesn't come pre-loaded with too much bloatware.
It also carries an IP68 water and dust rating.
CONCLUSION
As an all-round package, there is quite a bit to like about the OPPO Find X3 Pro.
Although not necessarily excelling in any one field, it offers a very solid camera set-up, strong display and reliable battery performance.
Some might be disappointed with the lack of external storage and the telephoto lens, while the design is attractive enough, but nothing particularly out of the ordinary to the average eye.
For all its many attributes and few faults though you'll pay a high price of around €1,150.
That's up there with the best of the best phones out there, including the Samsung Galaxy S21 and the latest iPhone 12 Pro.
But for many looking for something a bit different, the Find X3 Pro will be worthy of the cost.
And for this reason, its definitely one to pay attention to.