Knowledge is power, as the phrase goes, and that applies to householders as much as anyone else.
A bit of know-how when it comes to the operation of our houses gives us the ability to alter our behaviour and make significant savings in the process.
For many of us, energy consumption amounts to flicking a switch until we achieve a desired outcome - hot water or warm house - but by and large, we pay little attention to the efficiency of the process.
Smarter houses
With the roll out of smart metres over the coming years, every home and business will be armed with greater knowledge and information about their energy usage and how they can make more efficient use of it.
And they will be rewarded for making good use of that knowledge with the introduction of smart metering plans including discounts for weekend usage, which in some cases includes periods of free electricity.
Unfortunately, someone will end up paying more to make up for the rewards that some households get and that will likely be those who don't make good and efficient use of their energy.
And we've seen that coming to pass already with most of the providers in the market here announcing hikes in energy prices in recent weeks.
Much of that is accounted for by price increases on what's called the wholesale market, which is in turn influenced by oil, gas and coal prices which have been steadily climbing in recent months.
Carbon taxes also play a role and they're scheduled to increase steadily in the years ahead.
At the moment, carbon tax is levied at a rate of €33.50 per tonne of carbon dioxide. The government has set a target of €100 per tonne by 2030.
In order to get ahead of rising energy bills, and to get maximum benefit from smart metering, it helps if the house has been prepared in advance for the process.
Retrofitting and insulation projects are the best way to achieve this.
They are expensive but generous grants are available for those who have the means to make the investment.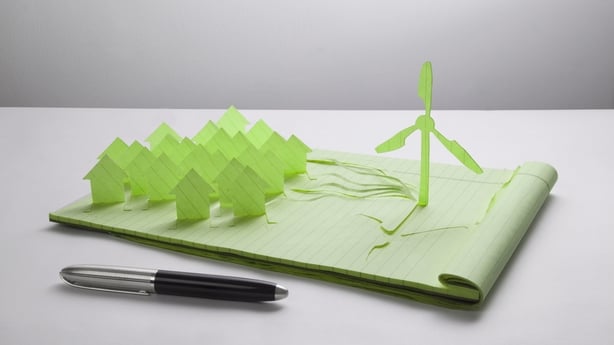 How much does a retrofit cost?
It depends on the size of the project and how energy efficient you want the house to be.
The Credit Union Development Association (CUDA), which operates a home retrofit scheme, says the average cost of the projects it finances amounts to between €30,000 and €40,000. That would be sufficient to bring a home to a B2 level of energy rating.
A deep retrofit can cost up to €75,000, according to Superhomes, the retrofitting division of the Tipperary Energy Agency - a social enterprise operating in the midlands.
That involves taking a more holistic, or 'whole-house' approach to the project.
In other words, a few measures, like putting insulation in the attic or getting a boiler replaced, may not be much good if taken in isolation.
That means the cost of a well-designed project could be significant, but grants covering up to 35% of eligible costs of the project are currently available through the Sustainable Energy Authority of Ireland (SEAI).
This scheme is a key part of the strategy to retrofit 500,000 Irish homes to B2 energy rating standard or above by 2030.
That's a great incentive, but how do I fund the rest of it?
There are several options for financing such projects with specific loan packages targetted at improving the 'green' credentials of dwellings.
AIB recently introduced a green personal loan with a rate of just 6.25% (6.4% APR - annual percentage rate) which compares very favourably to their current standard rate of 8.95% for personal loans.
It's roughly comparable to Bank of Ireland's 6.5% APR green loan which is available for up to 7 years on qualifying projects costing between €2,000 and €65,000.
AIB's version is available for up to five years for amounts from €3,000 to €30,000, but is only available to AIB customers through the bank's app.
"If you're not an AIB customer then you should check out An Post," Daragh Cassidy, Head of Communications with price comparison website, bonkers.ie suggests.
"You can borrow up to €75,000 for up to 10 years from 4.9% APR if you're getting your home upgraded and using an SEAI energy efficiency grant."
The 4.9% rate applies to amounts above €20,000.
Avant - which recently started offering mortgages in the Irish market - offers a home improvement loan with a fixed APR of 5.9%, again on amounts over €20,000.
And KBC has a discounted personal loan - which is only available to KBC Current Account holders - at a rate of 6.3% APR on amounts over €10,000, up to a maximum loan amount of €50,000.
The latter two offerings are not specifically green loans.
What about the credit unions?
The ProEnergy Homes scheme, which is run by a group of around 25 credit unions under the Credit Union Development Association (CUDA) umbrella, offers a service in which all the surveying, applications and financing arrangements are carried out for the homeowner.
An Post has developed a similar resource called Green Hub.
Currently, the credit unions offer rates from 6.9%, or as good as 4.9% when the loan is secured (or backed by savings).
Kevin Johnson, CEO of CUDA, would like to see grant applicants being incentivised to use their savings to finance such projects at a time when deposits are growing exponentially, and some credit unions are restricting member deposits because of negative interest rates.
"Encouraging homeowners to use some of their savings in a fashion similar to the Help to Buy Scheme, say by toping up any savings used by 10%, would make home retrofits much more accessible for the average family," Mr Johnson suggested.
He used the example of a project costing €40,000 to get a home to a B2 rating. Grants would cover around €14,000 leaving €26,000 to be covered by the homeowner.
"If they use €10,000 of savings, the amount to be financed falls to €16,000. Financing this over 5 years would see monthly repayments of around €300, which is very typical of average home improvement loan repayments for Irish households."
Financing that project entirely from credit, after grants are applied, would cost the homeowner around €500 per month, he calculates, which would be a significant outgoing, especially if there is a mortgage on the property.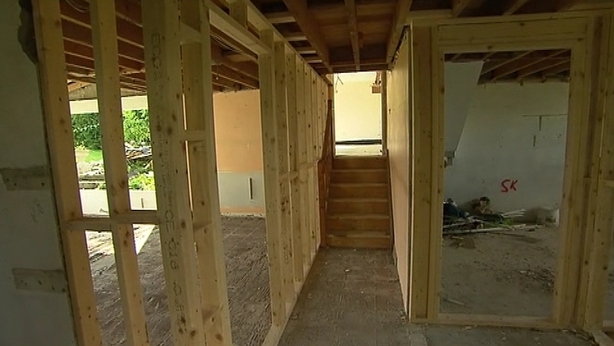 Can I get funding if I opt for smaller projects?
There are a range of individual grants available from the SEAI for various projects.
If you just wish to insulate the house, grants of between €600 and €3,000 are available, depending on the size and location of a house (if it's detached, terraced or otherwise).
Heat pumps that heat the home and the water supply attract grants of up to €3,500.
Homeowners whose dwellings were built and occupied before 2011 can apply for a solar thermal grant of up to €1,200, or a solar PV grant of up to €3,800.
Heating control grants are also available and there are some bonus grants of up to €400 for carrying out multiple upgrades.
SEAI grants can be applied for either online or via a postal application and work must be carried out before the grants are received.
You must make sure all work is carried out within an 8-month period after the grant is approved.
A declaration of works form must be submitted for each upgrade before the grant money is paid into a bank account.
Savings beget savings
There are other savings that can be yielded from the retrofitting process.
For example, an energy efficient home can attract a lower mortgage interest rate.
AIB recently cut rates on its 'green' five-year fixed mortgage by up to 0.2%, bringing it as low as 2.1% for new and existing customers.
However, there's a high bar to securing this rate.
The property to be mortgaged must have a building energy rating (BER) between A1 and B3 and the loan must be under 50% of the value of the property, meaning that in reality it will be mainly restricted to mortgage switchers or movers.
"Many buyers struggle to get the 10% deposit needed for a home, let alone the 50% required for this rate," Daragh Cassidy of bonkers.ie said. 
"What's more, the majority of homes for sale in Ireland don't have a BER of B3 or higher - and those that do tend to be newer homes that are out of the budget of many buyers."
The 2.25% rate on an 80% loan to value (LTV) mortgage is perhaps more achievable for most, he suggested.
According to the bank, existing customers on its standard variable rate of 3.15% could save around €130 on their monthly repayments, or €1,560 a year, if they moved to this new rate.
The calculation is based on a 25-year mortgage with a remaining balance of €285,000 and at least 20% equity.
The next best green mortgage available for an 80% LTV mortgage is from Ulster Bank, which offers a 5-year fixed rate of 2.45%.
It also offers added benefits such as a free home valuation, up to 50% off home insurance and €1,500 towards legal costs, but it comes with the caveat that the bank will be departing the Irish market in the coming years.
However, there are better rates than this available on 'non-green' mortgages, with Avant offering a rate of 2.35% and KBC offers a two-year fixed rate of 2.3%, but only for KBC current account holders.
Bank of Ireland offers a 2.7% fixed rate for 2 years for properties with BER ratings of A3 or higher.
It offers 3% cashback as part of the offer.
Is it worth it?
For the savings that can be made in terms of the cost of running a home, a retrofit is definitely worth the investment, once the initial outlay is within the homeowner's grasp either through savings or a combination of self-financing and a loan.
According to the SEAI's own figures, upgrading a house from a D energy rating to an A rating would reduce energy bills by up to 80%.
The cost of heating a 100 square metre, 3-bedroom, semi-detached, A-rated home comes to €380 a year, it calculates.
That rises to €1,850 a year in a home with a D rating and costs up to €4,000 a year in a G-rated home.
That gap will only grow wider as energy costs climb.