There are lots of great options for wireless earbuds out there – too many to choose from really.
But what is quite hard to find is high-quality feature packed buds at a relatively low price.
That's where Huawei hopes to fill a gap with its new Freebuds 4i.
DESIGN
The Freebuds 4i come in three colour options – Ceramic White, Carbon Black and a new Honey Red.
The earbuds look like a lot of what is already out there in the market, particularly the Apple AirPods Pro.
The top part consists of a sort of oval shaped body with a silicone ear tip on one end.
There are three different sizes of tip in the box, making it easy enough to find one that fits your ear canal opening.
Protruding from the bud itself is a long round- edged stalk – less blocky in looks than the Freebuds Pro.
The carry and charging case has been redesigned from the Freebuds 3i to make it look smaller and more compact.
It is pebble shaped, with a curved front and flat back.
There's an LED light on the front to indicate charge level, a pairing button on the side and a USB-C socket on the bottom.
The lid snaps open and closed with a satisfying firmness.
USE
The buds fit snugly in the carry case and unlike the annoying trickiness of the Freebuds Pro, they are pretty simple to take in and out.
Pairing for the first time is easy enough. If you are using a Huawei phone they will automatically connect when you open the lid.
If you are using a different Android or Apple device you will have to pair them manually in Bluetooth settings.
Each time after that they connect pretty seamlessly once the lid of the case is opened.
If you have a compatible device, Huawei says the buds also connect with its Huawei AI Life app where additional settings like an equaliser can be altered.
However, in the iOS app the option to add the buds does not appear to be there.
When worn they feel pretty light and comfortable, as well as being secure enough to exercise with, without falling out.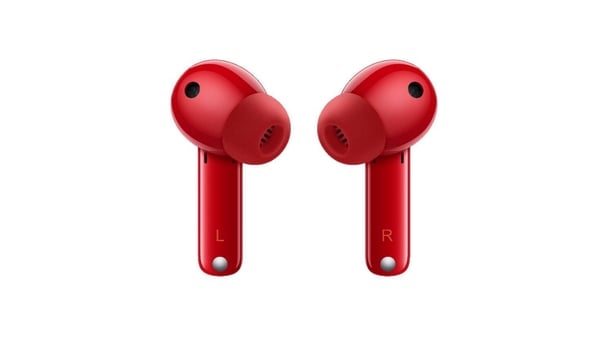 SOUND QUALITY
For a reasonably priced set of buds the sound isn't bad.
They have new 10mm dynamic drivers and this Huawei claims is responsible for the decent bass that they can pump out.
They do lack a certain richness with some music, with depth of tone sometimes lacking a little.
A big plus for the buds at this price range though is the addition of active noise cancellation (ANC).
The algorithm that controls it is optimised for a number of noisy scenarios, including shopping centres and train stations.
But is also set up to detect human voices too.
Overall it does work to a point, but as you'd expect, not to the level of decent over-ear headphones.
Awareness mode allows you to hear what is going on around you without taking the buds off through a simple press and hold.
Call quality is high – with a dual mic system and slit-duct design to reduce wind noise.
AI noise reduction technology is also used to filter out unwanted noise.
There were no complaints from those I spoke to on the phone while trying them out.
Control of the buds is via the usual system of touches and taps and once you get used to them, they are reasonably straightforward, with the capacitive touch generally quite accurate.
BATTERY
Battery life is key with buds, because after all, who wants to be recharging them all the time.
The Freebuds 4i claim up to 10 hours of continuous playback with ANC turned off, thanks to a new and improved battery.
If ANC is turned on that drops to 7.5 hours – still quite respectable.
In real world testing we found the battery held up well under normal use, though with heavy use you will probably need to top them up during the day.
The case now supports fast charging, with a 10 min charge giving up to four hours continuous playback.
A fully-charged case will deliver two recharges.
CONCLUSION
At just €79 the Freebuds 4i are a great option if you are looking for a reasonably priced pair of wireless buds.
They have strong battery life, are comfortable to wear and look ok.
The ANC is a nice feature, but limited in effectiveness and the sound quality isn't perfect.
But at that price point, you can't expect to have it all.