With so many of us spending so much time on video calls and out walking these days, a decent set of wireless earbuds are a useful thing to have around.
When they fit comfortably, have good sound and a quality microphone, they can be a better less expensive alternative to over-ear headphones for a lot of people.
Samsung's latest wireless buds release are an improvement on their predecessors.
But they aren't perfect, particularly if you are an iPhone user.
DESIGN
The Galaxy Buds Pro are quite unique looking – but in a better way than their bean-shaped predecessors.
Egg like in outline, they have a flat front with the ear-stalk jutting out the back at an angle.
At the end of the stalk is a removeable rubber cup.
And as with most buds, those cups can be removed and replaced with different sizes, depending on the size of the user's ear canal.
There are three different size options in the box.
They fit pretty snugly and once in the ear look pretty discrete.
They do stick out a bit, but not as much as some other buds that stick out a mile.
I felt fairly confident wearing them that they wouldn't fall out, although they did shift a bit and very vigorous exercise might prove too much.
The charging case is pretty standard – rectangular in shape and modest in size, with a flip top lid.
The buds come in a choice of three colours – violet, black and silver.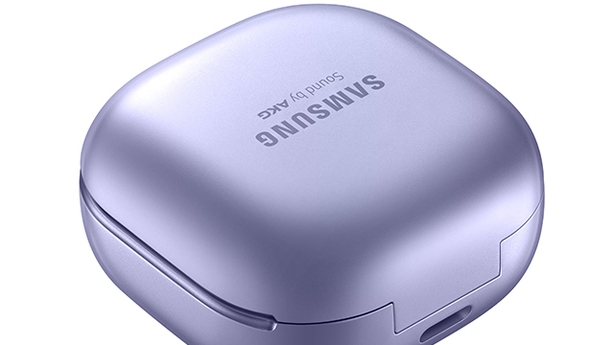 HARDWARE AND SOFTWARE
The innards of the Galaxy Buds Pro are made up of a 2-way speaker, comprised of an 11mm woofer and 6.5mm tweeter, designed by AKG.
There are also three microphones – a main mic, a sub mic and an inner mic.
The battery setup is very respectable.
In total, with automatic noise cancellation (ANC) turned off, Samsung says you'll get up to 28 hours of playback time from the case, with 8 hours from each charge.
Turn the ANC on and that drops to 18 hours and 5 hours respectively.
We obviously didn't sit and listen for 28 hours straight, so we can't speak to those claims.
But certainly, with normal enough everyday use you'll get a couple of days from the buds before you have to recharge the case.
Quick charging is available and Samsung claims (reasonably accurately) that to get 30mins of playback you will only need to charge for 3mins.
One of the big drawbacks though is that the buds are only compatible with Android devices.
Yes, you can connect them to an iPhone or iPad. But they are not compatible with the Galaxy Buds iPhone app, nor do they have an app of their own.
This is a problem because it means you cannot fine tune your audio settings as easily or customise the touch controls.
Certainly a turn-off for iOS users.
They do however carry an IPX7 water rating, the highest rating that Samsung has ever achieved with ear buds, which allows them to be submerged in a metre of water for up to 30 mins.
Handy in case of accidents.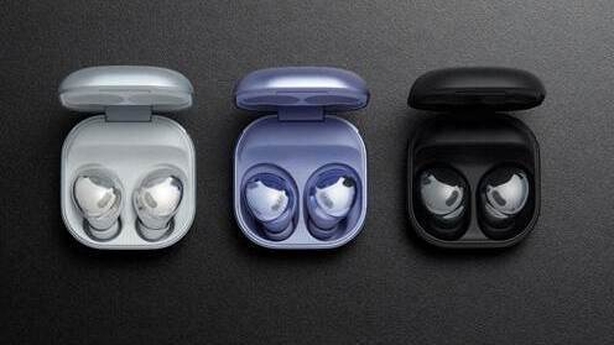 AUDIO QUALITY
Pairing is straightforward.
The buds are touch controlled, so by touching for 3 seconds you activate pairing mode.
This allows you to connect directly to the Bluetooth settings in your device, or via the Galaxy Buds app on Android.
The sound quality from the Samsung Galaxy Buds Pro is in the main really good, helped by Dolby Atmos.
Bass is deep and rich. Trebles are pretty crisp and sharp. Solid quality for most ordinary users.
The buds also have Dolby Head Tracking technology so as you move your head the sound of the movie or show shifts for a more immersive effect.
The touch controls are pretty similar to other wireless ear buds and easy to get the hang of.
A single tap will play and pause music. A double tap will skip forward a song, while a triple tap will bring you back a song.
In call mode, double tapping will let you answer an incoming call, or end that call during it.
The ANC is quite effective to the extent that it can be on a pair of air buds.
Samsung claims it cuts out up to 99% of external background noise.
That's quite a bit of a leap, but nonetheless the ANC quality is a little better than it is on many other buds we've tried.
You can set it to different levels depending on the environment you are in and how much noise you wish to block out.
Ambient sound allows you to hear what is going on around you while listening to your music or the radio.
An algorithm changes the volume of the environment to four different levels so you can hear people as they speak to you.
Call quality is pretty decent also.
Windy conditions can pose a problem, as can other noisy external environments like cars and traffic, due to the distance of the microphones from your mouth.
But in the main, maintaining a conversation is fine.
Samsung's smart assistant Bixby also works with the buds, once connected to a Samsung device.
CONCLUSION
Wireless buds aren't for everyone and for audiophiles they are no replacement for decent over-ear headphones with high quality noise cancellation.
But they are improving all the time and provide a great option for casual users.
The Galaxy Buds Pro are a quality choice - with a comfortable and practical design, decent audio and call quality, good battery life and a level of waterproofing.
But the ANC while passable isn't fantastic and the lack of an iPhone app will make them far less appealing for some users.
At €239, they come in cheaper than a pair of AirPods Pro at €275.
If you are an Android user, particularly a Samsung Galaxy user, and you want a pair of high quality wireless buds, you won't be disappointed.
But if iOS is your thing, then the extra €36 for the AirPods Pro will likely be money well spent.