With the annual Mobile World Congress trade show delayed until later in the year due to Covid-19, Samsung took the decision to launch its new range of S21 flagship smartphones a bit earlier than normal.
Top of the range is the Galaxy S21 Ultra, a device that's packed with plenty of new features and old ones too, that together elevate it to at or around the top of the Android class.
DESIGN
When it comes to smartphones, looks do matter to many and the S21 sets a high bar with its revamped design.
The first thing you notice is that this is a big phone and so those with smaller hands might find it something of a stretch to use.
With slightly curved edges around the display and a shiny metal band around the body of the phone, it feels comfortable and solid to hold.
The rear has a smooth matte Gorilla Glass finish that gives it a fair degree of strength coupled with an attractive, fingerprint repelling appearance.
The chunky camera block for the quad-lens set up is located in the top left of the back and is made of metal with beveled edges.
It does stick out quite a bit and means that without a case on it the phone will not lie flat.?But that's unlikely to be an issue for most users who will likely use a cover of some sort.
The front facing camera is neatly tucked away in behind the screen in the top centre.
Volume and power buttons are situated, as usual, on the right side.
The device comes in just two basic colours - Phantom Black and Phantom Silver.
There are also three further colours available exclusively through Samsung's own website - Phantom Titanium, Phantom Navy and Phantom Brown.
It all adds up to an attractive and slick design worthy of the flagship label.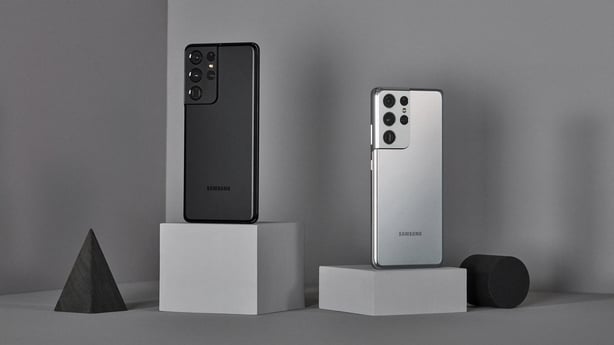 DISPLAY
The display on the S21 Ultra 5G is equally polished.
The 6.8 inch Quad HD+ Dynamic AMOLED screen is claimed by Samsung to be the most vivid and brightest display ever in a Galaxy smartphone.?
We have no real way of verifying that, but in testing over the last few days, it certainly performed well.
Boasting 1500 nits it is bright, even in sunlight.
It also has a 120Hz refresh rate, which makes scrolling, video playback and gaming smooth to the eye.
That rate adapts automatically depending on what is being viewed though, saving battery life in the process.
The display also has a feature called Eye Comfort Shield that enables it to cut down on blue light, reducing strain on the eyes and making it less likely to disrupt sleep when used around bedtime.
The screen is coated in what is claimed to be the toughest Gorilla Glass ever used - again we didn't fancy handing back a smashed phone, so testing was limited - but if it meets that standard it certainly is a welcome addition.
The Infinity-O display is as close to being bezel-less as you can imagine, which means watching movies in full screen playback for example is about as immersive as you can get with a small screen.
A fingerprint sensor is subtly embedded behind the display in an easy to reach position and came in useful when out and about wearing a face mask.
There's also the option of having the display always on through an array of clocks, calendars and widgets, if you find that useful.
But of course there is a trade off on battery life in this regard.
PERFORMANCE?
The S21 Ultra is a bit of a powerhouse.
Its driven by Samsung's first 5nm chip - an Exynos 2100 64-bit Octa-Core processor that Samsung says is the fastest ever used in a Galaxy device, coupled with between 12 and 16GB of RAM.
As you'd expect with a phone at this level and price point, the result is a smooth, fast and responsive user experience.
Multi-tasking is a synch, apps open and close at lightning speed, gaming and video playback is bump-free.
The device comes with between 128GB and 512GB of internal storage, but no microSD support if you need more.
Battery life is also solid, given the size of the handset.
It carries a whopping 5,000mAh power pack and this coupled with the power management tools of Android 11 should easily get you through the day and beyond with normal to heavy use.
Fast Wireless Charging 2.0 is also supported, along with fast wired charging too that provides 50% charge in 30 minutes.
The phone can also be used to top up other devices wirelessly using the PowerShare function.
You won't get a wired fast charging adapter in the box however. For the first time Samsung has ditched it citing environmental grounds.
For most it probably won't be a big issue as they'll have one lying around at home, but it is nonetheless questionable that a device of this price should come without one.
Of course, as the names suggests, the Galaxy S21 Ultra 5G is 5G ready and there is a choice of single and dual SIM models.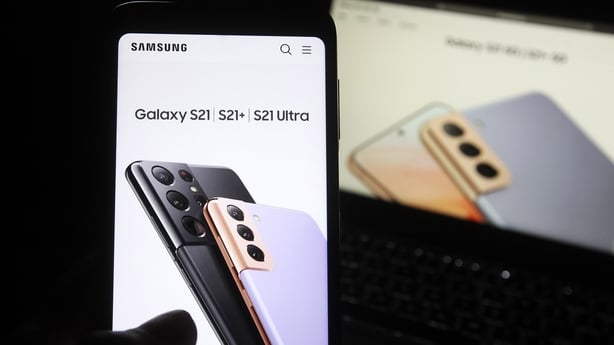 CAMERA
In the imaging department the Samsung Galaxy S21 Ultra has a veritable feast on offer.
You get not two, not three, but four different lenses on this quad camera set up (five if you include the laser unit for focusing more sharply).
There's a 12MP Ultra Wide lens, a 108MP (yes, 108MP) Wide-Angle Camera, and two 10MP telephoto options.
When you combine all that with some digital trickery, what you get is a so-called "Space Zoom" of 100x.
Sound's impressive, and in theory it is. In reality though when you blast in that far from a distance using a smartphone there is a limit to the quality of what you are going to get.
But for sure, if you are out and about on a bright sunny day, you will be able to capture a passable image of something far away that on most other phones you could only imagine getting.
The 30x and 10x zoom though are far more impressive in real life and a clever new lock feature helps stabilise far away images before you activate the shutter to stop them bouncing around on the screen.
It might seem odd that there are two telephoto lenses - but they perform two functions, one offering 3x zoom and the other 10x (both optical).
So overall the range of choice you get with this camera setup really does set it apart from most of the competition.
Other upgrades include the option of extracting 12-bit raw image files which will appeal to photography buffs.
There's also a new feature called Director's View that allows you to see what's coming in through all the different lenses front and back at the same time and cut between them as you record video, while also recording yourself through the selfie camera.
There's a host of other camera features and modes too - some you will use, others you won't.
You will, though, want to use the 40MP front facing selfie shooter which churns out really high quality pics.
Video recording is available at up to 8K at 24fps (not entirely practical as nobody has 8K screens yet) or 4K UHD at 60fps.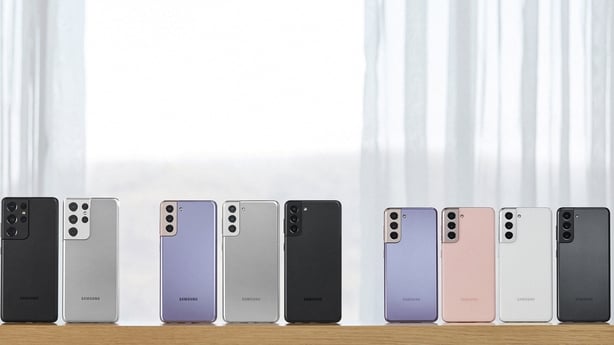 OTHER FEATURES
One of the other big new standout features of the S21 Ultra is that it is now compatible to use with Samsung's S-Pen stylus.
Up to now, it was only ever available to use with the Note range, but reports suggest Samsung may have taken the decision to move it to the S21 lineup with a view in time to winding down the Note option.
This would then allow it to focus on promoting its high-spec high-price foldable range to former Note users at the highest end of the market.?
Whatever the rationale though, S-Pen now works with the S21 Ultra, which for many will be a plus.
However, it doesn't come bundled in the box, so you will have to buy it as an extra, or use an old S-Pen or other compatible stylus you might have lying around.?
We didn't have one to try, so we can't comment on its performance with the Ultra. But the features it offers are similar in nature to those it can be used for on the Note.
One big difference though is that you can't store the S-Pen inside the S21 Ultra, which is a bit of a downside.?
On the waterproofing front the phone does have an IP68 rating, so you can get it wet in up to 1.5m of freshwater for up to 30 minutes, but it isn't advised for beach of pool use.
If security is important to you, and for who is it not these days, the Knox security platform is built in, with virus and malware protection coming from McAfee.
CONCLUSION
Being the top of the range, the Samsung Galaxy S21 Ultra has a high bar to meet.
But in very many ways it does reach it.
A refined design, coupled with a powerful engine, strong imaging bona fides and the option of using an S-Pen give it lots to boast about.
There are some niggles including the absence of a charger adapter, no microSD slot, the chunky camera block and that fact that the S-Pen is an optional extra.
But if you are looking for a high-end smartphone that will do everything short of making the dinner and you have the large bundle of cash needed to buy one (€1,299-€1,479), then aside from the iPhone 12 Pro Max, right now you won't find much to rival the Samsung Galaxy S21 Ultra 5G.