Before Christmas we reviewed the latest version of the Google Chromecast, which now comes with a remote control and access to Google TV.
Well, Amazon has its own similar version of the device - known as the Fire TV Stick.
It offers much of what the Google competitor does, but with an Amazon slant of course.
The latest version comes with 4K and an Alexa enabled remote control. And we've been giving it a try.
DESIGN
The device comes in the form of a USB-style stick, with a HDMI connector on the end, which plugs into the back or side of your TV.
Handily it also comes with a HDMI extender in the box, in case space is a problem.
It is powered by a mains adapter that plugs into the wall.
The setup is all pretty discrete and unremarkable.
There is also an IR and Bluetooth based emote control that comes as part of the offering.
It has Alexa based voice control built in, as you'd now expect from Amazon, and can also be used to control basic functions on some TVs and soundbars, like power and volume.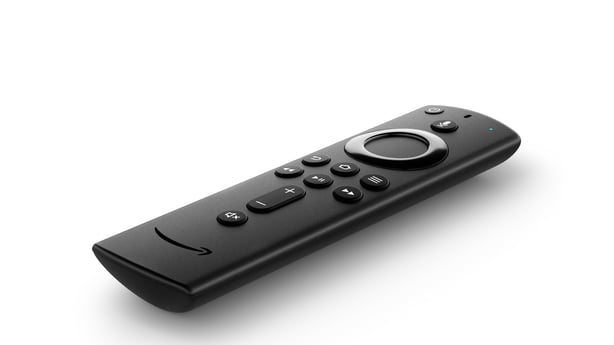 SETUP
To set the Fire TV Stick up, you simply plug in all the hardware and follow the instructions to pair with the remote control.
After running through the usual language settings, you then connect to the best Wifi source you have.
There's the usual frustration of trying to enter the password using a remote control that doesn't have a keyboard.
Then you are prompted to log into your Amazon account or create one if you don't have one already.
You'll probably have to approve that access on your phone or other device if you have 2-factor authentication set up on your account.
There's a string of further questions around privacy, parental controls etc that follow before you get to choose which apps you want to install on your stick.
As well as Amazon Prime Video, there are plenty of other entertainment based streaming services to select from, including big name options like Netflix, Disney+, Apple TV+, YouTube, as well as apps from traditional TV players like Channel 4 for example.
There are also loads of other genres of apps too, like Spotify and Amazon Music for your tunes, fitness options, social networking platforms, news, weather and more.
Theres many dozens to choose from.
After they've all downloaded and installed, you are good to go.
SPECS
The Fire Stick device comes with 8GB of storage built in which is plenty for most people's storage needs.
The interface zips along pretty quickly thanks to the quad-core 1.7GHz processor inside.
It can stream 4K content where available and offers HDR and Dolby Vision as well as a 60fps frame rate, making for a great picture experience on a compatible TV.
While on the sound front, it supports Dolby Atmos 7.1 surround sound for potentially decent audio quality where you have the right hardware.
Bluetooth 5.0 is built in which means it can be paired with speakers, headphones video game controllers.
You also get access to free cloud storage for content that is bought via Amazon.
One good feature is Low Power Mode, which reduces the device's energy consumption when it goes to sleep.
A downside though is that there is no built in ethernet adapter on the Fire Stick 4K, but a separate optional one can be bought.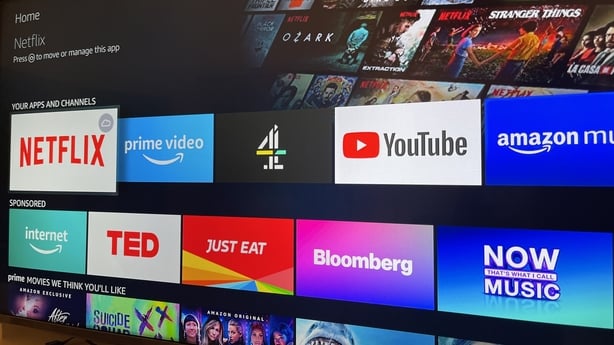 FUNCTIONALITY
A device like this is really only as good as at the apps it runs and the content they offer.
Luckily, Amazon has ticked that box, with plenty of options for all ages and stages.
You will obviously need to subscribe to many of the services, like Netflix and Disney+ for example, if you want to use them.
If you have Prime membership, there are also 100+ channels available for free out of the box.
The built in Alexa also expands the options further, allowing the user to access Skills, and control smart home devices from the remote.
The voice control technology works as well on the remote as it does on most other Alexa devices, the difference being though that when you use it with the stick you can call up video content too.
However, the voice search controls don't work with every app.
If you prefer the old fashion route, navigating the on-screen interface is straightforward enough. 
The user experience engineers who build these platforms must all go to the same coding college, because it looks and feels like many others you will probably already be familiar with.
CONCLUSION
There's much to like about the Fire TV Stick 4K.
It offers plenty of viewing options, it is simple to use, and the added Alexa functionality gives it an edge over some competitors.
If you want to get the best out of it, you will need to subscribe to a number of services.
The device itself does represent good value though, retailing at around the €60. 
If you are looking for something a little cheaper, there is also the option of the Fire TV Stick and Fire TV Stick Lite.
However, as you'd imagine paying less gets you less, so there's no 4K available, and on the Lite the remote control and other functionality is reduced.
There's lots of other non-Amazon options available too, including as mentioned earlier Google's new Chromecast, and Now TV offers a stick also.
And of course, if you invest in a smart TV, you shouldn't need a such device at all.