Non-essential retailers, hair and beauty providers, gyms and other businesses across the country have reported steady trading throughout the day following their reopening this morning.
It follows the relaxing of Covid-19 restrictions which forced them to remain closed for the past six weeks.
Cinemas, museums and galleries are also allowed to reopen, but pubs serving food and restaurants will remain closed until Friday.
Some shops opened before 7am in order to alleviate pressure from pent-up consumer demand, and others opened earlier than normal and will trade late tonight.
Small queues did also form outside some shops at different times during the day.
On Mary Street in Dublin, dozens of people queued from 4.30am to get into Penneys when it opened its doors just before 7am.
There was also a large queue outside Arnotts on Henry Street before it reopened at 10am.
Street stalls on Moore Street were open again for the first time since March, with traders saying they were looking forward to getting back to business.
On the whole, retail organisations say the volume of shoppers in most places has been manageable and at levels they had expected.
Public transport capacity was not strained, according to the National Transport Authority.
Retailers said they were relieved to be open again, while shoppers were happy to be able to make in-store purchases once more.
But with cafes, restaurants and pubs serving food not reopening until Friday, it is expected that it will be the weekend before the extent of the Christmas surge will be apparent.
This evening, the CEO of Restaurants Association of Ireland, Adrian Cummins, tweeted reopening guidelines for restaurants and cafes from Fáilte Ireland.
??Breaking

???@Failte_Ireland? have published the reopening guidelines for Restaurants & Cafes this evening

?????????? https://t.co/HNWClULSi2

— Adrian Cummins ???????? (@adriancummins) December 1, 2020
The guidelines cover all aspects for those operating in the hospitality sector, such as hours of service, table capacities and hygiene.
We need your consent to load this rte-player contentWe use rte-player to manage extra content that can set cookies on your device and collect data about your activity. Please review their details and accept them to load the content.Manage Preferences
Dublin City Council's director of services for the north city area said it is a '"busy, but manageable" day in the city centre as shops and businesses reopen.
Speaking on RTÉ's News at One, Coilín O'Reilly said the council is "very excited to see the city reopening" and it looks forward to welcoming citizens back into the city centre.
Mr O'Reilly said that safety is key and the numbers of pedestrians on streets will be monitored by the council and An Garda Síochána.
He said the authorities will intervene if necessary to restrict access to a street if it gets too busy, and reopen it when numbers reduce.
Mr O'Reilly said a number of measures have been put in place as part of a queuing protocol worked on by Dublin City Council, the National Transport Authority, gardaí and business groups.
---
All you need to know about the easing of Covid-19 restrictions
Latest coronavirus stories
Latest business stories
---
Meanwhile, Retail Ireland is predicting that €1.2bn will be spent in retail outlets this December over and above a normal month.
Some shopping centres have put up temporary shelters outside for customers in case they have to limit the numbers entering due to overcrowding.
In order to even out footfall, some retailers say they will remain open through tonight and into tomorrow, while many others will open early and close later than normal.
The Dublin Town organisation has said it expects around two-thirds of the footfall of last year between now and Christmas.
The first shoppers passing through the reopened doors at Penneys on Mary St in Dublin at 6:42 this morning. Some said they'd been queuing since 4:30am. The number one item on their lists - pyjamas. @rtenews pic.twitter.com/BcJWFc2uMB

— Will Goodbody (@willgoodbody) December 1, 2020
The latest Government guidance is that face coverings should be worn in busy or crowded outdoor spaces where there is significant congregation such as on congested shopping streets.
People are also being asked to continue to work from home unless it is absolutely necessary to attend in person.
Minister for Health Stephen Donnelly said he is cautious about reopening from Level 5, but added that it is a "good day".
He asked people who are in queues to keep to public health guidelines and to wear face coverings outdoors.
Mr Donnelly said retailers are going to be taking every precaution "as they did from the start", but he said people have to take basics in mind and ultimately it is about each person limiting their contacts.
Retail Excellence said many of the 50,000 retail workers who went on the Pandemic Unemployment Payment in October are returning to work from today, but warned there will be further Covid retail casualties.
Its managing director Duncan Graham said he is hopeful that retailers can trade like they did at the back end of Q2, when there was a bounce back after the first lockdown.
We need your consent to load this rte-player contentWe use rte-player to manage extra content that can set cookies on your device and collect data about your activity. Please review their details and accept them to load the content.Manage Preferences
Speaking on RTÉ's Morning Ireland, he said it will be difficult to pull back the money that was lost in November but retailers are ready and have been looking forward to this day for the last six weeks.
He said that shopping habits have changed over the last year and there are many more channels open to shoppers than previously - such as online and click and collect.
Mr Graham said there will be further Covid retail casualties and these are likely to happen early next year when retailers face rent increases.
Speaking on the same programme, Sinn Féin leader Mary Lou McDonald appealed to people to use common sense and to be responsible as restrictions are eased.
She said it is possible to get prepared for Christmas and enjoy the season and access our families, but also to act in a responsible and adult way.
Ms McDonald also said that doing the basics of handwashing, social distancing and mask-wearing will have a strong impact.
In Galway city, the manager of the Eyre Square Centre said she expects a steady increase in the number of shoppers over the coming days.
Some retailers opened their doors at 6.30am, with the rest following later.
Centre manager Avril Smith said a huge amount of preparation in recent weeks means crowd management measures are in place for the lead up to Christmas.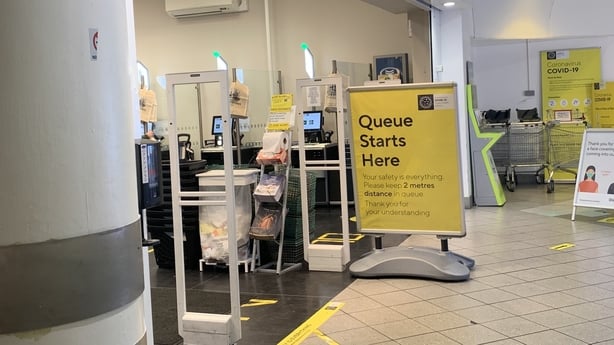 She said that extra cleaning and security staff have been hired, all public seating areas were removed and all retailers have individual plans in place to marshal queues.
Due to social distancing regulations, Santa's grotto at the centre will not open this year.
Ms Smith said there had been a slow but steady flow of shoppers visiting the centre since early this morning and the reopening of cafes and restaurants at the weekend is likely to lead to an increase in visitors to the city.
Retailers are expecting to be busier from the weekend on, with a further rise in the number of shoppers when intercounty travel is permitted later this month.
Additional reporting Pat McGrath