A new monitor shows that footfall in the Irish retail sector has fallen more than anywhere else in Europe since the start of the Covid-19 crisis.
Retail Ireland, the Ibec group that represents the retail sector, today published its new November Retail Monitor.
The information in the monitor is taken from Google mobility tracking data, and excludes grocery and pharmacy trade.
Retail Ireland noted that people started adjusting their behaviour long before the most recent Level 5 restrictions were formally announced.
It said retailers are increasingly concerned about their ability to manage social distancing, queueing and stock replenishment in a narrow three week December window, especially giving the significant pent up demand due to store closures.
---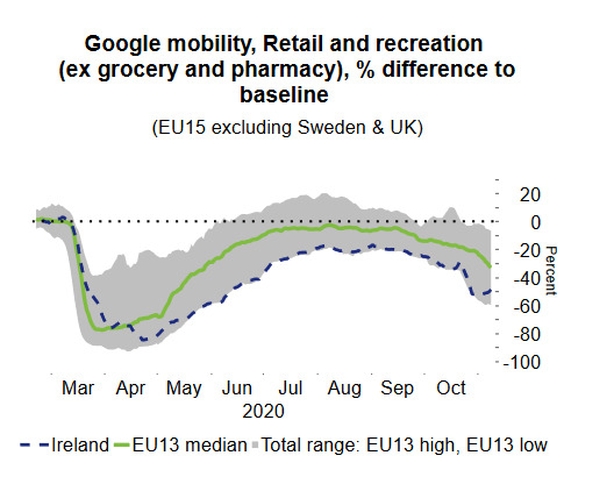 ---
Retail Ireland urged the Government to move now to unwind retail restrictions in advance of December.
Arnold Dillon, Retail Ireland's director, said a short three week shopping window in December will create significant additional challenges for retailers working to manage numbers in stores and reduce the need for queues.
"Public health is the priority and retailers are taking extra steps to ensure a safe Christmas for customers, including extended opening hours," he added.
Mr Dillon also said that heightened Covid-19 concerns had depressed consumer sentiment.
He said that after a period of increased spending activity in the latter weeks of September, total spending declined through the first half of October.
As seen with the original restrictions, Retail Ireland noted that spending increased in the days leading up to, and in this case peaked on the day prior to, the new restrictions being introduced.
"While significant government supports are welcome, more is needed to help retailers manage commercial rent liabilities that continue to accrue during lockdown," Mr Dillon said.
He also said that Retail Ireland is hopeful that sentiment will rebound when restrictions are lifted and the effects will not significantly impact subsequent spending patterns.
"The run up to Christmas is make or break for many retailers and every day counts. Many are relying on the period to make up for the major financial hit taken earlier in the year," he added.