With just six weeks to go to Christmas, children all across the country will be putting together their Santa lists.
While it can be difficult for small Irish companies to compete with the big international players, Irish toy makers will be hoping their products will make the cut.
American-made 'Elf on the Shelf' has been hugely popular over the last few years, but now there is a new Irish toy in town that is hoping to knock elf off his perch.
The Reindeer Feeder
Dublin couple Gavin and Aoife Lawler came up with the idea for Shrumann, the Reindeer Feeder, while trying to solve a very serious issue.
"We needed to find a way to feed the reindeer on the rooves while Santa delivers the presents," explained Mr Lawler.
They decided to create the magical Shrumann teddy, which stands for 'shrunken human'.
"The most important thing is that your Shrumann is in the house on Christmas Eve so he can do his job. He needs to be left somewhere accessible, so he can get up the chimney," he said.
The Shrumann toy also comes with an illustrated storybook, which explains all about the Reindeer Feeder tribe that live in the North Pole.
"The Reindeer Feeder are a forgotten tribe in Shramovia, which is in Lapland.
"In the book we tell you about the magic that is inside each and every Reindeer Feeder and how it helps Santa on the most important night of the year," said Mr Lawler.
We need your consent to load this rte-player contentWe use rte-player to manage extra content that can set cookies on your device and collect data about your activity. Please review their details and accept them to load the content.Manage Preferences
Along with the teddy and the storybook, you also get a Reindeer Feeder license and a special window sticker, as Mr Lawler explained.
"The window sticker is like a bat signal to Santa Clause, it lets him know that there is a Shrumann inside ready to feed the reindeer."
Back in 2013, Gavin and Aoife Lawler Co-Founded the popular Irish Fairy Door company with another couple, before setting up their own business Inov8 Creative Academy.
They're hoping their latest Shrumann toy will unleash similar magic in Irish households.
"There is a lot of negative stuff going on in the world right now with Covid-19 and store closures, so we just want to bring a bit of joy back for kids," said Mr Lawler.
While the company has been impacted by the pandemic and the closure of stores, Mr Lawler said the recent push to support local businesses is really helping. 
"We're Irish to the core - we're from Clondalkin in Dublin and currently working in Naas in County Kildare.
"There is a momentum now to support Irish companies and we are just astounded by it. This is the real heart and soul of the Irish people," he said.
ArcKit
If you have an aspiring Architect in your family, ArcKit could be a big hit this Christmas.
Entirely manufactured in County Wicklow, the 'click and connect' kits are suitable for both children and adults, as CEO and Architect Damien Murtagh explained.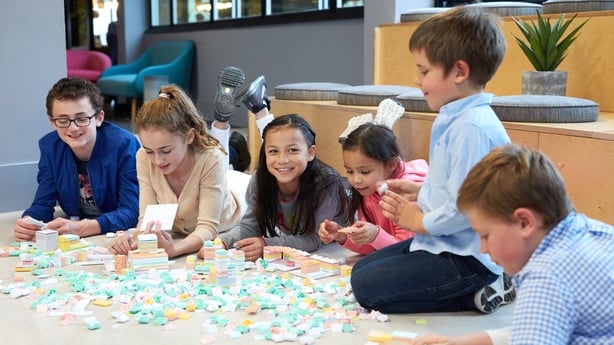 "It started out as a professional level tool that I was aiming at architects but I very quickly found that children wanted a product that was more than their current building block toys.
"We have developed a lot of products, from kits that are aimed at children as young as four years of age where they can build little colourful villages and cities, to more advanced products like ArcKit 360 and ArcKit 180 that are suitable for the teenagers and adults," he said.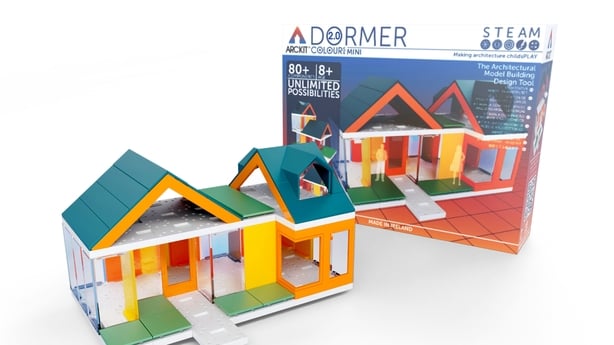 Mr Murtagh said he is very proud to say that all of their products are made locally.
"Our packaging is with Smurfit Kappa and we work with two wonderful companies in Wicklow - Automatic Plastics in Tinahely and Embankment Limited in Blessington, who make our products.
"Many people don't realise that there are so many incredible industries in Ireland, especially ones that deal with the plastics and moulding.
"There are lots of industries here that will allow people to manufacture at home, rather than going abroad," he said.
When asked how their small Irish company can compete with global giants like Lego, Mr Murtagh said they are "carving their own niche" with their products.
"We have tried to compete with Lego before, but we are finding that we have a different product. We feel we appeal to a wider and varied audience," he said.
From a business point of view, the pandemic has stalled a number of partnerships for ArcKit in the offline retail, but they have managed to create new business opportunities.
"We are working on lots of new projects for next year and because the trade shows have been pushed out to later on in 2021, it has given us this opportunity to really hone the projects we are working on as opposed to rushing them, which we generally have to do, because the shows are usually on in January and February - so it has been positive in that regard," he said.
According to Mr Murtagh, the toy makers of Ireland are all pulling together to support one another throughout the pandemic.
"You don't have to look far to find incredible things. I think the more we can support one another, the quicker we will be able to get out of all of this," he said.
Jiminy Eco Toys
Jiminy is an Irish toy company that sells and distributes eco toys.
Named after Pinnochio's conscience Jiminy Cricket, it was founded by Dublin mum Sharon Keilthy.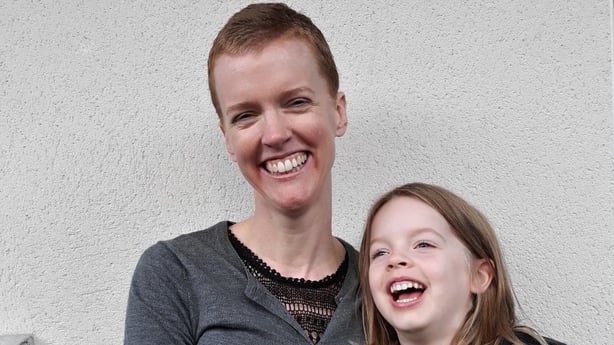 "We retail directly online at Jiminy.ie but we also supply 45 toy shops around Ireland and the UK," Ms Keilthy said.
As well as supporting local businesses this Christmas, Ms Keilthy is asking people to purchase eco-friendly presents.
"By eco-friendly I mean items that are locally made, and made with natural or recycled materials," she explained.
"Making toys with plastic globally releases so much carbon just to make the plastic, that we would have to plant one billion trees to suck it back down," she said.
Having struggled to find eco toy options for her daughter, Ms Keilthy decided to take matters into her own hands.
"I set up Jiminy Eco Toys as activism, to try to make sustainable toys much more available, because we can't expect people to make a sustainable choice if they don't have one.
All of the toys stocked by Jiminy are sourced either here in Ireland or within Europe, as Ms Keilthy explained.
"When we find an Irish-made toy we jump on it, but there aren't that many Irish toy makers.
"We stock a lovely range of Irish-made vehicles that are made in Galway by the lovely Mike from Irish Wood. We have cars, tipper trucks, recovery trucks, and a little plane – they are just adorable.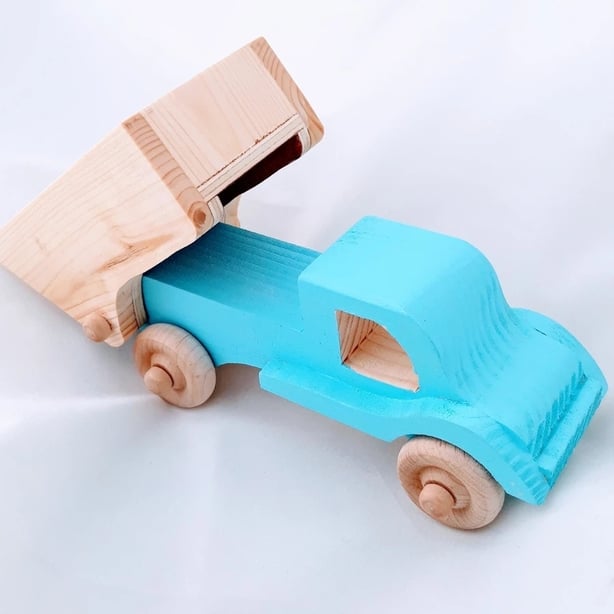 "Another Irish made product that is really popular is our paper craft kit, made in West Cork. You cut, fold and glue together pieces of paper to make a 3D seahorse," she said.
While the business has been doing quite well over the past few months, Ms Keilthy stressed the importance of supporting small Irish businesses.
"Buy local or bye bye local. If you want that shop to be there next year, then you need to shop there this year, because otherwise it will disappear."
"At a smaller retailer you're supporting innovation, you're supporting someone doing something new - in our case, trying to normalise eco-friendliness in toys.
"At a smaller retailer you also get that personal touch and that sense that you are supporting a family that you know," she said.
Lottie Doll
Ian Harkin from County Donegal left his job as an accountant, to become a toy maker.
In 2011, he launched Lottie Doll.
"We decided that we would base Lottie on a nine year old child. She is sculpted on the average proportions of a nine year old girl, and we focus on childhood activities as opposed to what you want to be when you grow up," he said.
While developing Lottie Doll, Mr Harkin said the team discovered a gap in the market for something more "wholesome".
"Pretty much all over the other doll brands on the market are based on adults.
"60 years ago the average age of a doll user was 12 years old, and a 12 year old aspires to be an adult. However, in the intervening years the average age of a user dropped to six years of age, and a six year old aspires to be a nine year old," Mr Harkin said.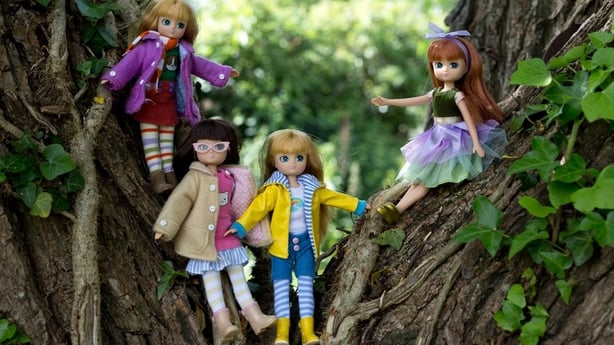 Lottie dolls have no makeup, no high-heels, and their play sets focus on adventure.
This Christmas, Mr Harkin said they are hoping their tree house will be a big hit.
"So rather than doing a domesticated doll house with a kitchen, we did something a little bit more playful and built a tree house.
"It is all about embracing outdoor play and imagination," he said.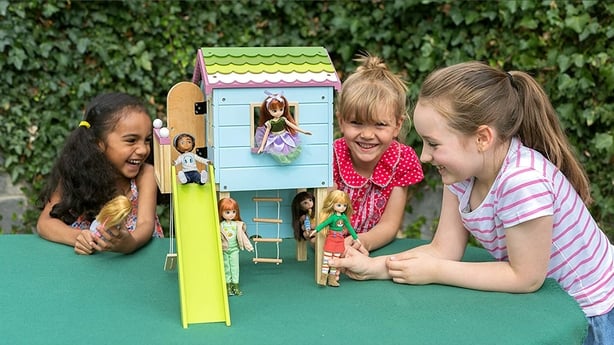 While the company has hit some bumps along the way due to the pandemic, Mr Harkin said they have been very lucky.
"It is a very competitive market, there are only five or six brands worldwide that are in this space - it is very cut throat.
"Most doll brands only last about 24 months and we are here eight years later, still paddling our own boat," he said.