You might think there isn't enough space for another smartphone manufacturer in the Irish market. 
With dozens of companies peddling hundreds of devices, there has never been so much choice, particularly at the mid-range tier of the market. 
But Chinese brand Oppo has other ideas. 
It's just launched three handsets here – the Reno4 Pro 5G, Reno 4Z and the the lower range A53. 
We've been trying out the mid-range Reno4 Pro 5G, to see whether it can live up to its premium level price. 
DESIGN 
The Reno4 Pro 5G has a decent looking design and that is for good reason. 
The people behind Oppo have deliberately targeted users who are design oriented. 
What you get is a slim and light device, that's comfortable to hold. 
The glass back is smooth with an unusual and difficult to describe shifting colour tone finish effect – known as Oppo Reno Glow. 
Oppo says it looks like you have all the stars in the universe in your hand – a bit of an over-the-top claim but it is nice all the same. 
The anti-glare glass is especially hard to leave a fingerprint on and is also scratch resistant, Oppo claims. 
We didn't scratch it in testing, but certainly it is quite proficient at hiding paw marks.
The camera block consists of three lenses in a vertical line in the top left corner. They stick out a bit so you will want to use the clear cover that comes supplied in the box – a nice addition. 
A metal band runs around the curved edges of the display. 
On the bottom is the USB-C charging port and the SIM tray, the power button is on the right and the volume rocker on the left.
It comes in a choice of Galactic Blue, Space Black and Green Glitter. 
One downside is that there is no SD card slot, nor can you plug in 3.5" headphones. 
But all told, it does have a look that's more premium in style than the market tier it targets.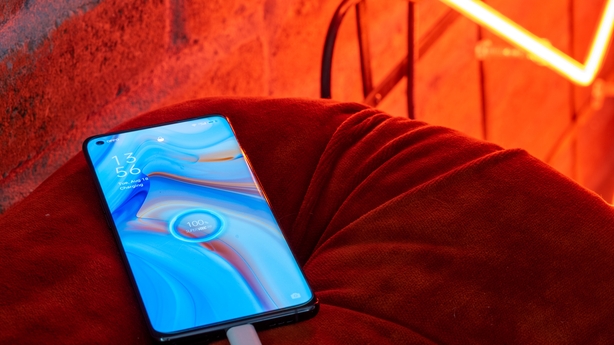 DISPLAY 
The Reno 4 Pro sports a 6.5" AMOLED display with a 2400x1080 resolution and a 20:9 aspect ratio, making it long and thin. 
It also has thin bezels, while the front facing camera is discretely placed as a pinhole in the top left of the screen. 
The accurate and pretty fast fingerprint sensor is also embedded in the display. 
Together they give the phone a 92.1% screen to body ratio and this, coupled with the curved edges, makes for a decent immersive experience. 
The display performs well too – with a pixel density of 402PPI, a 5,000,000:1 contrast ratio and a brightness level ranging from 500 nits typically, to 1100 at peak. 
The refresh rate though is only 90Hz though, so don't expect quite as smooth a scrolling experience as you might get on higher-end handsets. 
The 20:9 aspect ratio won't be everyone's cup of tea – useful for gaming perhaps but if you are watching 16:9 video content, you will be left with black bars either side. 
Once again, the Reno4 Pro's screen elevates it to a level slightly higher than you might expect of a mid-range device, although perhaps not the dizzying heights of a high-end smartphone. 
PERFORMANCE 
The Reno4 Pro is powered by the Snapdragon 765G CPU and an Adreno 620 GPU, coupled with a respectable 12GB of RAM. 
It makes for a relatively smooth experience in most scenarios although it will struggle a little under the most demanding of conditions. 
It comes with just the one option of 256GB of memory, which is a decent enough chunk. 
But as mentioned earlier that's just as well, as it can't be expanded with SD. 
Powered by a large 4,000mAh battery it is good for a normal day's use without topping up. 
But if you do need some juice, the Reno4 Pro supports SuperVOOC 2.0 charging technology. 
In real life terms, that means that the 65W charger will deliver 11% of a charge in 2 minutes, 27% in 5 minutes, 66% in 15 minutes and a full charge in an astonishingly quick 36 minutes. 
Despite this impressive performance, there is no wireless charging unfortunately. 
Obviously a big selling point of the device is the 5G connectivity which buyers are increasingly going to be seeking out as networks expand and costs come down. 
The phone also has stereo speakers which do a reasonable job, once you don't expect too much. 
As well as the well placed fingerprint sensor, the device also supports biometric facial recognition for security purposes and it works very well. 
But don't try to take the Reno4 Pro into water – Oppo says it does offer some level of splash protection, but it doesn't carry an official IP certification rating. 
When it comes to SIMs, there is support for dual cards. 
The device runs on Android 10 with the clean and easy to navigate ColorOS 7.2 laid on top.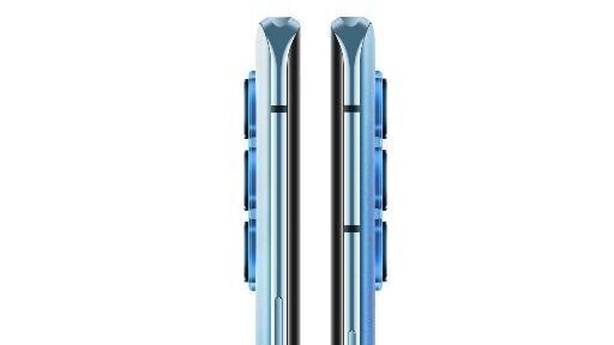 CAMERA 
The triple camera set up on the Reno4 Pro offers the usual ultrawide, wide and telephoto options. 
The main camera consists of a 48MP IMX586 Sony sensor with optical image stabilisation, although the default is that it captures images at 12MP. 
The ultrawide angle lens has a 12MP Sony IMX708 sensor with a 120 degree field of view. 
While the telephoto offering is a 13MP lens with 5X hybrid optical zoom that works fine provided you don't push it further into the digital zoom realm where you can expect to lose clarity. 
All three can shoot HDR, use AI scene detection and have laser autofocus, which does a quick and accurate job. 
The quality of the pics delivered by the three cameras is of a pretty good quality. 
A plethora of additional modes and options are on offer, including the well-performing Night Mode, that does a good job of capturing images in low light once you have a steady hand and the patience to wait up to 10 seconds to do it. 
On the front is a 32MP selfie camera, with an AI driven beautification feature and stabilisation also built in. 
When it comes to video, the Reno4 Pro can shoot up to 4K at 30fps and slow-mo at 1080p and up to 120fps. 
It also offers an image stabilisation option, which can be boosted to an even higher level for particularly bumpy scenarios, although you pay a price in image clarity. 
A cinematic mode gives you tools to capture video at a mode advanced level, like changing the ISO, aperture, white balance, focus points, etc. 
The front facing camera is able to able to capture video at 1080p and 30fps. 
CONCLUSION 
The Reno4 Pro 5G comes across as a bit of an upstart in many ways. 
It is a mid-tier phone, but one which boasts the good looks of a premium handset, a quality screen, a great battery charging performance and decent triple camera set up. 
Yet it is dragged back down to its rightful station by some small things – like its lack of an IP water rating, the absence of wireless charging, the inability to expand its memory and the elephant in the room – its price. 
Because the Oppo Reno4 Pro retails for €800.
That's iPhone Mini and Samsung Galaxy S20 FE 5G territory for example – both handsets that will give the Oppo Reno4 Pro 5G more than a run for the money.