Smart speakers are really judged by three things – how they look, how they sound and what else they can do.
Nest Audio is Google's latest offering and scores well in all three categories, but is particularly aimed at audiophiles.
DESIGN
The Nest Audio looks good.
Sort of rectangular in shape, with curved edges and a fabric finish, it will blend in nicely in most home settings.
It hasn't much in the way of buttons – just the one on the back for muting the mic.
Otherwise you control it via voice, through the Google Home app, or using three capacitive touch sensors placed around the device for volume and play/pause.
I initially found these a bit fiddly to locate and also found they required a decent firm touch in order to register an action, but did get used to them.
There are a few LEDs under the mesh fabric on the front which light up and become visible when it is doing something.
The device comes in two colours – Chalk and Charcoal.
One interesting thing to note is that the enclosure, including the fabric, housing, base and a few other small parts, is 70% recyclable.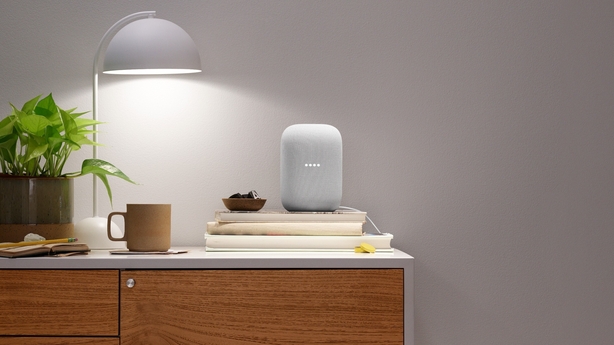 SOUND
The speaker consists of a 75mm woofer and 19mm tweeter.
If that doesn't mean much to you, suffice to say it provides sound that is loud, deep, crisp and clear.
In fact, Google says is 75% louder and has 50% stronger bass than the original Google Home.
It doesn't quite reach the quality levels of high-end audio, but for most of us it is more than adequate.
What is also handy is that the device can be paired with another to provide a stereo pair, with left and right channel separation.
Nest Audio can also be grouped with other Nest devices or with a TV using Chromecast if you want to run sound across multiple rooms.
Music can also be moved from one Nest device to another if you are moving rooms via the Home app, a Nest touchscreen or through voice.
Nest Audio will also adapt automatically to what is being played on it and the surroundings, using the Media EQ.
It also has three far field microphones built in and is pretty good at picking up your voice, even in a noisy environment.
OTHER FEATURES
Setup is pretty easy and straightforward, done via the Google Home app.
Being from Google, Nest Audio allows you to control any other Nest devices you might have, such as the smart thermostat and Chromecast.
But it also integrates nicely with lots of other smart home brands, including Philips Hue and KASA via Google Assistant, allowing you to use it to control other aspects of your smart home.
You can also call other Google Duo compatible devices using the speaker.
If you don't like the idea that it is there always listening to you, you can turn off the mic using the physical switch to the rear.
Activity history can also be viewed on the Home app and deleted if you wish.
That app is available for both Android and iOS.
CONCLUSION
The smart speaker market is crowded and cut-throat.
Nest Audio is a big improvement on its predecessor, with decent quality sound, ease of use and a multitude of smart features.
But there is a huge amount of competition out there, from Apple, Amazon, Sonos and more.
At €99, it is reasonably attractively priced.
Nevertheless, shopping around is advised if you want to be certain of getting the best bang for your buck.