"Now is not the time to dickie up the house and buy a pair of curtains" - that was the advice from then Health Minister Simon Harris as the country began to emerge from lockdown.
As the economy reopened, the time eventually did come for home improvements and tradespeople working in the industry say they cannot keep up with demand.
Ted Laverty is CEO of Onlinetradesmen.ie, a website that connects property owners with tradesmen across the country.
"As lockdown started easing and as the economy started opening up again, there was an absolute flood of demand for home improvements," he said.
"In actual fact, I've never seen anything like it. Right now, we're probably up around 70% on this time last year. People were staring at their walls at home or staring at their gardens and they realised they needed to get somebody in to fix it," he added.
Initially, there was demand for landscapers and gardeners, Mr Laverty said, and then kitchen fitters, carpenters, builders for extensions started getting busy.
He said if someone is looking to get a new kitchen or bathroom fitted, they will be waiting until January.
Laurence Lynch from Lynch Builders, a construction company based in Dun Laoghaire, said it has been a good year for his trade.
"Since Covid we have been flying with work, out the door, we're looking for more staff at the moment."
His firm is getting a lot of work converting attics or garages into home offices or gyms. Requests to install sky lights and windows to improve ventilation, are also coming in.
"Nobody has been going on holidays, or going out to restaurants or pubs, so I think a lot of that money is being put back into the home," Mr Lynch said.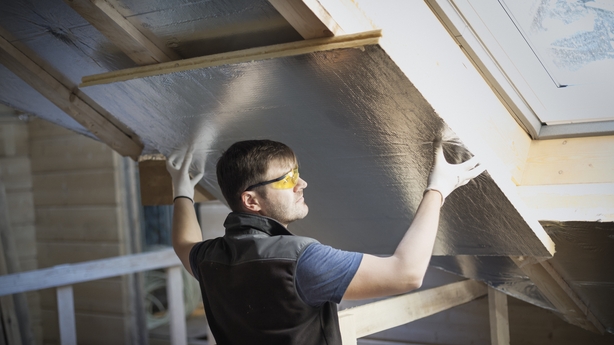 Recent data from CSO shows that household savings increased during lockdown.
And for many people, their earnings have not been impacted by the pandemic.
"The areas in which the public health restrictions were put in place were the areas that had the largest falls," said Conor O'Toole, Senior Research Officer with the ESRI.
"It's very clear that there were very strong rebounds in certain areas. If you look at the spending on household equipment, hardware, paints, that sort of stuff, that really rebounded massively.
"Not only did it catch up the lost spending from the April to June period, it was actually much higher than before, so it suggests that people are not only catching up on the spending postponed but they now don't have foreign holidays to spend money on so they are finding other ways to undertake expenditure."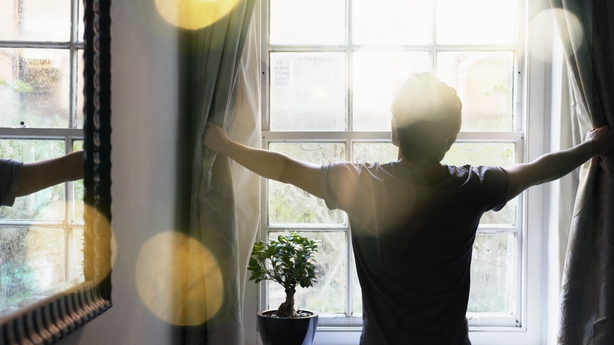 Ian Donnelly is the owner and managing director of Hickey's Fabrics, and Home Focus at Hickey's.
Selling curtains is a big part of the business. He wasn't pleased when Minister Harris said in May that it wasn't the time to buy a pair of curtains, but he smiles about it now.
"Listen I think the man did a great job, and inadvertently he probably did us a favour," Mr Donnelly said. "It put curtains and cushions in people's heads. I understood the sentiment even though, at the time, it wasn't what I wanted to hear."
The company has two brands: the Hickey's fabrics brand in Limerick, Galway and Dublin city centres, and Home Focus at Hickey's.
"Certainly the city centre business is more challenging. The footfall levels are way down. Because we are selling things for craft and hobby, craft fabrics, knitting wool, we are still busy in those stores but it is challenging. I really feel for people in leisure through to tourism and even clothing and footwear, it is very tough in town."
The Home Focus stores are the core business and 13 of the 16 stores are in retail parks.
"Thankfully, in terms of the Home Focus stores, we are very busy, in many ways like a lot of other home people, our biggest challenge is stock and getting a flow of stock through, that at times has been difficult but at the least the stores, yes, are busy," Mr Donnelly said.