The aviation sector has been "demonised" since the pandemic began, with unreasonable constraints being put on reopening connectivity, according to the daa which operates Dublin and Cork Airports.
In a submission to the Oireachtas Transport Committee, daa chief executive Dalton Philips described the two airports as engines of the Irish economy, but warns that they are now "running on empty".
He said other key sectors had been allowed to reopen on the understanding and acceptance that there is an element of risk involved.
"The Irish aviation sector, however, is being held to a much higher and, quite frankly, unreasonable standard, with continued constraints being placed on opening up international travel. Because of this, Ireland's connectivity to the world is faltering," he said.
Mr Philips said Ireland has continued to operate one of the most "cautious" travel policies in the EU - with minimal movement on the European Commission's recommendations regarding easing travel restrictions, or implementing the recommendations of the Government's Aviation Recovery Taskforce published in July.
"In the meantime, the aviation, tourism and hospitality sectors have suffered untold damage," he said.
Mr Philips confirmed that the daa has lost 20 million passengers compared to last year.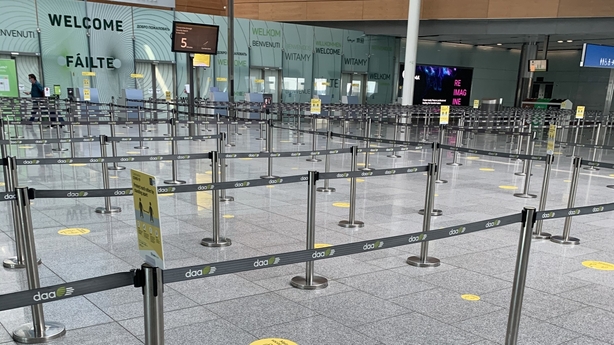 Dublin Airport will have fewer than nine million passengers this year - bringing traffic back to 1995 levels.
"We've lost 25 years of growth", he said.
The company has accumulated more than €150m in losses since the pandemic struck, and net debt will have doubled by the end of this year. 
Cork Airport was Ireland's fastest growing airport last year - but now over half its airlines have withdrawn, traffic is down 90%, and it is facing into losses of €20m this year.
Mr Philips stresses that "in stark contrast to its other regional airport peers", Cork Airport has received no direct state funding to date.
He also warned that it would be dangerous for anyone to assume that routes withdrawn over the last six months would simply re-emerge overnight.
He cautioned that failure to act now by substantially easing the travel restrictions will prolong the disruption and decline in connectivity into 2021, "with significant financial consequences".
He said the European Commission's traffic light system due to come into effect next week needs to be accompanied by testing protocols for high risk regions, "discarding blunt travel restrictions and quarantines".
In an appendix submitted to the Oireachtas Committee, the daa outlined five key "asks" for Government action to assist Cork Airport.
They include replacing quarantine with the introduction of rapid low cost pre-departure testing for Red Zone countries, while adopting the EU Common Green Orange Red travel protocol.
The daa wants the UK to reopen under the same regime, with the reintroduction of duty free to UK airports once the UK transition agreement ends.
It also raised the possibility of duty free arrival shops, as in Norway and Switzerland.
It proposed that Cork Airport be added to the existing Regional Airport Capital Funding Programme for 2020-2024.
It is seeking implementation of the Government's Aviation Task Force recommendations on Revenue and Operating Cost Support.
Finally, the daa is also calling for a stimulus programme for inbound tourism to save the summer 2022 season.
In a separate appendix, it outlined proposals for pre-departure testing.
Ryanair calls for three-year-rebate on airport charges
Ryanair has called on the Government to introduce a three-year rebate on airport charges for all airlines in a bid to support the aviation sector which has been crippled by the Covid-19 pandemic.
In a submission to the Oireachtas Transport Committee, chief executive Eddie Wilson describes current Government policy on aviation as "the single biggest act of self-harm to this economy since the 1930s".
He urges the Government to immediately adopt all recommendations of the Aviation Recovery Task Force on supports to Dublin and regional airports by bringing in the rebate, which he insists would comply with state aid guidelines as it would be open to all airlines.
He estimates this would cost around €300 million per year for intra-European traffic, but argues it would represent real value in supporting the 140,000 jobs sustained by the aviation sector.
"Ireland is now officially closed for business and connectivity with the largest economies in Europe including the UK, Germany, France, Italy and the Netherlands," he states.
He outlines the consequences of the Government policy for Ryanair, saying: "This lack of action from Government will this winter regrettably see Ryanair significantly reduce its capacity in Dublin, close its Cork and Shannon bases, cut capacity to Kerry and Knock, wiping out connections to the UK and the EU to Irish regional airports".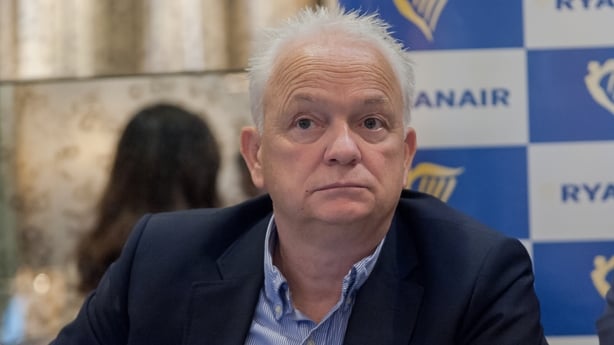 He says that to avoid this, the Government must take immediate action to "champion" the EU Traffic Light system without restrictions for Green and Amber countries.
Based on these criteria, unrestricted travel to and from Ireland would reopen to Germany, UK, Italy, Lithuania, Belgium, Bulgaria, Denmark, Estonia, Greece, Luxembourg, Malta, Norway, Poland, Portugal, Slovakia, Slovenia and Sweden.
The Ryanair chief executive believes these incentives will allow Ireland to compete with other EU countries "who are busily copper fastening future airline seat capacity to support their aviation infrastructure with massive and illegal state aid".
He pledges that Ryanair will keep its Cork and Shannon bases open this winter if the Government adopts the EU aviation traffic light system, including for the UK.  
"If Cork and Shannon bases were to close, it would see their annual passenger numbers fall by up to 90%, and Kerry and Knock which are heavily dependent on UK traffic would have all its traffic effectively wiped out," Mr Wilson warns.
On Covid-19 testing, Mr.Wilson says diverting testing resources to airports is a poor use of capacity particularly for intra-European flights, adding that the logistics of carrying out tests at airports and delays in receiving results would be "a complete non-starter".
He adds that expecting passengers who have paid €9.99 for a fare to pay around €180 for a test was "economic nonsense".
Guidance on non-essential air travel upping probability of more job losses - Shannon operator
The Government's continued guidance against non-essential air travel is increasing the probability of further job losses around the country, along with long term loss of connectivity, unbalanced regional development and economic risk to foreign direct investment, according to the operator of Shannon Airport.
In a submission to the Oireachtas Transport Committee, Shannon Group chief executive Mary Considine called on the Government to take urgent action to support the aviation sector and preserve vital connectivity in the west of Ireland.
Ms Considine said the impact of Covid-19 has been "catastrophic", "unprecedented" and "global", sending shock waves through the aviation and tourism sectors which will be felt for many years to come.
She called for a robust system to get aviation moving in the form of the proposed pan-European traffic light system, and a Europe-wide testing protocol, saying: "Testing instead of quarantine has to be the way forward."
She also urged the Government to implement in full the recommendations of the Aviation Recovery Taskforce, and to put in place an urgent stimulus package to encourage the rebuilding of air traffic.
Ms Considine cited the European arm of Airports Council International (ACI) which warned that a full recovery of airline passenger numbers at Europe's airports will not happen until 2024 - with other less optimistic forecasts anticipating it could take up to 10 years for airport revenue levels to recover, with international routes last to get back to normal.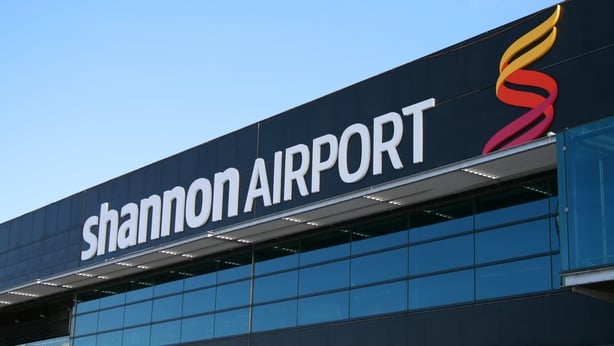 She noted that passenger numbers at Shannon have continued to decline since scheduled services resumed on 1 July - with figures down 86% in August, and by 91% in September.
"If this trend continues, we expect to see a decline of 80% in passenger numbers for this year compared to the previous year," her submission stated.
"As a result of these and other losses in the Group, we expect overall Group revenue to be down almost 60% by the end of this year."
Ms Considine's submission stated that, faced with group revenue falling by over €1.3m per week, the organisation took "decisive short-term actions to preserve our businesses and protect jobs in the long term".
She said there had been hope of "green shoots" in July when Ryanair recommenced 16 routes "...but given the Government advice on essential travel only, passenger numbers have been extremely low".
"This is despite the fact that much of Europe had returned to the skies, while Ireland remained an outlier in this respect," she continued.
She also described as "extremely worrying" Ryanair's announcement of plans to close its Shannon and Cork bases from 26 October if the Government fails to adopt the proposed pan-European travel measures, which would cause further devastation to the airport's business.
She noted that Shannon has had no transatlantic services operating since March of this year - while US carriers Delta and United have advised that they will not resume services into Shannon until 2022 "... at the earliest". Aer Lingus has also suspended its transatlantic and Heathrow services.