It's five years since Apple launched its first timepiece and since then there have been new versions every year.
While some of those had particularly eye-catching features, in the main each release has offered  steady incremental improvements.
The result is that it now boasts a comprehensive toolkit that has propelled Apple Watch into a market leading position.
Its latest version, Watch Series 6, continues in that vein, adding a few interesting new features.
DESIGN
On the face of it, Watch Series 6 looks very like its predecessor.
And that is because its design hasn't changed.
There are still two sizes – 40mm and 44mm – and the watch's weight remains a comfortable one at 36.5g for the larger model.
The rectangular rounded edge aluminium case has also been retained, along with the digital crown and power button on the right side and sensors underneath.
It still looks good, differentiates the watch from round faced competitors and there are practical benefits to the shape too.
So from Apple's point of view, you can see why they'd adopt the "if it ain't broke…" attitude.
The case colour options have been expanded to include dark blue and red.
There is also a new stainless steel grey black finish called Graphite, along with a new classic "Yellow Gold", which Apple claims is as close to the colour of 18ct gold as possible without using the actual precious metal.
Add these to the existing stock of case colours and finishes and there are now 11 options in the range.
In terms of bands, Apple has also added a new once piece stretchy strap, called the solo loop, which has no clasp or buckles.
It is sweat and water resistant, made from silicone or braided silicone, and comes in nine sizes, although picking the right one if ordering online could be a chore.
Apple has a template which can be downloaded and printed out, so you can check what size your wrist is.
Possibly a bit too much hassle for some.
Water resistance remains good, with the device capable of withstanding a depth of 50m for 10 minutes.
DISPLAY
Although the overall design hasn't altered much, the display on the other hand has.
The device has a new OLED always-on Retina display which claims to be 2.5 times brighter outdoors.
That means it is particularly good on a sunny day or when you want to glance at the screen when on the move, running or cycling for example.
It is certainly a positive addition.
The always-on functionality remains broadly the same.
The watch face dims a little when not in use, and when it is raised for looking at or the crown touched, it brightens and becomes bolder
This is ostensibly a battery saving mechanism which works fine, although arguably Apple could strip out more of what's displayed on the screen and just leave the time and date when not in use in order to lengthen battery life further.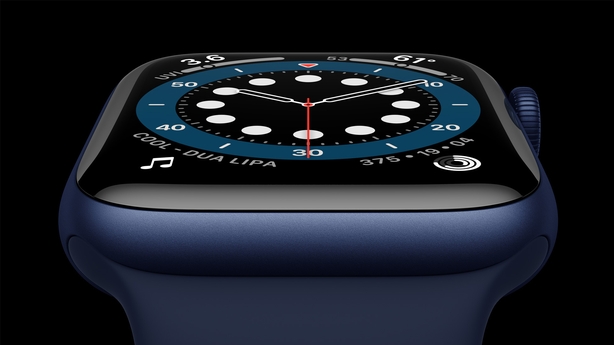 PERFORMANCE
Also new on Watch Series 6 is the new sixth generation chip.
It is based on the A13 Bionic version used in iPhone but redesigned and presumably stripped down for the purpose of being used in a watch.
What you get from that new engine is that apps launch 20% faster than on Watch Series 5 and the Apple claim is noticeable in practice.
The new processor is also more efficient when it comes to power.
The result is that despite new features added, Watch Series 6 maintains its claim to all day battery life of up to 18 hours.
In reality, with normal but not overly heavy use, you do get longer and I found it is possible to get more than two days based on my usage patterns.
However, what is becoming increasingly clear as more and more manufacturers roll out strong smartwatch contenders, is that Apple Watch is falling behind in the battery life stakes.
Yes, the always-on screen has an impact and there is a trade-off there. But the Huawei Watch GT2 Pro offers a battery life of two weeks, for example, which puts Apple's offering very much in the ha'penny place.
Charging is still done via the magnetic wireless charger and Apple says the new watch charges faster, with a full charge installed in 90 minutes compared to the 2.5 hours of its predecessor, and an 80% charge in one hour.
NEW FEATURES
The big new feature on the Watch Series 2 is the Blood Oxygen Saturation sensor.
Essentially this measures the level of oxygen in your blood and how well your body is absorbing it, in a measurement of overall wellness.
It takes just 15 seconds to do this, by using light to read the colour of the blood, in turn telling you how much oxygen is there.
100% means full saturation, but in most healthy people it ranges 95-100%.
Apple is at pains to say that it isn't a medical grade measure, more an indicator.
Apple has increasingly positioned Watch as a fitness and health monitoring tool in recent year and for those who care about the minutiae of that, it might be a useful addition.
Although to be fair, others like Huawei, Samsung and Fitbit have offered it for some time.
Also new is the always on altimeter.
It provides a real-time elevation reading both indoors and outdoors, using a combination of barometric pressure, GPS and wifi.
Useful if you are a regular walker, hiker or climber.
Also available on the new Watch OS7 that the device runs on is a hand-washing reminder that uses motion and sound sensors and a bit of machine learning to figure out when you are washing your hands and encourages you to keep going for 20 seconds.
Apple sources suggest this was in development pre-Covid and its release now is a coincidence – a claim which is a little hard to accept.
Watch OS7 also finally introduces something that has been long sought and never delivered by Apple – sleep monitoring.
Combined with the iPhone Health app, the watch can be used to keep track of your time in bed, as well as recommend a bed time, provide a wind down routine and wake you up more gently.
Apple has been very much behind the curve on this one, as such features have been on other smartwatches for ages.
But the implementation is good.
The OS also introduces a host of new faces which can be customised with the thousands of third-party complications from other developers.
And for fitness fans, there are new activities that can be tracked.
CONCLUSION
Watch Series 6 doesn't feel like a huge leap forward in lots of ways.
The design hasn't changed at all, the user interface largely looks and feels the same and outside of the Oxygen Saturation monitor, altimeter and the few additions to Watch OS7, there isn't a massive amount that's new to shout about.
Yet, in so many ways, Watch is arguably still the best there is in a very competitive market.
It may not be the first to offer certain new features, but when it does add them Apple does it seamlessly and well. Things just work.
It also feels comfortable to wear and continues to look good, despite the design remaining the same.
Whether that all amounts to a justification for a price tag starting at €422 is really down to what you want.
If it sounds too much, there is also the new Watch SE – a stripped down and less expensive version of Watch that offers Series 5 performance alongside features like fall detection, emergency SOS, heart rate monitoring, fitness tracking and water resistance for €294.
Apple Watch Series 3 also remains on sale for €215 with many of the same features.
But don't lose sight also of the fact that there are huge numbers of other high-quality smartwatches out there from Huawei, Samsung, Fitbit and more, many at lower prices and offering similar feature lists.
Having done that though, if you still find yourself back looking at the Watch Series 6, you are unlikely to be disappointed if you take the plunge.