There's plenty, if not too much, choice in the wireless ear bud market right now.
So to make it, products have to be good.
Samsung's new Galaxy Buds Live offer superb sound and a reasonably comfortable fit, although there are some aspects which could do with refining.
DESIGN
There are two design styles in the ear bud market these days – the wedge in the ear bean shape and the sit in the ear upside down tear style, similar to Apple's AirPods.
Samsung has gone for the former for the Galaxy Buds Live.
The curvy buds look quite cool and I found they fitted pretty snugly in my ears.
They need to be pushed speaker first down into the ear canal opening and once there they feel more secure than most buds.
But given their shape, it is possible that they might not suit everyone's ears.
When not being used they sit inside a rectangular shaped charging box with a flip top lid.
The buds themselves should last up to six hours playback on a full charge, Samsung claims, and the case has capacity for more than two further full charges – a respectable but fairly middle of the road performance.
They also support quick charging, so five minutes should give you an hour's playback, and can be charged wirelessly.
They carry an IPX2 water resistance rating which offers limited protection for the likes of light rain, but they won't withstand a downpour or an accidental drop into a puddle.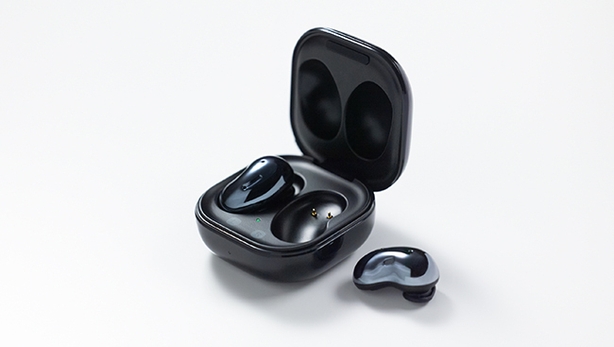 FUNCTIONALITY
Pairing is pretty straightforward the first time – just the usual Bluetooth connection process.
After that I did find occasionally that they didn't pair automatically when I opened the carry case and put them into my ears, which they should have.
But this wasn't always the case.
The buds can be controlled with taps to the on board sensors – one tap for play and pause, two for play next track, answer or end call and three for play previous track.
The touch and hold function is customisable – it can be used for activating noise cancellation, voice command activation and volume down.
The Galaxy Buds app for Android and iOS provides additional deeper functionality, like the flexibility to tweak the audio output according to six presets on a digital equalizer.
There's also a Find My Earbuds function and an option to turn on ambient sound when the buds are in your ear but the noise cancellation is off, in order to prevent a feeling of pressure or compression.
If you are using the buds with a Samsung smartphone or tablet, they will work with the Bixby assistant, which may be a bonus to some.
SOUND
In my experience, the sound from wireless tends to be a little muted, particularly when it comes to the bass output.
In this regard the Galaxy Buds are a winner.
Not only is the sound clear and sharp, but the bass is among the best I've experienced, with the 12mm speaker and bass duct pumping out deep and rich sound.
However, the active noise cancelling is not quite as impressive. It works a bit, but not a lot, and certainly not as well as in over ear headphones.
I suppose it is a big ask, given that the buds are effectively just sitting into your ear without a proper seal.
But if you are buying them for their noise cancellation prowess, be warned.
The devices come with three microphones and a Voice Pickup Unit and the result it pretty good quality audio during calls, provided there isn't too much extraneous noise.
The Voice Pickup Unit tracks the movement of your jaw and converts it to voice signals.
CONCLUSION
Coming in three different colours – black, white and bronze - the Samsung Galaxy Buds offer a fun design, with great sound quality and battery life that isn't bad.
But the noise cancellation isn't as good as many would hope, they may not fit every ear snugly and the pairing can be a little fiddly during everyday use.
They cost €196 – that's more than Huawei's Freebuds 3, the same as Google's Pixel Buds, but a lot less than Apple's Airpods Pro.
And that perhaps reflects where they stand in terms of attractiveness too – arguably not the best, far from the worst, but somewhere in the middle of the road.