Decent headphones are ten-a-penny nowadays.
But if the rise of remote working due to Covid-19 has taught us anything, it is that having a decent set of cans on your head all day is really important if you are going to spend it on back to back Zoom, Teams or Skype calls.
Microsoft has further refined its Surface headphones offering and the latest iteration is a significant improvement, although not flawless.
DESIGN
As headphones go, they don't look pretty remarkable, which isn't a bad thing unless you are the sort who wears headphones as much to get noticed as to listen to something.
They come in two colours now – the original light grey as well as a new black finish.
They are fairly chunky, but equally light, so they don't feel overly burdensome when on.
Slipping over your entire ear they are also very comfortable – not too tight, but sufficiently sprung to seal well on your head.
The ear cup has also been redesigned to allow it to rotate 180 degrees for increased comfort when being worn around the neck.
CONTROLS
The device has several on board control buttons, including one for power, another for mute, a volume dial on the right ear cup and a noise cancellation one on the left one.
There are also invisible touch and tap controls for stopping and starting music, skipping tracks, activating your smartphone's voice assistant and to control phone calls.
Some automatic controls are also built in, so if you take the headphones off, they will stop the music for you and restart it when you put them back on.
There's a USB socket for charging as well as a 3.5mm audio cable in case you want to plug it into your audio device.
Basic pairing of the device with a smartphone, tablet or laptop is straightforward.
However, if you want to pair them via the Surface Audio app, you might run into some trouble – at least I did.
Despite repeated attempts, involving deleting and reinstalling the app, and trying various other troubleshooting techniques, I failed to manage to connect the Surface Headphones 2 with the iOS Surface Audio app and eventually gave up.
This was frustrating because if you are using the headphones with a smartphone, the app is the only way to adjust the equaliser.
It also provides access to other useful features.
I did manage to pair it with the Windows 10 app though, which does provide additional functionality.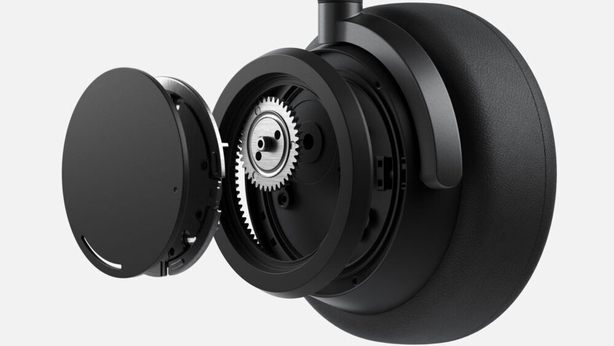 SOUND QUALITY
Putting those difficulties aside though, the Surface Headphones 2 redeem themselves through audio quality.
The headset's 40mm "Omnisonic" drivers pump out excellent quality sound, rich and sharp in equal measure.
The noise cancellation is also top notch.
There are 13 levels of ambient noise control, adjustable from the headphones themselves, so you can tweak how much you hear really finely to suit the surroundings and circumstances you find yourself in.
Microphone performance is also really strong, with crystal clear pick from the mics situated on both sides.
Battery life has been significantly improved and so the Surface Headphones 2 now offer up to 20 hours of playback, up from 15 hours on the previous model.
Microsoft also claims that if you are in a hurry, a five minute charge will give you an hour of playback time, while two hours will give you a full charge.
The headphones come in an attractive carry case.
CONCLUSION
Possibly most eye-catching though is the price tag, because at €280 they cost less than their predecessor and are quite a bit cheaper than other leaders in the market.
So if you are looking for a decent pair of noise cancellation over-ear headphones and can look beyond the reasonably bland look (and my difficulties pairing them with the app), then there is much to like about the Surface Headphones 2.