For over 225,000 people still claiming the Covid-19 Pandemic Unemployment Payment, 17 September will be an important day.
If they haven't returned to work by then, a significant cohort will see their welfare payments reduced.
The top rate of €350 per week will fall to €300 for those who were earning over €300 per week prior to the pandemic.
A new middle rate of €250 will apply for those earning between €200 and €300 pre-coronavirus.
The lower rate of €203 for those who were earning less than €200 before Covid-19 remains unchanged.
But there's another important thing to watch out for on 17 September.
That's when a suspension of certain redundancy rights for laid-off employees is due to expire - and it could have huge consequences for workers and employers alike, with some forecasting a "ticking time bomb" of redundancies.
Under the Redundancy Payments Act 1967, employees who have been laid off for at least four weeks have the right in certain circumstances to demand that their employer make them redundant.
Many fear that if they take an alternative job and come off welfare, they will lose out on their entitlement to that termination payment from their pre-Covid employer.
This means that they can't be left in indefinite "limbo" - where they are neither working, nor fully unemployed and available for work elsewhere.
If the employer cannot guarantee 13 weeks of full time work within four weeks, then the employee automatically becomes entitled to redundancy.
Because laid-off workers have not been formally made redundant, they do not have an entitlement to a redundancy lump sum.
However, many fear that if they take an alternative job and come off welfare, they will lose out on their entitlement to that termination payment from their pre-Covid employer.
The basic statutory redundancy entitlement is two weeks per year of service capped at €600 per week plus a week - and while many workers in this unfortunate situation would hope an employer would boost their lump sum with an ex gratia element, there is no obligation on the employer to do so.
But even calculated on the bare minimum basis of statutory redundancy, the lump sum is not something workers would want to forego.
A worker employed by a company for ten years on a salary of €600 per week would be entitled to a lump sum of over €12,000, rising to over €24,000 for 20 years service, and €36,000 for 30 years service.
The big question is: what will the government do between now and 17 September?
When the pandemic struck, there were fears of a tsunami of job losses - which could in turn have triggered a tsunami of demands for redundancy lump sums.
As pointed out above, even if an employer only had to pay the statutory minimum, it could have serious implications for a company's cash flow, and potentially push a business over the edge into insolvency.
But in this scenario, the State has skin in the game too.
Where an employer cannot afford to pay out for an employee's redundancy entitlements, the lump sum is funded from the Government's Social Insurance Fund.
Considering that at the peak of the pandemic, 598,000 people were claiming the PUP and at potential risk of complete redundancy, the scale of the potential threat to the State's finances was huge.
To avoid this doomsday scenario, the Covid-19 emergency legislation contained a provision which suspended the right of laid-off employees to demand redundancy - with the end date for that suspension now set for 17 September.
However, the big question is: what will the Government do between now and 17 September?
If it restores the right to invoke redundancy, will employees - some of whom have been off work for almost six months and cannot return to their posts - insist on being made redundant, and claim their lump sums?
How many might do so and what effect would it have on their employer companies?
Where those companies cannot afford the lump sums, what would be the scale of the hit to the Social Insurance Fund?
On the other hand, if the Government extends the ban on laid-off employees claiming redundancy, they remain in limbo.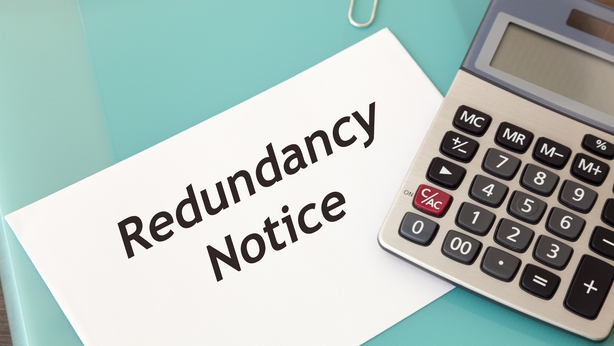 Responding to queries from RTÉ, the Department of Employment Affairs and Social Protection said the purpose of the temporary suspension was to "...mitigate against the risk of serious detrimental financial impacts on businesses, which in turn would result in permanent job losses, and to ensure that employees have a continued link to their job and a pathway to return to their employment".
It said the matter of a further extension beyond 17 September was currently "under consideration".
The Department added that in its deliberations on whether the emergency measure will be extended, the Government would have regard to the criteria and principles underpinning the emergency provision.
And in particular, the need to mitigate the increased risk of insolvencies in the event of a substantial number of redundancies occurring over a short time period resulting in permanent job losses.
The public health situation will be a key consideration, too.
The Department also noted that if an employee has chosen to take up other employment during the period of temporary lay-off from their usual employment, this does not affect their entitlement under Section 12, which has merely been "deferred to the end of the emergency period".
It concluded by saying that while a person may be temporarily laid off from their usual employment, there is no provision in law that precludes them from seeking alternative employment.
Between January and 24 August, almost 10,000 redundancies were notified to the Department of Employment Affairs and Social Protection - though the Department stresses that it cannot confirm if the number of actual redundancies occurring will correlate to those advised as potential redundancies.
It remains to be seen what will happen to the numbers after the 17 September, if the brakes are taken off.