The fight for the top flagship device of 2020 continues with the growing trend of larger pro versions dominating the top spots.
In the market, you have the iPhone 11 Pro Max, Samsung Galaxy S20 Ultra, and OnePlus 8 Pro all vying for that crown, and now Huawei with its P40 Pro+.
Much has been made of Huawei not having Google Play's services, but despite that, the P40 Pro+ has serious hardware capabilities that can put these worries to ease, provided you don't view Google apps as the be-all and end-all, writes Quinton O'Reilly.
DESIGN
As hinted by its name, the P40 Pro+ is centred on being a luxury experience both on the outside and inside. It doesn't break the mould in how smartphones are designed but refines what already works.
With a 158.2mm length by 72.6mm width design, it is possible to operate it with one hand, but for most tasks, using both hands will be required.
Regardless of how you use it, the physical design will ensure that it's a pleasant experience. Using a ceramic design, and smooth edges and corners, there's a shine to it which makes it easy on the eye.
The back is probably the only blemish on this with the extravagant set-up creating a noticeable rectangle which juts out slightly. When you consider that the front-facing cameras are built into the screen itself, it can feel like a miss but considering what the cameras cram in - more on that later - such a design choice can be forgiven.
Now that modern operating systems have abandoned the traditional physical and virtual buttons, the screen bleeding slightly over the edge allows swipe gestures to be easy to complete.
The only physical buttons are located on the right side with the volume and power buttons while there is a card slot which can expand the storage by an extra 256GB.
Eagle-eyed users will notice that there is no headphone jack with the phone, although the device does come with USB-C headphones.
It's also has an IP68 dust/water resistance meaning it can be submerged in 1.5m of water for up to 30 minutes.
DISPLAY
When you take the specifications of the P40 Pro+ into account, it's clear that Huawei has gone all out in the specs department,
Boasting a 6.58-inch screen with a resolution of 1200x2680 pixels and 90Hz refresh rate, the P40 Pro+ is determined to make everything on-screen look as good as possible, and it succeeds.
Unlocking your device can be done in two main ways, either through face unlocking which works surprisingly fast, even in low-light situations, or through a fingerprint scanner embedded in the screen.
While embedding the fingerprint scanner in the screen is impressive from a technical standpoint, it doesn't always pick up your fingerprint meaning you have to adjust your finger a little for it to work.
Both methods work quickly although face recognition can also work if it's looking at you from an angle, meaning someone could potentially unlock your phone without you realising it.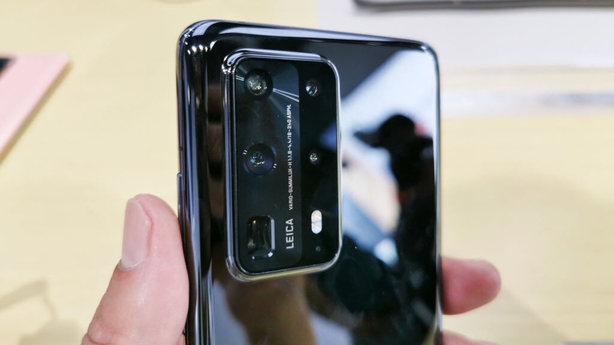 CAMERA
In recent times, Huawei has made significant strides in its camera functionality - its partnership with camera company Leica being key to this - and the offering from the P40 Pro+ is its biggest strength.
Equipped with five cameras on the back - a 50MP wide, 8 MP, periscope telephoto, 8 MP telephoto, 40 MP ultrawide, and ToF 3D for depth - Huawei has crammed an impressive amount of infrastructure into the camera and it shows in its quality.
While the standard camera mode can zoom in 100x - which is more to show off than a realistic option for photography because of all the noise - its real quality shines in the ways it lets you approach photography.
If you're a point and shoot type of person, the basic camera settings will more than meet your expectations but if you like to put more thought into settings like ISO and aperture settings, the Pro mode will accommodate that need.
The result is that autofocus is quick and the camera AI does a great job in adjusting to whatever settings are presented to it. In cases of low-light shots, the results are great with a good balance between sharpness and exposure.
If there is one element to consider, it's that photos are a little warmer and more vibrant than reality but what you're getting is a camera functionality that goes well beyond what traditional smartphones can offer.
Video recording is set at 1080p with 16:9 radius but this can be boosted to 4k and increased from 30 frames per second to 60 if needed.
There are some small touches to it like automatically taking photos when it detects a smile which can allow for some spontaneous photos.
The front-facing dual cameras are also great with a 32MP wide lens, giving you a quality that comes close to matching the rear-cameras.
PERFORMANCE AND SOFTWARE
Coming with a Kirin 990 5G chipset with 8GB of RAM, the overall performance of the P40 Pro+ is zippy, with minimal signs of heating up or faster battery consumption.
There is a performance mode which can be activated for maximum performance but the differences aren't significant enough for this to be relied on.
The standard performance, combined with the display sharpness and refresh rate means everything you see on screen, be it settings or a game like Asphalt 9: Legends, is smooth and detailed.
At this point, it's old news that Google's services and the Play Store are no longer compatible with Huawei's devices, but with a year already passing since that decision, Huawei has options available to the user.
While it uses Android 10 as the base for its EMUI 10.1 skin, don't expect any software that requires access to the Play Store to be available.
Huawei has its own app store called App Gallery and while it has some first-party apps like TikTok, Tinder, and Viber, it will be without any major app that requires Google to function like WhatsApp.
Alternatively you can you use a third-party app store like Amazon's to help fill the gap but ultimately, whether this is a dealbreaker or not will depend on the type of apps you're already using.
Much like all takes on Android, Huawei brings its own little touches to Android like app twin - allowing you to log into two different accounts at the same time for certain apps - and holding down a left or right swipe will bring up a shortcuts option, allowing you to open an app via pop-up screen.
The pop-up size is fixed, taking up roughly three-quarters of the screen, so you can't adjust the size, but it works for most apps. There's split-screen functionality too but few apps on the device seem to support it which is disappointing since the Pro+ is more than capable of handling such demands.
Another way it puts its 3D IR camera to good use is through air gestures, allowing you to operate the device without touching the screen. While it's a nice inclusion, the technology isn't quite there yet to make it a viable alternative to physical swipes and touches.
With a 4,200 mAh battery and 40W fast charging, the Pro+ will be able to last a day through normal use.
CONCLUSION
The P40 Pro+ is the high point of Huawei's smartphone offering and it shows. With strong performances across the board, a wealth of features with its camera and other bells and whistles, it's an impressive device.
The obvious drawbacks is how much importance you place on the app ecosystem and its price tag of €1,399. With rival devices like the Note 10 Ultra 5G and the upcoming new iPhone model - which is likely to be announced in the coming weeks - you will have to weigh up your options.
That said, if the above aren't dealbreakers, you'll find a device that will more than serve your needs.