'If it ain't broke, don't fix it' seems to be the mantra Google has followed with the successor to its Pixel 3a.
By taking what worked with the 3a, further refining it and adding an attractive price point, the 4a hopes to build upon the groundwork that its predecessor set.
With a competitive price and double the internal storage, Google has developed another mid-range phone that is worth considering, writes Quinton O'Reilly.
DESIGN
The first thing that will strike you is just how compact the 4a is. With dimensions of 144mm length by 69.4mm width, it's that bit smaller than its predecessor (151.3 x 70.1 for those wondering) yet manages to improve on the basics.
The materials used - a single piece plastic frame and back panel with a Gorilla Glass 3 display - is standard for a device of this range but it doesn't feel cheap. Instead, there's a sturdiness to it and with smoothened edges and corners, it gets the overall feel in your hand right.
The front has a small circular notch in the screen for its sole front-facing camera and is barely noticeable when you're using it.
On the back is the fingerprint scanner and a small square which houses the camera and flash, neither of which stand out too much. The right side has the volume and power buttons, the latter coloured white.
Interestingly, the headphone jack is located at the top of the device while a USB-C port is located at the bottom. The device also comes with a USB-C to A adapter for those who want to transfer data from an old Android phone directly.
There's no SD slot for the device but there shouldn't be any need considering it comes with 128GB of internal space. And even if you do, you can rely on Google's cloud services to keep space free.
Ultimately, there will be few complaints on how it either feels or looks.
PERFORMANCE & SOFTWARE
The Pixel range was always a way for Google to showcase Android in its purest form, and the 4a does not deviate from this practice.
Running on Android 10, the interface is crisp and easy to navigate. The gestures now used to navigate Android are straightforward and the lack of clutter makes everything easy to navigate.
You're usually only a swipe or two away from whatever it is you want to access, and since these gestures work almost anywhere on the screen, it feels intuitive.
This is helped by the 5.81 inch display which presents Android 10 at a 1080 x 2340 resolution, giving it a softer and more playful feel.
Likewise, this is also a chance for it to continue showcasing Google Assistant, its voice-activated AI. While you can type out your requests, it's accurate enough to pick up most accents (and sometimes mispronunciations).
Since Android 11 will only bring further updates to it, expect the 4a to place that front and centre of the experience when those updates arrive.
The hardware running it does more than enough to keep things ticking along without slowdown. Using 6GB of RAM alongside a Snapdragon 730G chipset means there is no delay switching between apps or jumping from one task to another.
As it's a mid-range device, it doesn't have the capabilities to match the high-end smartphones, meaning if you enjoy resource-intensive games, this is not the phone for you. For everything else, the 4a will jump between apps and services with little fuss.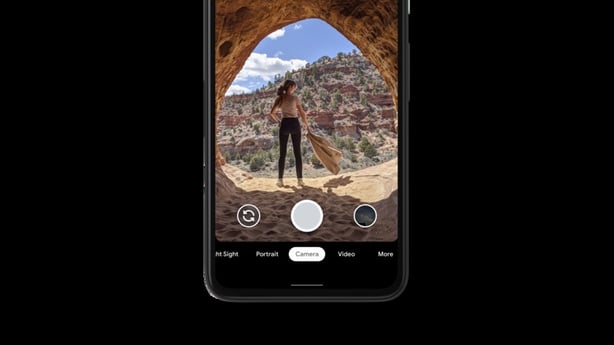 CAMERA
With only a 12.2MP camera used, the 4a delivers a lot of value for its modest settings. This is helped by its camera app being both simple to use and smart enough to provide recommendations.
Much like the design of Android 10, the settings are simplified meaning there's little to distract you from just taking photos.
Alongside the usual settings, the app will sometimes present tips on elements like the angle you're holding the phone, a level feature to ensure your camera is held straight, and Google Lens should it identify something like text.
For the most part, the photos captured by the 4a tend to be a little brighter than reality, but the important part is it gets the details and tone right. Images tend to be true to colour and it manages to squeeze out great photos overall.
This is accompanied by settings like Live HDR+, which allows you to view what a shot will look like after it's processed before you snap. There's also Night Sense which can help adjust brightness in low-light situations and its zoom manages to keep the quality reasonably good.
Portrait mode comes with a setting that will blur out the background so its subject is in focus. While it does a good job in separating the two, you can ignore it if you feel the blur effect is too jarring.
CONCLUSION
The smartphone market is awash with good quality handsets for all budgets so choosing one is a matter of preference than anything else.
A price of €382.67 makes it an attractive proposition for anyone who wants to keep things simple. As it is a Google device, it means software and security updates will be supported long after its release, something that's hard to guarantee with most Android devices.
If you're due an upgrade in the next few months, the Pixel 4a is a great option for those who want a device that is not fussy and gets to the point.