The Department of Business, Enterprise and Innovation has published 16 reports looking at the impact that Covid-19 has so far had on sectors of the Irish economy.
Here is a summary of some of the main points of each report compiled by Ingrid Miley, Petula Martyn and Will Goodbody of RTÉ's Business Desk.
Aviation
The aviation sector in Ireland has suffered a larger decline than elsewhere across the European aviation network due to the Covid-19 virus, according to a review published by the Department of Business, Enterprise and Innovation.
"Focus on Aerospace and Aviation" says that the global airline industry is forecast to lose a record $84 billion this year, more than triple the losses during the global financial crisis.
Total employment by airlines is forecast to decline from 2.9 million in 2019 to 1.9 million in 2020.
The review predicts that while travel demand will gradually recover from the low point last April as markets gradually reopen, the recession and the loss of traveller confidence will have an impact on passenger demand into next year.
"Every enterprise in the aviation value chain, with the sole exception of dedicated cargo operators, have seen a severe depletion in business", the report warns.
The bleak review warns that prospects for passenger air travel recovery are linked to the tourism industry, which is itself forecast to decline substantially in 2020.
In Ireland, the number of flights handled by the Irish Aviation Authority in May was down 83% on the same month last year.
Demand for new aircraft has fallen by up to 42%, in turn affecting Irish suppliers of components, who are also experiencing delays in payments.
The DAA estimates the pandemic will cost it €160 million this year alone, even after 1,000 redundancies.
The review notes all of the major providers of aviation services spanning airlines and airports have begun implementing downsizing measures affecting at least 20-25% of the workforce.
It warns the prolonged disruption of air connectivity could impact competitiveness.
Transport and Logistics
The report on Transport and Logistics says that international access and competitive freight services are crucial for Ireland as a small, open economy and excellence in freight transport and logistics is vital for attracting inward investment and competitiveness.
It finds that Covid-19 has had a bigger impact on combined passenger/freight transport globally because passenger numbers by both air and sea have been decimated.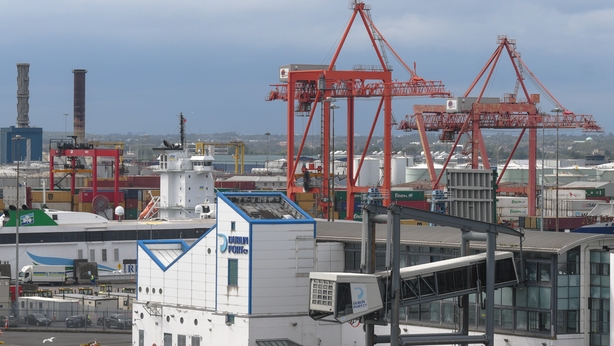 "The current mobility and activity restrictions around the world are likely to result in a strong reduction of global freight transport volumes in 2020 of more than one third," it states.
Here in Ireland, it says maritime passenger movements are down 95% and freight volumes down by approximately 40%.
Every firm in aviation, with the exception of dedicated cargo operators, have seen severe depletion of business and are facing various degrees of financial challenge, it states.
A shrinkage in the volume of goods moving across Europe has put Ireland commercial road haulage sector under pressure, it says.
"Financial viability of haulage businesses or cash flow problems, due to overall drop in freight volumes and closure of end chain businesses may see some haulage operators closing or "parking up" their vehicles," it predicts.
It says in Europe air traffic movements fell to 10% of comparable traffic last year, but is now recovering as travel restrictions are being removed.
"Passenger air traffic in Ireland fell to around 1% of what might be expected but the return to normal operations will take longer in the Irish market as travel restrictions remain under review," it says.
However, the report says air cargo supply lines have remained robust, although escalated costs are being reported across the sector.
It warns prolonged disruption of Ireland's air connectivity with the rest of the world could impact on our competitiveness in the FDI sector, due to uncertainty around the robustness of the supply chain.
It also isn't clear for how long the reduction in demand in the marine and maritime sectors can be sustained, it says, without there being an impact on overall service levels.
It also cautions that where air services are suspended, reactivation is not automatic as restrictions are lifted, with some hard-won routes lost for some time.
The current lack of clarity as to when Ireland will be in a position to facilitate a return to overseas travel presents a significant challenge for the sector, it also claims.
Agri-food and Beverages
In relation to Agri-food and Beverages, the analysis finds that while there has been no significant disruption in the global supply of food, logistical challenges within supply chains may lead to disruptions in food supply, especially if they remain in place long-term.
It says Covid-19 restrictions led to a collapse in demand from the food service sector here and internationally and this has not been offset by increased food consumption at home.
This demand reduction has led to a product surplus with a fall in market returns for food and drink processors and consequential falls in prices paid to farmers.
It says it is projected that the total reduction in income across agriculture here this year will be €0.7bn to €1.6bn.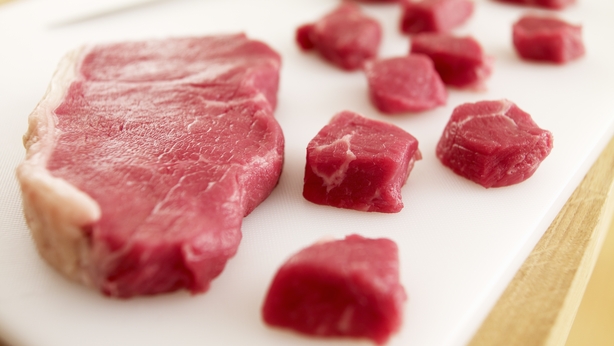 Beef farming will be worst hit in terms of projected income drops, with the reduction in average farm incomes in absolute terms expected to be on dairy farms, as international dairy markets have been badly hit.
It also highlights seafood as a sector that has been significantly impacted by the food service industry collapse, while prepared consumer foods and the drinks industry have also been hit.
Logistics and transport, specialised labour availability and the fall-off in food service demand are among the challenges highlighted by the report.
Tourism and Hospitality
Tourism revenue is projected to fall by €5 billion in 2020 compared to last year, according to the report on Tourism and Hospitality, with a potential loss to the economy of €2.3 billion.
It says that while domestic tourism may recover more quickly, there is likely to be a longer lasting decrease in international tourism.
Tourism employment is projected to fall by between 190,000 and 200,000 this year, according to the report.
It states that the long-term Covid-19 restrictions will completely change the environment in which business in the sector operate.
Ireland's tourism sector is deeply dependent on overseas visitors, accounting for 75% of overall tourism revenue.
Given the restrictions on international travel, the report states that the focus for 2020 must be on reviving the domestic tourism market to ensure a return to work for as many employees as possible.
Construction
The report says construction has been one of the sectors most severely impacted by Covid-19 restrictions with a 50% reduction in the euro area at the start of the lockdown.
It says that it is now expected that globally construction output will grow by just 0.5% this year, compared to the previous forecast of 3.1% before the Covid-19 pandemic hit.
The effects of the virus will be felt for months to come, it states, with the impact of the virus leading to contract and project delays, as well as supply chain disruption.
Here 150 private sites, where 17,300 homes were being built, as well as 325 social housing sites where 6,500 dwellings were being constructed were impacted by restrictions, it claims.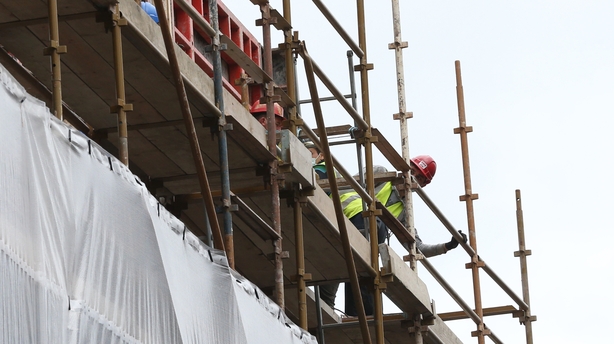 The analysis finds that at the peak of the restrictions, some 86% of construction employment was reliant on the State through the Pandemic Unemployment Payment or the Temporary Wage Subsidy Scheme.
By mid-June around 59% of those previously working in this sector are estimated to be on the PUP or TWSS, it says.
Housing completions are expected to fall to just 13,800 with dwellings investment forecasted to fall by 35% and non-residential construction activity declining by 36%.
However, the report also concludes that the construction sector is well positioned to return to high levels of activity relatively quickly given underlying demand, the implementation of the NDP and the nature of the sector.
Retail
Town centres in regional Ireland will be disproportionately affected by the impact of Covid-19 on independent retail and small-scale businesses, according to the government's Focus on Retail review.
The report warns that prolonged restrictions on cafes, pubs, restaurants, hotels and entertainment events will hit independent and small-scale businesses, which poses the risk of accelerating urban dereliction and vacant premises.
Covid-19 restrictions are also likely to accelerate the ongoing shift to online purchasing, which will permanently reduce the demand for labour supply in the retail professions.
The review says recovery will depend on economic growth and employee upskilling in e-commerce to match changing consumer habits.
It finds that the challenge of labour market activation in the reopening and recovery phases will be of particular concern for the retail sector.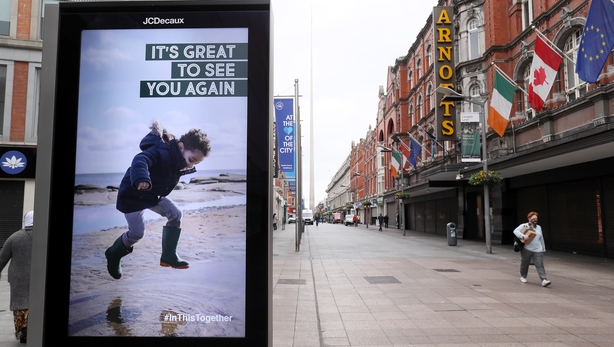 Around 180,000 retail employees, around 60% of the Irish retail workforce, were availing of income supports at the peak of the Covid-19 restrictions.
The review warns that retail enterprises relying mainly on international consumers and tourists could take three to four years to recover.
While the retail sector saw an overall increase in online retail, the review warns that the drop in footfall will threaten the viability of some enterprises in the retail sector that cannot adopt new modes of operation, such as online and contactless payments.
It highlights the motor trade, where an "irreparable" loss of activity is likely.
It notes that the volume of retail sales declined by 35% on a monthly basis in April, with the highest declines in furniture and lighting (down 84%), bars (down 77%), textiles, clothing and footwear (down 74%) and the motor trade (down 71%).
The first-time licencing of private cars fell by 88% in that month, with a fall of 90% for new vehicles.
Audiovisual
The report says the global film industry had suffered a revenue loss of $7bn by the middle of March due to the impact of Covid-19.
It was estimated that the movie industry could lose another $10bn in revenue if the effects of the pandemic continued through April and May.
Here in Ireland, the study says there has been a total collapse in performance opportunities and a dramatic loss of income as a result.
There were 800 people laid off as productions ground to a halt, with an estimated loss of earnings of €20 million.
All film-production ended and the sector is vulnerable to large scale permanent closures, with a proportion of venue and ancillary services like promoters not expected to survive the period.
At least 24 productions have been stood down, with 59 companies reporting delays to television programmes or films about to begin shooting, creating a "deeply uncertain future" for the Irish screen industry.
The analysis suggests that the arts and culture sector is likely to be amongst the last to recover when the crisis is over with physical distancing a significant impediment to normality returning.
Many firms will lack the cashflow to reopen, it states, and Screen Producers Ireland (SPI) believes insurers will attempt to limit any pay-outs for disruptions to date and will exclude COVID-19 from future policies.
Biopharmachem
The impact of Covid-19 on the biopharma sector here has been non-uniform, according to the report, with some companies in the pharma sector focused on continued demand for essential products and increasing demand for production related directly to Covid-19.
Others, it says, are dealing with a demand-side shock in relation to the cancellation of elective surgeries in many countries due to the pandemic.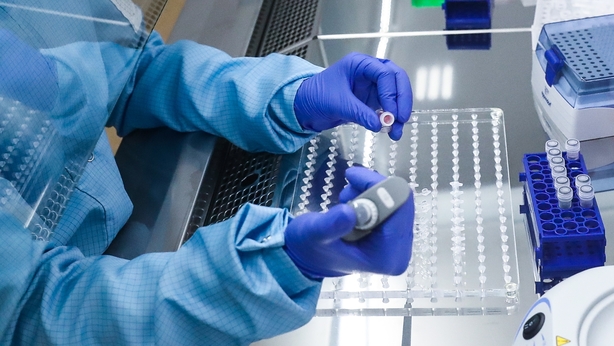 It says shortages in some raw materials is an emerging issue because freight costs have significantly increased.
While it predicts that talent development and availability will present a challenge due to a less mobile workforce in the medium to short term.
As a result, investment decisions may be postponed or delayed it claims.
Technology 
The report says that globally Covid-19 has placed an increased focus on mobile communications and presented opportunities for the technology industry, including a growing need for 5G technology.
It says the pandemic has led to a sharp growth in the use of many technologies, including video communications and telehealth.
The trade implications for the sector may be positive as a result, it notes, as global usage increases dramatically.
Here in Ireland, the analysis says that while the industry has been one of the least affected, some technology companies have faced challenges to support businesses in other sectors. 
Others supporting food, drink, travel and street retail businesses found their revenue streams drying up overnight, it claims.
International Financial Services and FinTech
Resilience demonstrated by the sector throughout the pandemic presents a significant opportunity for Ireland to strengthen its competitiveness as a premier location to attract financial services focused inward investment, according to the report on International Financial Services and FinTech. 
The financial services sector is essential in supporting all other economic activities by stabilising markets and ensuring the flow of credit and payments and it is well positioned to introduce fresh capital and provide additional high-quality employment at a time when needed. 
The report says the financial services sector here has appeared to be relatively stable in the face of Covid-19.
It was considered an essential service and the vast majority of companies are working very effectively from home. 
On the whole, it finds that Financial Services companies are better capitalised than in 2008; they have a diversified loan book and a more manageable credit risk exposure. 
Niche sectors, such as aviation, lending and travel insurance, have been exposed but most seem to be relatively steady, according to the report. 
It also states that low valuations imply banks may find it difficult to raise capital through market issuance in the future, forcing them to reduce assets to maintain capital ratios. 
The financial position of the insurance sector is expected to be under pressure, it states, due to falls in asset values, increases in measured liabilities due to the fall in risk-free rates and the impact of pandemic-related claims on profitability. 
Many global companies are looking at how to reconfigure their global operations footprint, and there may be a move to build regional hubs to build resilience. A hybrid operating model may also come to the fore, with an increasing focus on remote working. 
Automotive/Sub Supply
The automotive industry including parts suppliers based in Ireland has been particularly badly hit by Covid-19, with substantial temporary layoffs as the sector saw a sharp drop in demand and investment. 
The Focus on Engineered Products and Sub-Supply review found that even before the pandemic struck, the automotive industry was facing significant disruption due to climate change and technological advances, with the production of new vehicles stagnating due to weak sales.
It is estimated that Covid-related factory closures in Europe and North America caused 2.5 million passenger vehicles to be removed from production schedules, triggering a $77 billion loss of revenue for automotive and parts manufacturing companies.
In the EU, over half of the 1.1 million automotive manufacturing jobs affected by plant closures last March were in Germany, where the shift to electric vehicles was expected to lead to the loss of 400,000 jobs. 
The impact of Covid-19 has been significant in firms in the IDA Engineering portfolio, described as "vital" employers outside Dublin.
Temporary halts in production at car manufacturing plants have had knock-on effects on sub-suppliers operating in Ireland, but it is too early to forecast the longer-term impacts.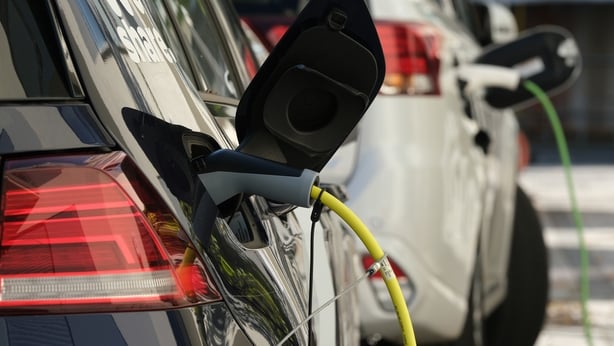 The review finds that 37% of employment in this sector was reliant on PUP or TWSS at peak impact, while supply chain disruption and higher transport costs have also impacted normal activity. 
Enterprise Ireland reported that engineering firms relying to a substantial extent on food service or hospitality outlets were impacted by Covid-19 restrictions. 
The review notes that given that 86% of total sales in the Irish manufacturing sector are exported, the sector is very reliant on international trade-flows and functioning global supply chains and will be heavily dependent on recovery in global markets. 
It warns of a longer-term risk of countries seeking to repatriate their supply chains to avoid the risk of future pandemic related disruption - and highlights the need to maintain competitiveness by controlling the cost base (including employment costs, state and local taxes, water, energy and logistics).
Energy, Sustainability and Natural Resources
Demand in the global energy system is set to contract by 6% this year as a result of the impact of Covid-19, resulting in a record annual decline in carbon emissions of almost 8%.
The report on Energy, Sustainability and Natural Resources, says deliveries of fuel for air travel sank by 84% in April while deliveries of petrol and diesel were down 55% and 52% respectively due to Covid-19 lockdowns in Ireland, according to figures from the Sustainable Energy Authority of Ireland.
Levels of air pollution in Ireland from solid-fuel burning have not changed and are generally in line with the monthly average, according to data from the Environmental Protection Agency.
However, there has been a significant decrease of up to 50% in concentrations of the greenhouse gas nitrogen oxide from a reduction in road traffic.
Based on a 12-week lockdown and a 12-week return to recovery, MaREI forecast that Irish transport emissions will fall from 12.4 to 9.4 million tonnes of CO2 in 2020.
The report states that renewable energy sources supplied 11% of overall energy use in 2018 with the remainder coming from fossil fuels.
This data suggests that Ireland is not on track to meet its binding EU target of 16% of energy to come from renewable sources by 2020.
It finds that the current levels of emissions reductions caused by Covd-19 cannot be sustained, but there are learnings that can enable long term changes to the energy system.
By exploring the impact the restrictions are having on Ireland's pollution levels, we can to pursue feasible actions to mitigate climate change, it states.
In 2019, approximately 24,700 households received support under SEAI schemes to improve the energy efficiency of their homes.
Challenges are expected in scaling up retrofitting work to the levels anticipated in the Climate Action Plan.
Global Business Services and Business Process Outsourcing
In relation to the impact of Covid-19 on the business services and process outsourcing industry, the study finds that globally companies are grappling to keep up with changing work conditions, including remote working, as they have not been tested or implemented much in the sector in the past.
Here, it says the pandemic has particularly impacted content, consumer and business services, as well as IDA clients whose activities are in or closely linked to the travel and hospitality sector.
It says foreign multinationals in the sector who develop technology and provide regional operations and support have seen significant numbers of jobs impacted in their areas impacted during the crisis due to the immediate fall-off in demand arising from travel restrictions.
It projects that there is a risk of future job losses if companies choose to scale back their consumer businesses and/or reduce discretionary spending. 
Marine and Maritime
According to the research, tourism activity in Ireland and abroad has been dramatically affected by the Covid-19 pandemic.
But it predicts that when tourism businesses do reopen, there are good opportunities for the growth of domestic focused firms involved in the sector.
It also finds that seafood has been significantly affected by the food service collapse and loss of key export markets.
Tourism demand is critical to roll-on/roll-off passenger routes, it claims, and may require targeted investment as a result.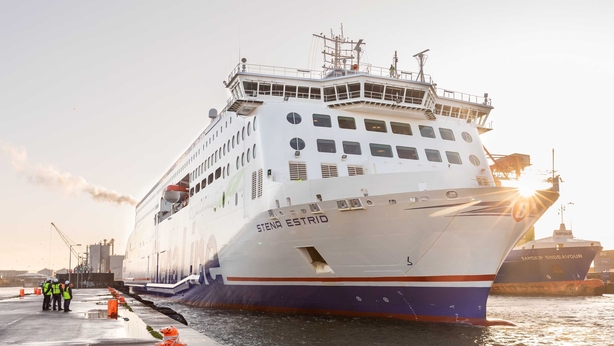 The re-emergence of tourism will be gradual and phased and this will create a high degree of uncertainty in terms of scheduling and service offering, it says.
It warns that operating at significantly reduced levels of demand for both freight and passengers cannot continue indefinitely and it is unclear for how long this reduction in demand can be sustained by the sector without an impact on overall service levels.
The analysis also notes that due to the close proximity of crew on board vessels, it is very difficult to maintain the two-metre social distancing requirement.
MedTech
Ireland's medical technology sector is one of the world's top five hubs and has remained operational through the emergency, the study states.
Some sites have ramped up to 24/7 production in response to the virus and some devices repurposed for the treatment seriously ill patients, with increased demand for others.
But according to the report, the industry around the world has been affected by the dramatic drop in elective medical procedures during the pandemic.
It also points to some immediate supply chain issues for the sector and a significant increase in air freight costs, while distancing requirements have had an impact on productivity.
The study also says that early stage companies are reporting cash flow concerns, making many of these companies viable but vulnerable.
"The funding environment is very challenging for these companies as they do not have access to traditional banking facilities and the investment community is taking a cautious approach," it says.
International Education Services
The report focused on those providing third level educational services to international students and language learning courses finds that globally, most higher education institutions are projecting declines in both domestic and international student numbers, with combined tuition shortfalls running into the tens of billions of dollars.
It finds that uncertainties linked to the course of COVID-19 globally and restrictions on international mobility poses a potential threat to numbers of international students that study in Ireland.
Fee income from international students is a significant source of revenue for institutions here, it says, and growing the cohort of international students had been a key focus for the sector.
Reductions in numbers of language students travelling to Ireland are likely to continue with significant reduction for the industry as a whole for 2020, it predicts.
It says Irish colleges and universities face a potential reduction in numbers of international students in the coming academic year.
It also warns that Irish students may not take up places left vacant by international students, through deferrals, financial pressures, or the decreased attractiveness of online rather than a full campus experience.