Samsung's watch range has always been up near the top of the smartwatch league, really only matched by certain Apple Watch and Fitbit models.
The latest offering from the South Korean manufacturer keeps that tradition of quality and innovation going, offering an attractive, feature-packed and easy to use timepiece that has few major flaws.
DESIGN
Samsung has stuck to a classic watch design for the Galaxy Watch 3 and the results are excellent.
Available in 41mm and 45mm versions, the larger circular screen is set onto a stainless steel body, that has a physical rotating bezel mounted on top that is used for navigation through and within apps and notifications.
The larger model comes with two colour choices – mystic black and mystic silver – while the smaller one also offers a silver option as well as a bronze colour too.
The new Watch 3 is lighter than its predecessor and thinner too, packing all the technology into a slimmed down frame that doesn't feel overly weighty on the wrist.
On the sides are two buttons, one used for going back a step, the other for showing apps or the watch face.
The premium look is finished off with a genuine leather strap, aged on the outward facing side giving it a natural look, but with a strengthened finish on the skin-facing side to prevent discolouration.
There are other silicone based straps available if preferred, but they are extra.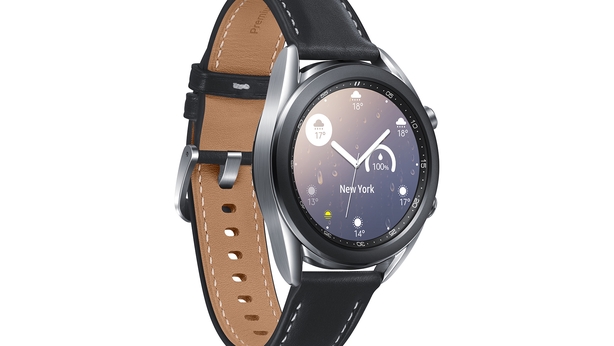 SCREEN
The larger 45mm version of the timepiece which we tried out has a 1.4inch Super AMOLED full colour screen.
With a 360x360 resolution it is clear and bright even in sunshine, and generally responsive to the touch, although occasionally (perhaps when it is doing something in the background) that response can be a little tardy.
The display can be set to be always-on if that's what you want, dimming slightly and reducing the amount of information on-screen when not actively in use and brightening up and resuming full service when lifted and twisted.
But if battery conservation is important to you, that always-on display can be switched off so that the device only wakes when the wearer raises and moves their arm.
There is a large variety of new customisable faces pre-loaded on the device, with more available for download.
The bezel gives the screen some natural protection, but the display is topped with Corning Gorilla Glass DX in any event.
PERFORMANCE
The Exynos 9110 Dual core chip inside the Watch 3 is the same as the one in the original Samsung Galaxy Watch.
But the RAM has been upgraded to 1GB and the storage space at 8GB is twice what the first iteration had.
The combo drives the Tizen based Wearable OS 5.5 along nicely, with apps opening fast, and no noticeable glitches or crashes.
There is an LTE model for those who want to go tether free, and the device also has Wifi and as you'd expect, Bluetooth connectivity.
It also has NFC and GPS built in.
Battery performance, even with the always-on screen activated, is remarkably good, despite the fact that the power pack is smaller than the original watch model.
But certainly it seems to match that of the Apple Watch 5 in everyday testing, offering up to two days use before a charge is needed under normal use.
Of course, if your usage patterns are heavy in terms of fitness tracking, music playback or other power hungry features, then you might find it doesn't last as long.
Charging is via the magnetic wireless charger provided and is reasonably quick – two to three hours will get you a full charge from around empty.
The watch carries an IP68 water and dust rating, meaning it is water resistant in up to a depth of 50m and can be submerged for up to 30 minutes in 1.5m of freshwater, but isn't suitable for diving or high-pressure water activities and is not advised for beach wear.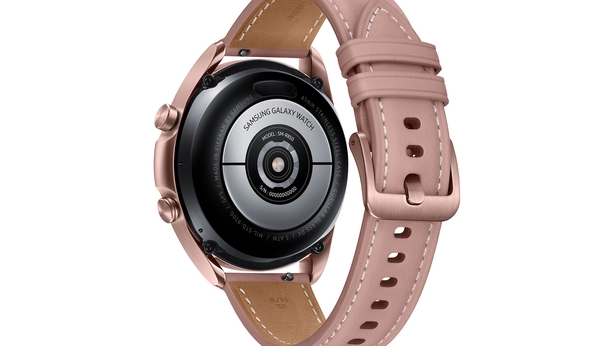 FEATURES
The Tizen operating system is improving all the time with age.
But what it still lacks is a wide variety of third party apps.
That said, there is plenty pre-loaded on the watch itself and more on offer in Tizen's online store, although some of the most popular apps, like those from the Google stable for example, aren't on offer.
All the basics you'd expect are there though – from phone calls and texting to mobile payments, music, etc.
For fitness fanatics, there's plenty of choice, with tracking provided for up to 40 different activities including running, walking, cycling, rowing and swimming tracking.
On some of these, tracking is automatically started by the watch itself once it recognises what you are up to.
Samsung has also beefed up health tracking on the new device too.
Along with heart rate monitoring, there's stress tracking on board, as well as fall detection, a women's health monitoring feature, enhanced sleep tracking and a blood oxygen monitor (which took a bit of fiddling to get it to work).
It is also possible to sync the watch with home workout videos that can be managed and controlled from the watch, by casting to a TV.
One slight disappointment is that although the watch technically is capable of reading blood pressure and carrying out an electro-cardiogram, those features are not yet available here due to regulatory issues.
The Galaxy Watch smartphone app offers a handy way to enable many aspects of the device and its interface to be customised at a granular level and makes it simpler to add content like music and images.
The Samsung Health app allows deeper analysis of health tracking data.
For iPhone users the Watch 3 connects impressively seamlessly to iOS via the Galaxy Watch iOS app.
However, you will need have an iPhone 5 or higher running iOS9 or above. For Android users, the minimum spec for compatibility is Android 5.0 or higher and 1.5GB or more of RAM.
CONCLUSION
There is an awful lot to like about the Samsung Galaxy Watch 3, with classic looks, plenty of new features and respectable battery life.
As mentioned earlier though, it is a little disappointing that some of the big ticket health tracking features were not available at launch.
The range starts at €449 for the 41mm model, rising to €479 for the 45mm version. That compares to €459 for the Apple Watch 5, but is a good deal more than the Fitbit Versa 2.
But whatever your preference, what's clear is that time is up for Apple's dominance of the smartwatch sector.