Irish people have a complicated relationship with their banks, coloured mainly by the fact that we pumped so much money into keeping them functioning just over a decade ago.
And while many love to see a financial institution getting a comeuppance, it's in our collective interest that they survive because - let's face it - we need them and we have a vested interest.
Road to recovery
After a torrid few years in the immediate aftermath of the financial crisis, Irish banks were getting back on the road to recovery.
The government managed to offload a portion of taxpayers' shareholding in AIB, the main lenders in the market had started to report decent profits, and mortgage interest rates - although still high by European standards - started to gradually move downwards, thanks to some much-needed competition among providers.
Then Brexit went from concept to reality. The banks' share prices came under pressure. The government shelved the idea of selling a further stake in AIB.
However, the economy was generally firing on all cylinders, with effective full employment, and demand for credit was healthy, but nothing could have prepared them for what was to come this year.
Reports of a novel coronavirus emerging from China went from far away threat to present danger within weeks.
Road to redemption
The banks were widely credited for their quick response to the emerging crisis, offering payment breaks to businesses and mortgage holders who found themselves with a vastly diminished income stream overnight.
It provided some badly needed favourable publicity after years of negative coverage for issues related to mortgage overcharging and sales of loan books to so-called vulture funds, among others.
However, it wasn't long before the goodwill was overshadowed by a controversy related to the charging of interest on the payment break portion of the mortgage.
Some accused the lenders of attempting to make money on the backs of people who had found themselves in difficulty.
'Charging interest accrued on loan payment breaks during Covid-19 is the banks profiteering on the pandemic,' Sinn Féin's Finance Spokesman Pearse Doherty told a Dáil committee.
Others argue that it's simply not an issue. Banks frequently restructure loans and there's an understanding that interest will apply.
Brendan Burgess, founder of the consumer website askaboutmoney.com, said the process was communicated badly by the banks in giving the impression initially that they were not charging interest.
However, he said it was normal everyday practice for interest to apply to payment breaks and that borrowers generally accepted this.
"We would be right to criticise the banks if they were to charge customers penalty interest on the rescheduled payments. But they don't charge penalty interest. They charge normal interest on the mortgage balance," he wrote in an opinion piece published by the Irish Times.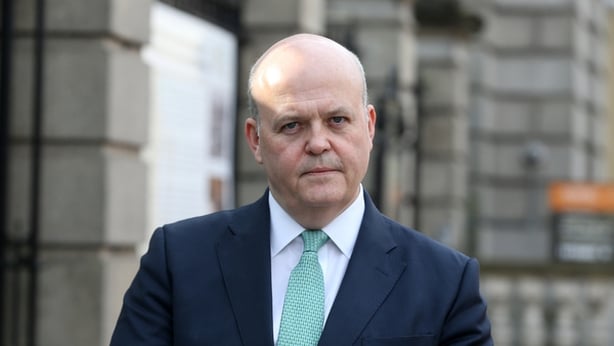 The road ahead
Controversies aside, in the past week we got a first glimpse at how the banks are performing against the backdrop of the pandemic when they presented their half year results to the market and their shareholders.
The standout figure for all of them - described by one analyst as 'eye-catching' - was their provision for projected bad loans arising mainly from the economic disruption brought about by the pandemic.
It ranged from €75 million for Permanent TSB to a massive €1.2 billion for AIB. Analysts expressed surprise at the size of the provision from the majority state owned bank, describing it as an outlier.
Colin Hunt, CEO of AIB, told Morning Ireland's Business News on Thursday that the provision was 'very forward looking' and he described it as comprehensive, conservative and prudent.
He said he expected it should "substantially cover the expected impact from Covid-19 in 2020."
"That impairment figure jumps out," Eamonn Hughes, Goodbody Analyst said. "AIB has clearly been pre-emptive."
He said the bank's guidance suggested a full year provision of €1.4 - €1.5 billion, versus its own estimate of €1.3 billion.
Setting aside a €937 million provision for the first half, Bank of Ireland CEO Francesca McDonagh said she expected a full year provision in the range of €1.1 to €1.3 billion.
Those provisions pushed the two main 'pillars' into substantial losses for the half year, a situation that was mirrored across the other lenders; Ulster Bank, Permanent TSB and KBC.
An uphill battle
In 'front loading' those provisions, all the banks looked forward to returning to more normalised levels of activity in 2021.
Despite reporting a significant fall off in lending during the pandemic, on the whole, there were tentative signs of recovery.
Davy Stockbrokers pointed to a 2020 income outlook for Bank of Ireland that was better than indicated in the first quarter.
The bank experienced a 25% year-on-year jump in Irish mortgage applications in July and a 6% month-on-month rise in business loan volumes.
AIB, seeing signs of positivity, stuck to its future guidance, but cautioned it would be an uphill battle.
"AIB has again reiterated its medium-term financial targets but acknowledges that the challenge to achieving these is greater," Davy analysts Stephen Lyons and Diarmaid Sheridan wrote in a note on the results.
Permanent TSB, which forecast a 50% fall off in new lending earlier this year, revised that to a 40% drop and said it may not even be that bad.
And there are other possible chinks of light on the horizon.
"If the government's credit guarantee starts to kick in and SMEs are refinancing via that, you could end up with a pretty benign outcome for the banks, particularly if people on payment breaks come off in reasonable health and are able to go back to their original terms," one analyst said.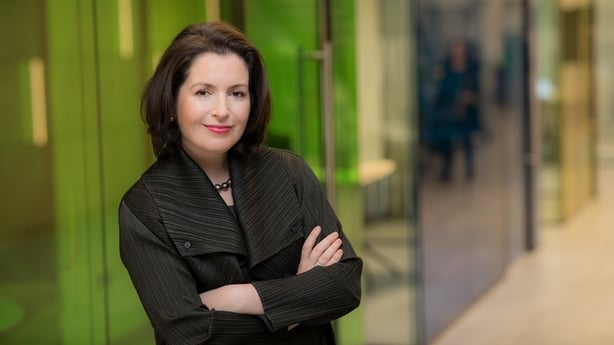 Rates challenge
For all the banks, bouncing back to pre-Covid activity levels is predicated on there being no second or subsequent waves of Covid-19 and accompanying lockdowns.
Even if the banks manage to return to their pre-Covid positions, there are still plenty of challenges ahead.
Perhaps chief among them is interest rates. Over five years ago, the European Central Bank introduced negative rates on deposits.
That meant that when European banks put their customers' savings on deposit overnight with the ECB, instead of making a return on it, banks were being charged for the facility.
Initially, banks absorbed the cost. However, in recent times some have started passing the cost onto large institutional and corporate customers and pension funds.
Francesca McDonagh told RTÉ this week that Bank of Ireland had started informing large SMEs, with individual deposits in excess of €2.5 million, that they too would be hit with negative rates.
All of the banks say they have no intention, as yet, of passing negative rates onto regular household deposits.
"It is not sustainable for any bank to be absorbing negative interest rates for ever more," Ms McDonagh said.
Critics of the banks would say that they more than make up for that loss by charging among the highest mortgage interest rates in Europe.
And indeed the net interest margin (NIM) - the difference between the average rate at which the bank funds itself and the rate at which it lends on to customers (a key measure of profitability) - is considered to be quite healthy among Irish banks and above the euro zone average, even though the margin has generally come under pressure in recent times.
That measure could come under even further pressure if consumers squirrel away excess cash - as they did in spectacular fashion during the lockdown - and lending declines further in the event of a protracted recession, which cannot be ruled out at this time.
Cost pressures
Pressure is also mounting on the cost front. The traditional banks generally have an expensive branch infrastructure which is expensive to maintain.
And while a cohort of customers will always desire face to face contact in carrying out their banking activities, the population is generally switching to online banking, the pace of which undoubtedly accelerated during the pandemic.
The banks are also coming under pressure from competitors that operate solely in the online space. As their costs are lower, they can offer cheaper services and don't have an expensive branch network to maintain.
"In a booming economy, there's probably enough for everyone. The fintechs (financial technology companies) can do well, as can the mainstream banks, but in a slightly weaker economy, regardless of how much of a bounce back there is from Covid, everyone is going to have to fight a bit harder for their share. Cost cutting has become a huge focus," one banking insider said.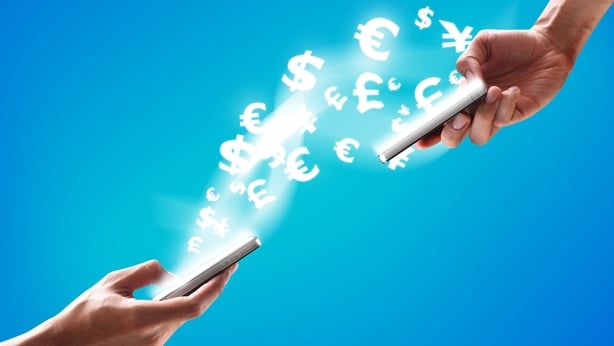 A report by consultants Deloitte in recent weeks forecast a reduction in the banking workforce, possibly of up to 20 to 30% in the next five years as banks move to cut costs and increasingly offer their services online.
That would see between 5,000 and 7,000 jobs going across the sector, a figure that was described as 'slightly aggressive' by banking sources.
Bank of Ireland announced on Wednesday, in a separate statement to its half year results, that it was seeking a reduction in its workforce of up to 1,400 staff - about 10% of its workforce - in the coming years, bringing its total headcount to around 9,000, a move that was heavily criticised by the Financial Services Union.
AIB said it had paused its redundancy programme for the time being and Ulster Bank gave a commitment to cooperate with the FSU on head count and take a 'measured view' given the current state of the economy.
However, it's likely only a matter of time. When it comes to downsizing in the Irish banking sector, the genie is well and truly out of the bottle.