SIPTU has called for aviation employers to be excluded from the Temporary Wage Subsidy Scheme (TWSS) if they impose compulsory redundancies, or cuts in terms and conditions, while availing of exchequer subsidies.
The call comes in the union's submission to the Oireachtas Covid-19 committee ahead of tomorrow's hearing on transport.
SIPTU forecasts that there will be thousands of redundancies and a prolonged reduction in earnings for workers in the aviation sector, unless there is a significant and immediate upturn in international travel.
However, the union acknowledges that such a recovery is "extremely unlikely".
SIPTU argues that the TWSS should be extended to the summer of 2021 for the aviation sector to maintain employment.
The union also demands that any such extension should be conditional on binding commitments from employers that they will not make employees redundant on a compulsory basis, or unilaterally impose any permanent reduction in terms of employment, while benefiting from the TWSS.
It argues that where public health advice restricts international travel with a resulting impact on employment, then the cap on the level of state wage subsidy payments should be lifted to ensure workers take home at least 85% of pre-Covid earnings, to enable them to meet their financial obligations.
SIPTU represents around 5,000 workers in the aviation sector across a range of companies, and its submission outlines the widespread and devastating impact of Covid-19 in various businesses.
It cites figures showing that in May of this year, flights through Dublin Airport were down almost 90% on the same time a year ago.
Passenger numbers in Dublin fell from 32.6 million last year to a forecast 8 million this year.
Shannon Airport's traffic was down almost 87%, while Cork suffered a drop in traffic of over 95%.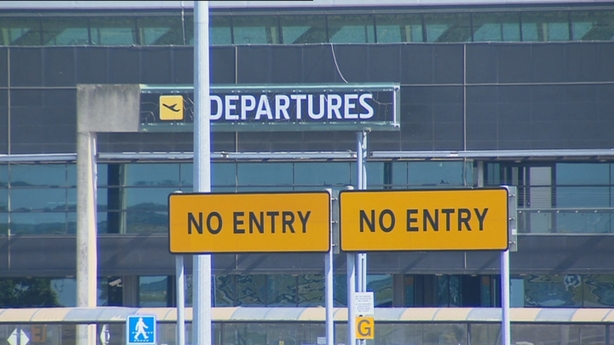 Regional airports have suffered too, with Ireland West Knock ceasing operations completely for a number of months. Donegal and Kerry have only been operating a reduced schedule of Public Service Obligation (PSO) routes.
"It must be noted by the Committee that while many employers in the industry have taken steps to reduce costs through temporary lay-offs and reductions in working hours and pay for workers, the significant job losses that are expected have yet to manifest themselves and discussions in the unionised companies are, for the most part, ongoing," it says.
According to SIPTU, many workers in the aviation sector who were on fixed term contracts or on probation have had their employment terminated, while others have suffered cuts in hours and income.
It says the vast majority of the 3,500 DAA employees have experienced a 20% cut in pay and hours.
"This arrangement will run until the end of July with no commitment thereafter," the SIPTU submission states.
In Aer Lingus, SIPTU members have suffered a 70% cut in pay and hours in operational areas, and are now only receiving 30% of their pre-Covid earnings. Some other areas are on 50% of pre-Covid entitlements.
All Aer Lingus employees in Shannon Airport – and in certain support areas in Dublin – have been put on temporary layoff from 21 June. These workers continue to receive only the TWSS.
Meanwhile, Shannon Airport employees have been put on temporary layoff or 30% of working hours.
In Ireland West Airport in Knock, approximately 35 fixed term workers did not have their contracts renewed, while the remaining staff experienced a 20% cut in pay/hours.
SIPTU notes that a "large majority" of aviation employers have accessed the TWSS, which has made a "significant contribution to maintaining employment and incomes even at the reduced levels of earnings".
It goes on to say: "For many workers in Aer Lingus now on 30% or temporary layoff the wage subsidy scheme is funding most, if not all, of the workers income".
SIPTU will remind the Oireachtas Committee that the DAA is seeking between 750 to 1,000 redundancies in Dublin and Cork airports, and has offered workers options – including a Voluntary Severance Scheme, part time work or incentivised career breaks.
Meanwhile, Aer Lingus is seeking 500 redundancies in non-pilot grades, while the Shannon Airport Authority has flagged a cut in staff numbers through voluntary severance, part-time working and career breaks. It describes SAA proposals for a 20% pay cut until 2023 as "unacceptable".
SIPTU argues that Shannon Airport should be returned to the management of the DAA, and that the state should take a stake in non-state owned airports in return for exchequer investment.
According to the union, other companies are seeking redundancies ranging from 20-70% of their workforces.
SIPTU also notes that several companies are seeking to push through changes in work practices and terms and conditions under the "guise" of the pandemic, including reducing sick pay entitlements.
The union has also called for sufficient PPE to be made available to aviation workers, along with a special rapid Covid-19 testing facility for airport workers who may have come into contact with confirmed cases of Covid-19.
Also appearing before the Oireachtas Committee tomorrow are representatives of the Irish Airline Pilots Association, the National Bus and Rail Union, the National Private Hire and Taxi Association, The Taxi Alliance of Ireland and officials from the Department of Transport, Tourism and Sport.
---
Read more:
SIPTU members reject Aer Lingus pay proposals
Aer Lingus to place brand new aircraft into storage