Spending on debit and credit cards has returned to pre-pandemic levels, according to the latest data from the Central Bank published by the CSO today.
The data clearly shows cards are replacing cash as the number of withdrawals from ATM's and the volume of cash withdrawn remains significantly down.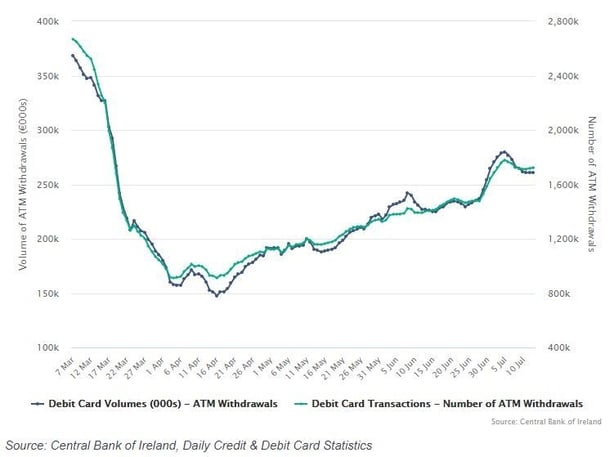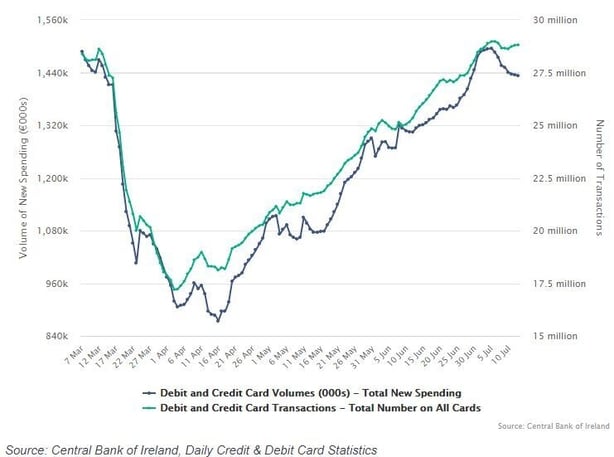 In the first week of March, there were just over 28 million debit and credit card transactions worth €1.488 billion. This fell by 41% to €875m in the week ending 16th April with just over 18 million transactions.
By July 13, this had recovered to €1.433 billion from almost 29 million transactions.
At the end of the first week in March there were 2.67 million withdrawals from ATM's worth €368m in total. This fell to €147m from just 910,000 withdrawals carried out during the week ending April 16.
ATM's recovered to 1.72m withdrawals by July 13 worth €261m. This is 35.5% fewer transactions compared to the first week in March and 29.2% lower volume of withdrawals.