In the mid-1980s the IDA ran a poster campaign in places like Dublin Airport aimed at attracting foreign investors. It featured a group of young graduates alongside the slogan 'The Young Europeans'.
We wouldn't get away with that now.
It made sense in the 1980s. We had an ample supply of young, well-educated workers eager for work.
Our baby boom kicked in later than the rest of Europe. In fact, due to a poor economy and emigration, our population actually fell throughout the 1950s and into the early 1960s. It recovered and grew again from the late 1960s. It dipped during the recession of the 1980s and has grown again, significantly, since then.
But as the Irish Fiscal Advisory Council makes clear in its first Long Term Sustainability Report, we're no longer a particularly young society and we're about to get a lot older.
In fact, it projects that between now and 2050, the number of 65-79-year-olds will increase by 88%. The number of people aged 80 and over will increase by 241%.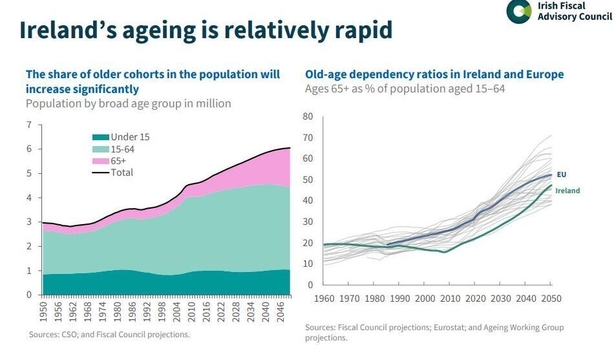 We will very soon go from being one of the youngest populations in Europe to one of the fastest ageing populations. We'll hit the EU average in about 15 years' time. By 2050, our population will be older than any other EU state is today.
The more telling 'dependency ratio', which measures the percentage of people aged 65 and over compared to the numbers aged 15-64, will rise from 22% today to 47% by 2050.
In simple terms, this means the numbers at work will be fewer and the number of older people who will be supported by the taxes paid by those in employment will be far greater.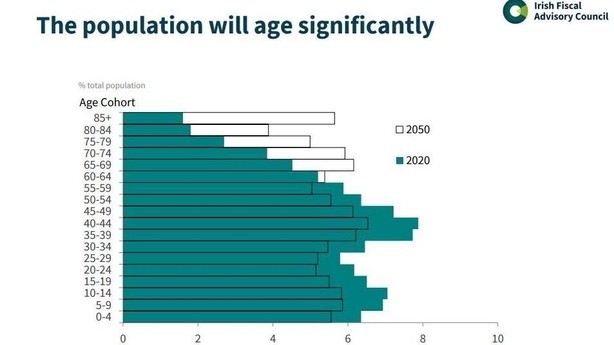 IFAC calculates that based on current policies continuing as they are, the public finances will slip into deficit from 2026 just to keep up with increased pension payments and healthcare costs.
That means waving goodbye to 'available fiscal space'.
It means there is no leeway. It's characterised as a steady 'drip-drip', which will spectacularly explode from the middle of the next decade if we don't take steps to avert it.
IFAC counts in an increase in the State pension entitlement age to 67 next year and 68 in 2028, but the current Programme for Government has deferred next year's move and established a Commission on Pensions to report by June of next year.
IFAC estimates that not increasing the pension age to 67 next year will add an additional €575m to current spending, a cost that will rise over time.
If the move to raise it again to 68 in 2028 is not followed through, that will add an additional €1.5bn a year to spending.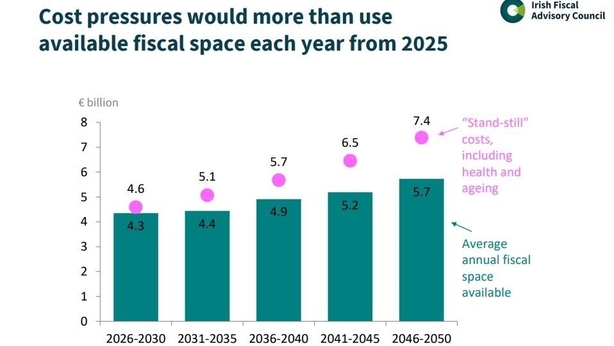 It's easy to get lost in a fog of figures here.
But IFAC is doing its job by looking beyond our normal time horizon of the next budget, or the next election, and warning all of us of what's to come. And it's not that far away. The situation will become serious in just 15 years' time.
But won't the economy just grow to adjust to the scale of the challenge that faces us?
And aren't we borrowing now – and for some time to come – at exceptionally low interest rates?
After the last recession, jobs from new industries such as digital advertisers Google and Facebook, and a much quicker rebound in investment, delivered growth rates that surprised many.
IFAC shows that over time, productivity in the economy will slow down. That means less wealth per worker will be created.
There is great uncertainty over this, as the recent past has shown. But think about the slow rate of wage growth in many industries over the recent past and you can begin to get a sense that as economies catch up, everything levels off.
There are other well-flagged uncertainties over the future of the economy and what it will cost to sustain it: changes to corporation tax rules and the future cost of Sláintecare reforms.
The cost of raising public debt today is almost negligible, but we are in exceptional times.
The European Central Bank has consistently said its extraordinary actions today are temporary. So the cost of the national debt will not always be so cheap and more of our tax euro will be required to pay for it.
It's sometimes said our system of politics and government responds very well in an immediate crisis, like Covid-19. But issues that seem less pressing can often be diverted into long reports that attract comment, but ultimately not much more than dust.
We have been warned.