They survived the online revolution, but will Ireland's travel agents survive the Covid-19 pandemic?
Around 15% of the population currently book their foreign holidays or business trips with the 224 travel agents across the country.
However, since air travel ground to a halt in March, agents have been refunding money instead of making new bookings.
With no revenue coming in at what should be their busiest time of year, those in the travel trade will be hoping the Government travel advisory will be lifted soon.
Already three travel agents have closed down since March.
According to Pat Dawson, CEO of the Irish Travel Agents Association, if the Wage Subsidy Scheme and the Pandemic Unemployment Payment stopped tomorrow, 80% of travel agents would be forced to shut.
He said the ITAA will continue to lobby for supports, to ensure the survival of the industry.
"Travel agents are in a desperate situation. We haven't taken any money in since 15 March when we started to shut down and we don't expect that to change until 2021.
"Thankfully, the Government Wage Subsidy Scheme has kept us open but long-term we are going to need financial aid to keep our sector in business," he said.
We need your consent to load this rte-player contentWe use rte-player to manage extra content that can set cookies on your device and collect data about your activity. Please review their details and accept them to load the content.Manage Preferences
Fahy Travel in Galway is one of the longest-running travel agencies in the country, having started as a shipping company in the late 1800s.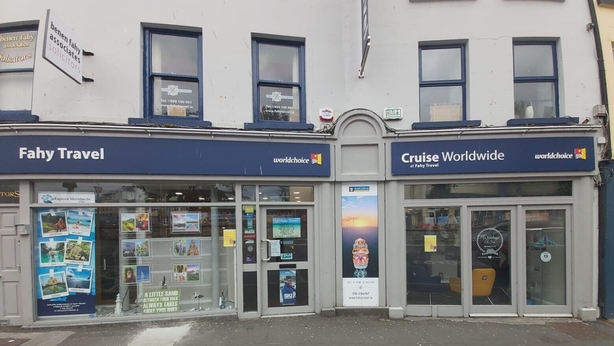 Maura Fahy, Managing Director of the family business, said it has been an extremely difficult time.
"We have just been limping along from week to week to be honest with you. We have seen a huge fall off in inquiries for July and August; there is too much uncertainty. We can't advise people to travel against public health advice," she said.
At the moment the Government is advising against all non-essential travel abroad.
On 20 July, it is due to release a list of countries that people can travel to, without having to quarantine for 14 days on their return.
However, Ms Fahy said she believes that list needs to be published sooner, if they have any hope of doing business this summer.
"I understand that the process is a very difficult one, but it is very late for people to be starting to make plans. We need people travelling in August if they are going to try to get away before the children go back to school. They need clarity very soon," she said.
"This pandemic literally shut our business down overnight"
The Irish Travel Agents Association has expressed concern that there are two very different messages being given out by Government and some airlines.
A Government message broadcast across radio stations states: "For the good of the country, advice on international travel remains the same.
"Specifically, people living in Ireland are asked not to make any unnecessary overseas journeys until further notice. So please, holiday at home in 2020."
While a Ryanair radio advert states: "Italy is now open. Fly Ryanair to top holiday destinations such as Naples, Rome, Palermo, Sardinia and more. Choose from over 1,000 daily flights."
Noel McAuliffe, Managing Director of Travel focus in Cork, said these mixed messages are causing a lot of confusion for clients.
"Obviously, the Department of Foreign Affairs has the travel advisory in place, which is understandable, but the airlines are flying and are encouraging people to travel.
"The Government is saying one thing, the airlines are saying something different and the consumer is falling down in between," he said.
Mr McAuliffe started Travel Focus in 1998, having worked in the travel industry for 20 years before then. He said the Covid-19 pandemic has devastated his business.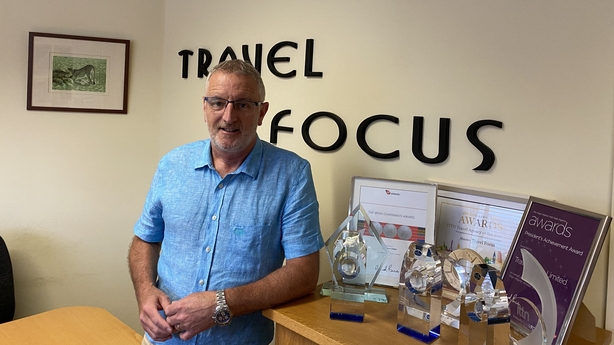 "Since I started the company we have been through the Gulf War, the SARS outbreak, volcanic ash clouds, we have been through many things that have had a serious impact on our business, but nothing that completely stopped our business.
"This pandemic literally shut our business down overnight. The travel industry was the first to be impacted and it will probably be the last to recover.
"We are going to be in this for the long-term I think. Nothing has had the same impact as this. The world's travel economy essentially just shut for three or four months," he said.
There are 224 travel agents across the country with 3,500 staff members, all in a similar situation.
Clare Dunne, Managing Director of The Travel Broker in Dublin, said the industry will need a lot of support over the coming months.
"We need a continuation of the Wage Subsidy Scheme, if we don't have that I think a lot of businesses will have to close down, because speaking on behalf of my own company, we couldn't pay wages at the moment because we literally do not have any money coming in at all.
"I think some kind of grant aid would be really important too. We have suffered huge losses because we have had to refund the money that we had made last year. We are in pretty dire circumstances," she said.
Along with financial worries, Ms Dunne said she is concerned about the stress her staff members are under on a daily basis.
She said: "We have all been answering our phones and our emails promptly and working on behalf of our customers to rebook their trips or secure refunds. As you can imagine this is very different to our normal work.
"Usually we are assisting people to fulfill their dreams but now we are having to tell them their plans are all cancelled and in many cases trips of a lifetime have had to be cancelled.
"Our staff members have been under huge strain and stress as every call and email is fraught as we deal with understandably upset and anxious customers. We are all working in isolation; spending our lives on phone calls, Zoom calls and email. The stress on all of us has been and still is immense."
We need your consent to load this rte-player contentWe use rte-player to manage extra content that can set cookies on your device and collect data about your activity. Please review their details and accept them to load the content.Manage Preferences
While the 224 travel agents across the country are in competition with each other, Ms Dunne said the businesses have been hugely supportive and helpful to one another over the past few months.
She said: "We have been constantly reaching out to check on each other to make sure we are all okay and surviving.
"We have been holding virtual yoga classes, coffee mornings, gardening sessions and up until recently a weekly travel industry 'dance in' every Friday evening, to get everybody dancing together to relieve the stress of the week.
"All of these are being organised by volunteers to keep motivation and human connection going and to combat the isolation and sense of gloom which has descended on us during this really tough time."
However, Ms Dunne is optimistic that if given the correct support, the travel industry will recover.
"The industry is tough and resilient. Irish people will travel again, we need to explore the world. We have a genuine interest in new places, cultures and experiences.
"We want to see and experience this wonderful world of ours and we want to visit our families and meet new people. We need to travel to expand our businesses. When it is safe to do so, there will be a huge surge of people wanting to travel again," she said.